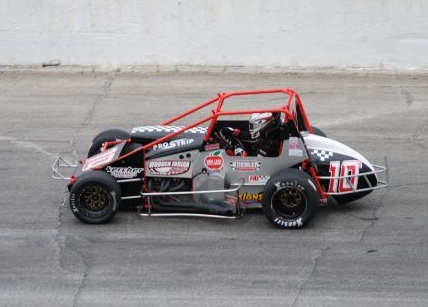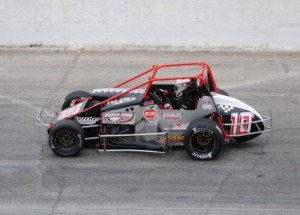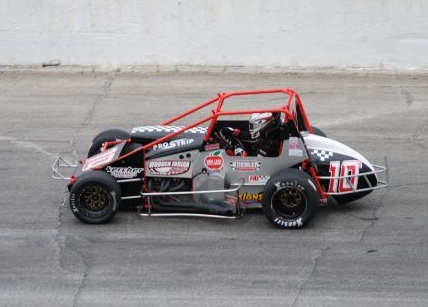 From Anderson Speedway
Anderson, IN — (May 23, 2014) —  For the first time in many years there wasn't a mad dash of cars looking to make their way into the starting field for Saturday's running of the Pay Less Little 500.
Thirty-three drivers made qualifying attempts on Thursday and although drivers in the 11th and final row were concerned about someone attempting to bump into the field.
The front row of Bryan Clauson, Aaron Pierce and Jerry Coons Jr. will bring one of the fastest fields in the history of the Pay Less Little 500 to take the green flag at 8 p.m.
The only incident during the Friday practice session is when rookie Geoff Kaiser lost a power steering and barely missed making contact with the turn four wall.
Two drivers Jo Jo Helberg and Chris Neuenschwander withdrew their Thursday qualifying times in an effort to improve their starting positions.
Neuenschwander recorded the fast time of the day, picking up $250, with a four-lap average of 78.81 mph. He improved his starting position from 26th to 17th.
Helberg climbed from the 23rd to 19th starting position with a four-lap average of 78.63 mph.
Argos driver Tom Paterson, who had a memorable front straight flip at Anderson Speedway in 2011, rode the "bubble" as the slowest qualifier with a four-lap average speed of 75.24 mph.
Ron Koehler made a run to make the field but didn't have the necessary speed to knock Paterson from the field and is the first alternate for the Little 500.
"It always seems like I'm on the bubble," Paterson said Friday. "I'm very concerned. That's why I'm out there practicing and doing all we can.
"I think we found some speed in the car, but we're still working at it," he said. "I would like to find more than just enough, have a cushion there."
Paterson said in hindsight the team should have waved off their Thursday qualifying attempt because the car was loose in the corners for the first time all week.
Concerning the 2011 flip, Paterson said he is reminded of it constantly.
"The pavementsprints.com website had a picture of it this week," he laughed. "For a full year Must See Racing showed it at the beginning of every telecast. My girlfriend never wants to see it again. I would rather have my 15 minutes of fame holding the trophy."
Paterson said the Little 500 is the most important race he competes in and would be devastated if he didn't make the starting field.
"I work really hard for this race, every other race we do is inconsequential," he said.
Pendleton driver Travis Welpott was celebrating his 43rd birthday at Anderson Speedway with a story behind his birth.
"I was literally almost born at this race," he said. "My parents were at the Little 500 and my mom wasn't feeling well. After the race they went to a Pizza King and she said it was time. They went to St. John's Hospital and I was born that night."
Welpott in the Smith Family Farms entry will start 29th. It will be his third start with a career best finish of 15th last year.
Tickets are available for the historic 66th Pay Less Little 500 at $30 for reserved seating. For more information, contact the Anderson Speedway Ticket Office at (765) 642-0206.
For additional information on Anderson Speedway, visit www.andersonspeedway.com or contact Anderson Speedway at (765) 642-0206.