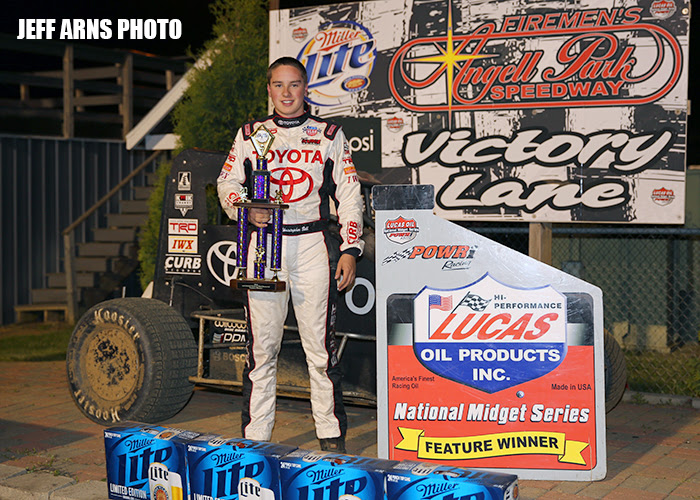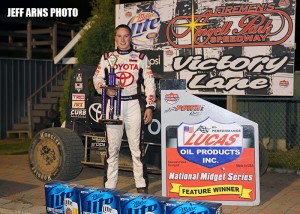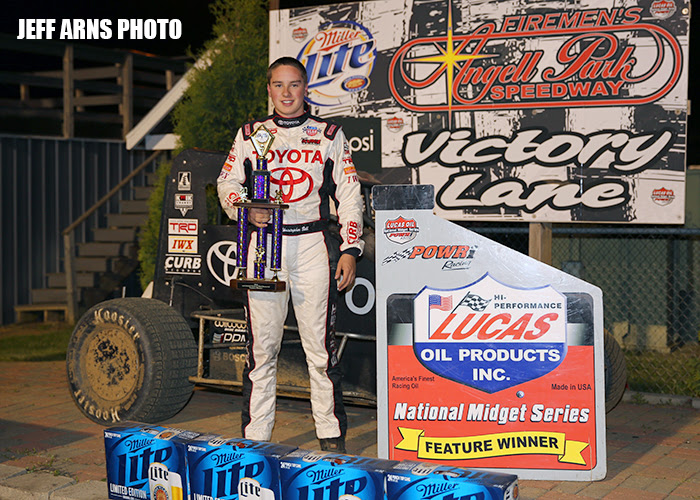 From POWRi
Sun Prarie, WI – (May 24, 2014) — Christopher Bell of Norman, Oklahoma overtook Parker Price-Miller on lap 12 and led the remaining 18 laps to take the win and become the 136th different winner at the historical 1/3rd mile Angell Park Speedway in Sun Prairie, Wisconsin for night one of the Thiel Memorial. The Thiel Memorial will be the first two of four POWRi World Championship events held in the United States.
Parker Price-Miller of Kokomo, Indiana started on the pole for the 30 lap A-main full of a star-studded field with teams from New Zealand, Australia, and the United States. Price-Miller, the 2013 POWRi Lucas Oil Midget Series Rookie of the Year, led the opening 11 laps before Bell overtook him in turns one and two. Christopher Bell, driving a Keith Kunz/Curb-Agajanian Motorsports' Toyota-powered Bullet, battled Price-Miller's Toyota-powered Spike as the duo methodically threw slide-jobs at one another until Bell garnished the upper hand approaching lap traffic.
While Bell and Price-Miller battled, it allowed Tanner Thorson to close in on the duo and as soon Bell overtook Price-Miller, Thorson was hot on their trail. Using lap traffic to his advantage, Thorson was able to pick off Price-Miller for second as Bell attempted to pull away through lap traffic. But, just as Thorson was beginning to catch Bell, Thorson's Keith Kunz/Curb-Agajanian Motorsports' Toyota-powered Bullet began to smoke as the caution flag waved for the slowed Lein-Acres machine of Darren Hagen. Thorson would pull in, ending his bid for the win, as he was done for the evening.
Racing would resume with Bell leading the field to the green holding a comfortable cushion of lap cars between himself and the current second place car of Zach Daum. Daum, the defending POWRi Lucas Oil National Midget Series Champion, had worked his way into the top three after falling back from his fourth place starting position. As Bell would pull away, the lap cars in between him and the rest of the field allowed Rico Abreu to overtake Daum. Just as the battle for fourth place began to heat up, a caution was brought out for the immobilized car of Seth Motsinger in turns three and four.
The caution set the field up for a two lap shoot out, but no one was able to faze Christopher Bell. "This place is so prestigious and it feels good to finally get a win here," explained Bell. "I flipped the first time I came here, so I really respect this place." Rico Abreu came from deep in the field after having to run the semi because of a flat tire in the heat race to bring home the runner-up position in his Keith Kunz/Curb-Agajanian Motorsports' Toyota-powered Bullet. "Keith and Pete gave me a really fast car. I thought I had a shot at winning," explained a mildly disappointed Abreu. Rounding out the top three for tonight's feature event, coming from the fourth position, was Zach Daum of Pocahontas, Illinois. "We've gotten closer to them [Keith Kunz Motorsports]. We're getting there and plugging along," said Daum. "It was a decent night for us overall."
POWRi Lucas Oil National Midget Series feature results (30 laps): 1. Christopher Bell, 2. Rico Abreu, 3. Zach Daum, 4. Tyler Thomas, 5. Parker Price-Miller, 6. Jake Blackhurst, 7. Scott Buckley, 8. Austin Brown, 9. Brandon Waelti, 10. Justin Peck, 11. Andrew Felker, 12. Daniel Robinson, 13. Darren Hagen, 14. Scott Hatton, 15. Terry Babb, 16. Jacob Patton, 17. Spencer Bayston, 18. Seth Motsinger, 19. Robbie Ray, 20. Cody Weisensel, 21. Tanner Thorson, 22. Brad Mosen
For more information, visit www.powri.com.