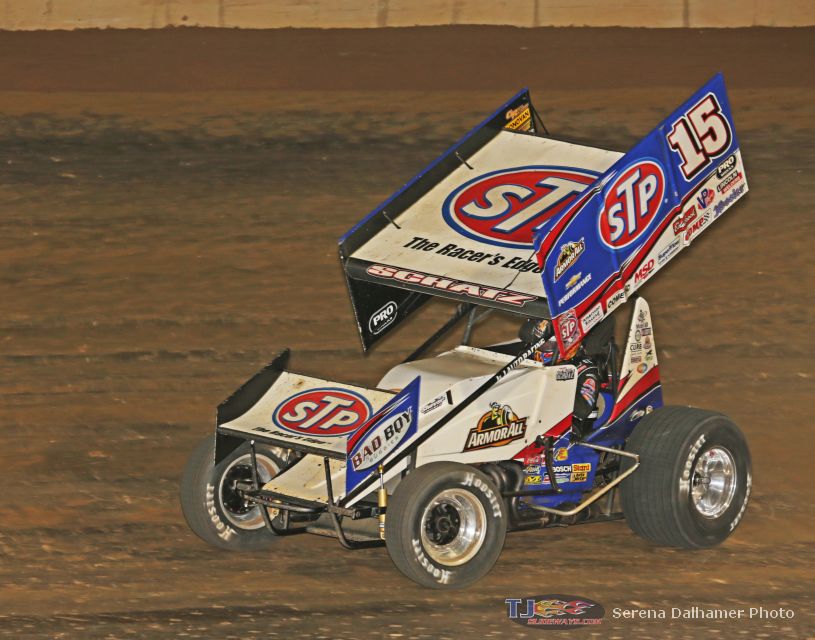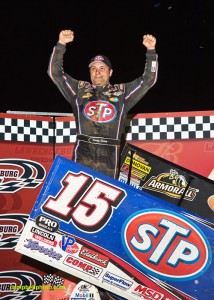 From the World of Outlaws
Lawrenceburg, IN — (May 27, 2014) — Donny Schatz powered his STP/Armor All car past Sammy Swindell at Lawrenceburg Speedway on Monday to claim his fourth win of the season and move to within two wins of tying for third place on the all-time wins list.
Schatz, a five-time Outlaws champion, started the A-Main in the fourth position. After early challenges to Swindell's lead by Jac Haudenschild and Paul McMahan, Schatz worked his way forward and eventually got around Swindell on lap 22.
"I was trying to make the middle work there for the first part of the race and I couldn't," Schatz said. "Towards the end, when the car changed – that definitely helped. That's the key to getting the job done… We got a good run on [Swindell] at the start. I knew he was going for the top and didn't want to take a chance of taking him or myself out so we kind of had to bide our time and be smart. I know he wants to win a race bad – they probably need it as worse as we do."
"This team earned [the win]," Schatz said. "They always do. This place has been very good to me. It's fun to race."
Tonight's win was the third for Schatz at Lawrenceburg. He won at the track last season and in 2009. The win, Schatz's 151st, also brings him to within just two wins of tying Mark Kinser for third on the all-time wins list. Swindell is second on the list with 293 wins, and 20-time champion Steve Kinser is first with 577 wins.
Schatz has now moved to within 10 points of current leader Daryn Pittman in the battle for the championship. Joey Saldana remains in the second position, four points back.
Pittman and Swindell began the race from the front row. McMahan and Schatz started in row two.
After the green flag flew, Swindell jumped out to an early lead in his Big Game Tree Stands car.
Two early cautions hit the track on laps three and six. When the green flag flew again, it was Haudenschild who was charging forward. In four laps, Haudenschild drove his car from fourth to second. Just as he got around Swindell on lap eight to lead, the caution flew, resetting the field to the prior lap.
Haudenschild slipped back on the restart. On lap 13, he caught the tire barrier in the turn four entry and was involved in a violent three car wreck that saw Danny Holtgraver take an end-to-end tumble into turn one. All three drivers were OK. Only David Gravel was able to continue and finish the race.
As the green flag once again flew, McMahan continued his battle with Swindell for the lead that began four laps earlier. McMahan worked the bottom of the track in second, while leader Swindell hugged the cushion on the high side.
Meanwhile, a surging Schatz took third place from Pittman on lap 13 and set his sights on the leaders. After a caution and restart on lap 16, Schatz got around McMahan for second. It was on lap 22 that he caught Swindell and after a drag race down the back stretch, took the lead out of turn four.
Schatz took the checkered flag on lap 35.
"Well, [Schatz] just had his car where he could roll through the middle a little bit better," Swindell said. "The top – I don't think it was ever really as good… It never got clean at all from three out to the middle of four. I really struggled to keep it straight. When I tried to run his line I had trouble."
Swindell said his team made some big changes to his car this week that he is hoping they can build on.
"We'll take second, I guess," Swindell said.
Championship points leader and driver of the Great Clips car, Daryn Pittman, said he had felt good about his team's chances at Lawrenceburg following the dash earlier in the night.
"Then we started, kind of struggled a little and about halfway through if you had told me that we would be running third I'd be pretty happy about that," Pittman said. "I thought we were going the wrong direction and we got a decent restart at halfway."
"Great effort by our whole team," Pittman said. "I hate to start on the pole and back out of it but it was a tough race track tonight."
The World of Outlaws STP Sprint Cars returns to the track on Friday, May 30 at Attica Raceway Park in Attica, Ohio for the Kistler Engines Classic. The Outlaws race again the next night in Lake Odessa, Mich. at the NAPA Auto Parts Rumble at I-96 Speedway.
LAWRENCEBURG SPEEDWAY NOTES: Donny Schatz won his third race at Lawrenceburg Speedway tonight – previous wins came in 2013 and 2009… Shane Stewart became the 11th different driver this season to lead time trials… Cody Darrah got his eighth heat win of the season tonight.
SEASON WINNERS: Daryn Pittman – 7 (Thunderbowl Raceway on March 14, Calistoga Speedway on April 6 and Devil's Bowl Speedway on April 19, Williams Grove Speedway on May 16 and May 17, Orange County Fair Speedway, May 18, New Egypt Speedway, May 20); Donny Schatz – 4 (Volusia Speedway Park on Feb. 15, The Dirt Track at Las Vegas on March 6 and Devil's Bowl Speedway on April 19, Lawrenceburg Speedway on May 27); David Gravel – 3 (Merced Speedway on March 28, Eldora Speedway on May 3, and Wilmot Raceway on May 9); Joey Saldana – 3 (Perris Auto Speedway on April 12 and Salina Highbanks on April 25, The Dirt Track at Charlotte on May 23); Brad Sweet – 3 (Volusia Speedway Park on Feb. 14, Tucson International Raceway on March 8 and Calistoga Speedway on April 5); Kerry Madsen – 2 (Stockton Dirt track on March 22 and El Paso Speedway Park on April 15); Paul McMahan – 2 (The Dirt Track at Las Vegas on March 5, Tri-State Speedway on May 10); Rico Abreu – 1 (Thunderbowl Raceway on March 15); Christopher Bell – 1 (Jacksonville Speedway on May 7); Cody Darrah – 1 (Kings Speedway on April 11); Steve Kinser – 1 (Volusia Speedway Park on Feb. 16); Stevie Smith – 1 (Lincoln Speedway on May 14); Shane Stewart – 1 (Eldora Speedway on May 2); Sammy Swindell – 1 (Federated Auto Parts Raceway at I-55 on April 26).
World of Outlaws STP Sprint Car Series Statistical Report; Lawrenceburg Speedway; Lawrenceburg, Ind.; May 26, 2014
A-Main – (35 Laps) – 1. 15-Donny Schatz [4] [$10,000]; 2. 1-Sammy Swindell [2] [$5,500]; 3. 9-Daryn Pittman [1] [$3,200]; 4. 71M-Joey Saldana [9] [$2,800]; 5. 51-Paul McMahan [3] [$2,500]; 6. 11-Steve Kinser [17] [$2,300]; 7. 11N-Randy Hannagan [14] [$2,200]; 8. 2-Shane Stewart [7] [$2,100]; 9. 29-Kerry Madsen [10] [$2,050]; 10. 11K-Kraig Kinser [25] [$1,200]; 11. 4-Cody Darrah [8] [$1,500]; 12. 1S-Logan Schuchart [22] [$1,200]; 13. 49-Brad Sweet [21] [$1,100]; 14. 80-Trey Gustin [12] [$1,050]; 15. 83-David Gravel [13] [$1,000]; 16. 53-Brady Bacon [20] [$900]; 17. 21-Dallas Hewitt [19] [$800]; 18. 77X-Wayne Johnson [24] [$800]; 19. 71-Kevin Swindell [15] [$800]; 20. 67-Christopher Bell [18] [$800]; 21. 9W-Jac Haudenschild [5] [$800]; 22. 10H-Danny Holtgraver [6] [$800]; 23. 60-Kory Crabtree [23] [$800]; 24. 22-Cole Duncan [11] [$800]; 25. 71MX-Paul May [16] [$800]. Lap Leaders: Sammy Swindell 1-22, Donny Schatz 23-35. KSE Hard Charger Award: 11K-Kraig Kinser [+15]
Qualifying – 1. 2-Shane Stewart, 12.234; 2. 15-Donny Schatz, 12.285; 3. 51-Paul McMahan, 12.298; 4. 1-Sammy Swindell, 12.307; 5. 9-Daryn Pittman, 12.322; 6. 71M-Joey Saldana, 12.333; 7. 29-Kerry Madsen, 12.357; 8. 22-Cole Duncan, 12.357; 9. 80-Trey Gustin, 12.445; 10. 83-David Gravel, 12.458; 11. 10H-Danny Holtgraver, 12.503; 12. 11N-Randy Hannagan, 12.516; 13. 71-Kevin Swindell, 12.525; 14. 4-Cody Darrah, 12.570; 15. 71MX-Paul May, 12.632; 16. 11-Steve Kinser, 12.651; 17. 67-Christopher Bell, 12.653; 18. 21-Dallas Hewitt, 12.704; 19. 53-Brady Bacon, 12.712; 20. 49-Brad Sweet, 12.735; 21. 9W-Jac Haudenschild, 12.782; 22. 1S-Logan Schuchart, 12.784; 23. 4S-Danny Smith, 12.852; 24. 60-Kory Crabtree, 12.877; 25. 11K-Kraig Kinser, 12.884; 26. 77X-Wayne Johnson, 12.940; 27. W20-Greg Wilson, 12.946; 28. 7S-Jason Sides, 13.065; 29. 23-Jimmy Light, 13.107; 30. 4K-Kody Kinser, 13.182; 31. 63-Chad Kemenah, 13.241; 32. 12-Robert Ballou, 13.251; 33. 6-Cody Gardner, 13.314; 34. 1A-Jacob Allen, 13.435; 35. 28-Brian Paulus, 13.676; 36. 33M-Logan Hupp, 14.071
Heat 1 – (10 Laps – Top 5 finishers transfer to the A-feature) – 1. 9W-Jac Haudenschild [6]; 2. 67-Christopher Bell [5]; 3. 71-Kevin Swindell [1]; 4. 9-Daryn Pittman [3]; 5. 2-Shane Stewart [4]; 6. 11K-Kraig Kinser [7]; 7. 23-Jimmy Light [8]; 8. 6-Cody Gardner [9]; 9. 80-Trey Gustin [2]
Heat 2 – (10 Laps – Top 5 finishers transfer to the A-feature) – 1. 4-Cody Darrah [1]; 2. 83-David Gravel [2]; 3. 15-Donny Schatz [4]; 4. 71M-Joey Saldana [3]; 5. 21-Dallas Hewitt [5]; 6. 77X-Wayne Johnson [7]; 7. 1A-Jacob Allen [9]; 8. 1S-Logan Schuchart [6]; 9. 4K-Kody Kinser [8]
Heat 3 – (10 Laps – Top 5 finishers transfer to the A-feature) – 1. 10H-Danny Holtgraver [2]; 2. 29-Kerry Madsen [3]; 3. 51-Paul McMahan [4]; 4. 71MX-Paul May [1]; 5. 53-Brady Bacon [5]; 6. W20-Greg Wilson [7]; 7. 63-Chad Kemenah [8]; 8. 28-Brian Paulus [9]; 9. 4S-Danny Smith [6]
Heat 4 – (10 Laps – Top 5 finishers transfer to the A-feature) – 1. 1-Sammy Swindell [4]; 2. 11N-Randy Hannagan [2]; 3. 49-Brad Sweet [5]; 4. 22-Cole Duncan [3]; 5. 60-Kory Crabtree [6]; 6. 7S-Jason Sides [7]; 7. 11-Steve Kinser [1]; 8. 12-Robert Ballou [8]; 9. 33M-Logan Hupp [9]
Dash – (8 Laps, finishing order determined first 8 starting positions of A-feature) – 1. 9-Daryn Pittman [2]; 2. 1-Sammy Swindell [3]; 3. 51-Paul McMahan [4]; 4. 15-Donny Schatz [5]; 5. 9W-Jac Haudenschild [8]; 6. 10H-Danny Holtgraver [1]; 7. 2-Shane Stewart [6]; 8. 4-Cody Darrah [7]
B-Main – (12 Laps – Top 4 finishers transfer to the A-feature) – 1. 11-Steve Kinser [2] [-]; 2. 80-Trey Gustin [1] [-]; 3. 77X-Wayne Johnson [6] [-]; 4. 1S-Logan Schuchart [3] [-]; 5. 11K-Kraig Kinser [5] [$200]; 6. 4K-Kody Kinser [10] [$180]; 7. W20-Greg Wilson [7] [$175]; 8. 12-Robert Ballou [12] [$160]; 9. 63-Chad Kemenah [11] [$150]; 10. 28-Brian Paulus [15] [$150]; 11. 6-Cody Gardner [13] [$150]; 12. 1A-Jacob Allen [14] [$150]; 13. 23-Jimmy Light [9] [$150]; 14. 4S-Danny Smith [4] [$150]; 15. 7S-Jason Sides [8] [$150]; 16. 33M-Logan Hupp [16] [$150]
World of Outlaws STP Sprint Car Series Championship Standings