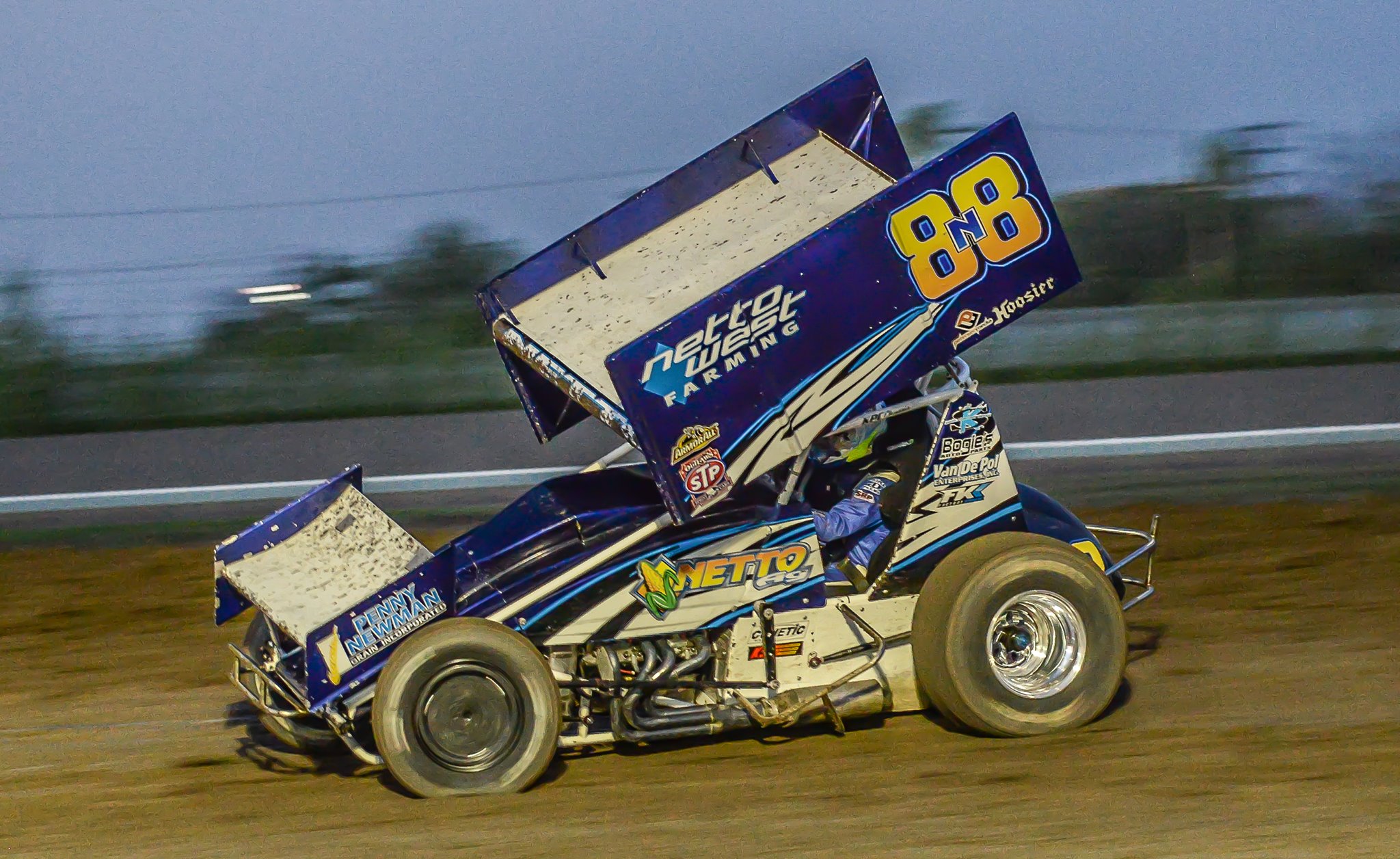 PETERSEN MEDIA
Making the most of his first visit ever to the Marysville Raceway Park, DJ Netto found himself in victory lane on Saturday night, marking his first win of the 2014 season, and first career series win.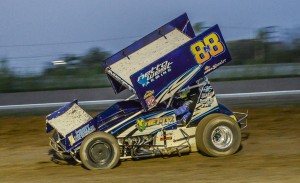 "It was pretty awesome to show up and win a Civil War race," he said. "After hot laps I told my guys we had a pretty good car, and the rest of the night went our way."
Kicking the night of timing his Netto Ag/Penny Newman Grain/Bogies Auto Parts machine in fourth fastest, Netto was able to make to get to the front of his heat race, and pick up the win, putting him safely in both the feature event and the Dash.
Starting up front in the Dash, Netto made a late race mistake that knocked him back a few spots, and he finished fifth, putting him in the third row for the feature event.
When the feature event got underway, Netto held the fifth spot, as he navigated around the racy Marysville Raceway Park.
On the ninth lap, race leader Mason Moore, got on his side, and Netto moved into the fourth spot, on the double file restart.
Getting around John Michael Bunch, and Shane Golobic, Netto worked into the second spot, as he chased after Andy Forsberg until the 20th lap, when Forsberg slowed with mechanical woes.
The last 10-laps saw Golobic challenge Netto, and on the last lap, Golobic had an opening as they were in traffic, but Netto was able to fend him off at the line.
"It was a little wild in lapped traffic late in the race, and I saw Shane Golobic show me a nose in the last pair of corners, and I just did everything I could to get back to the line first."
Sunday night Netto and his team traveled farther North with the series as they invaded the Silver Dollar Speedway for the Silver Dollar Fair Race.
Timing in 15th fastest, Netto was penalized one row for jumping the initital start in his heat, and though he would transfer through, he found himself lining up in the seventh row of the feature event.
On a track that produced really exciting racing, Netto couldn't seem to get going as he had some help early on in the feature getting up over the cushion, but the Hanford, CA driver would rebound and bring home an 11th place finish.
"Overall it was a pretty good weekend for us, I feel," he explained. "We got a win, and ran well, so hopefully we can keep this going."
DJ and his Netto Racing team would like to thank Netto Agriculture, Penny Newman Grain, Bogies Auto Parts, and Vande Pol Enterprises for their support in 2014.
ON TAP: Netto and his team will return to action on Friday night at the Ocean Speedway in Watsonville, CA with the possibility of meeting back up with the Civil War Series on Saturday night in Placerville, CA.
2014 BY THE NUMBERS:Starts-20, Wins-1, Top 5's-1, Top 10's-4
STAY CONNECTED:Stay updated with DJ and his team by following him on twitter @DJNetto88.
PETERSEN MEDIA:Petersen Media is a promotional agency that can handle your public relations, marketing, and any other promotional needs. Petersen Media utilizes multiple tactics to help you reach your intended audience, to boost awareness.
For more information contact sales@petersenmediainc.com, by phone at 916-342-3424,visit http://www.petersenmediainc.com,  http://www.facebook.com/PetersenMedia, or follow http://www.twitter.com/petersen_Media.