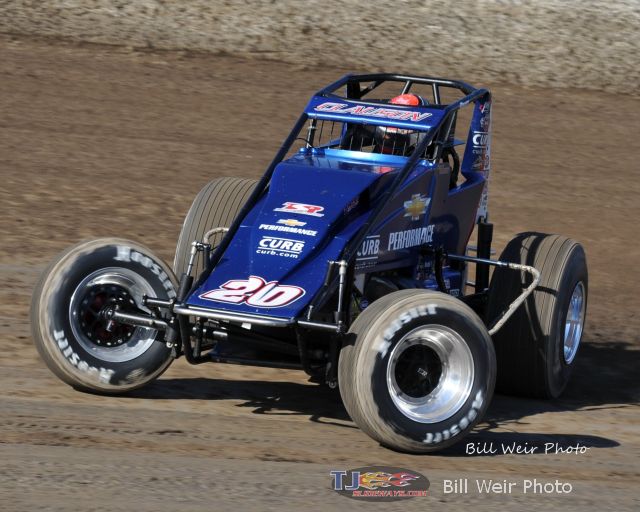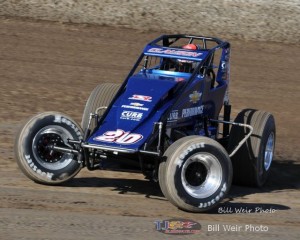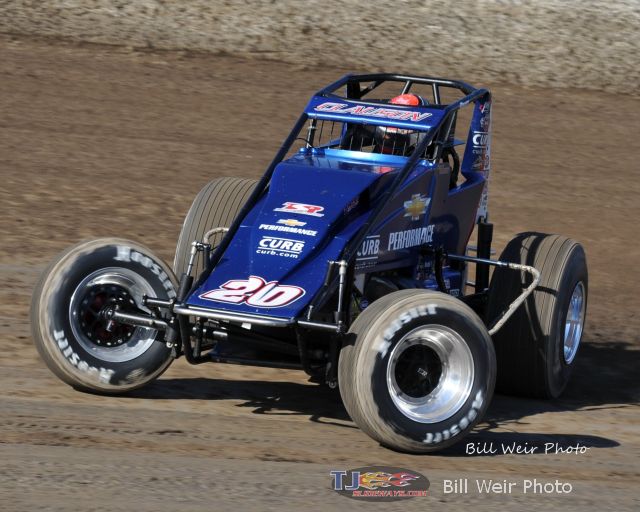 From Bob Miller
Delmar, DE — (May 28, 2014) — There's a storm heading east.
The AMSOIL USAC Eastern Storm will make their first stop at the Grandview Speedway on Tuesday night, June 3 in an event presented by Window World of the Lehigh Valley. The 8th Annual AMSOIL Eastern Storm will showcase the USAC National Non-Wing sprint cars in a five race east coast swing that will open as part of the NAPA Auto Parts Thunder on the Hill Racing Series as Grandview.
This event, labeled the Jesse Hockett Classic will remember one of the all-time great sprint car drivers who lost his life in a freak garage accident in 2010. In the 2009 running of the Amsoil Eastern Storm, Jesse Hockett won two USAC sprint car features in the same night at Grandview, an exciting and memorable night for this popular sprint car icon.
Andretti, one of the most popular names in auto racing will echo at Grandview Speedway Tuesday night, June 3 as Jarrett Andretti of Indianapolis, IN will make his first start ever at Grandview. At age twenty-one, Andretti is a member and weekly competitor with USAC and sponsored by Window World. "I have always heard great things about Grandview Speedway and appreciate their support of the USAC Sprint Car Series. The larger Pennsylvania tracks, Grandview included, are really able to show fans what the cars are capable of and give us a break from the Indiana bullrings. I am looking forward to my first trip to PA and thankful for USAC and all the tracks for making it all possible, " said Andretti.
The Staff of Thunder on the Hill welcomes Window World to their roster of sponsors. Window World is America's largest home improvement company. Window World of Lehigh Valley is your local specialist to help you with your window, vinyl siding, entry door or patio door needs. They can be reached at 610-432-6878, online at www.WindowWorldAllentown.com or at their show room 5925 Tilghman St, Allentown, PA 18104.
The Tuesday night, June 3rd event on the Hill will also include the ARDC Non-wing sprint cars and no doubt, Alex Bright will be in the field. Bright thrilled the race fans at the Grandview Speedway on Sunday night, after starting twenty-first and winning the non-stop 25 lap ARDC feature event. Gates will open at 5 PM with race time set for 7:30 PM.
Fans who attended the 2013 Grandview USAC show will remember the "Modern Day Cowboy Daron Clayton", the eventual winner of the 2013 40 lap Jesse Hockett Classic. Lap after lap, Clayton grazed the outside boiler plate as Levi Jones and Bryan Clauson thrilled the fans with a fifteen lap, three car battle for the win. Clayton of Sikeston, MO is a pre-entry for this years' Eastern Storm. Dave Darland of Lincoln, IN, Brady Bacon of Broken Arrow, OK, Bryan Clauson of Noblesville, IN, Chris Windom, Canton, IL and Tracy Hines are a few of the pre-entries.
If you have never seen a non-wing sprint car race, you can't miss the Eastern Storm. Side-by-side is the norm, a little wheel-banging, a slide job or two and drivers using the outside boiler plate to stay in bounds is just part of the show.
On Wednesday night, June 4, the USAC non-wing sprints will head to the Lincoln Speedway in Abbottstown, PA for a sensational double-header to include the Rislone URC 358/360 winged sprint challenge. Wow, the best of both all in one night, winged and non-wing sprints in a huge double-header on Wednesday night. In the history of both organizations, this is the first time ever both USAC and URC are brought together on the same racing program. Race time is set for 7:30 PM.
Then on Thursday night, the USAC sprints make a return visit to the New Egypt Speedway in New Egypt, NJ on Thursday night ,June 5. USAC and ARDC will team up for this double-header that is sure to please the New Jersey based crowd.
The Eastern Storm also has stops at the Port Royal Speedway on Saturday night, June 7 followed by a Sunday night stop at the Susquehanna Speedway.
2014 8th Annual Eastern Storm
Past Eastern Storm Champions
2013 Bryan Clauson/Nobelsville, IN
2012 Bryan Clauson/Nobelsville, IN
2011 Levi Jones/Olney, IL
2010 Levi Jones/Olney, IL
2009 Cole Whitt/Alpine, CA
2008 Cole Whitt/Alpine, CA
2007 Levi Jones/ Olney, IL
NAPA Auto Parts Thunder on the Hill Racing Series. . . . .
Presented by: Window World, Pioneer Pole Buildings & GALCO Business Communications
Grandview Speedway
Route 100
Ten mile north of Pottstown, PA
GPS Users: 43 Passmore Road Bechtelsville, PA 19505
Speedway Phone: 610-754-7688
Thunder on the Hill Information: 443 513 4456
Websites: www.thunderonthehillracingseries.com or www.grandviewspeedway.com Follow us on Facebook and Twitter @TOTHRacing
Thunder on the Hill fans are encouraged to engage on social media platforms using the hashtag #TOTHRacing before, after and during racing events. #TOTHRacing content will be promoted across the Thunder on the Hill official social media platforms on Facebook: www.facebook.com/thunderonthehill, Twitter: @TOTHRacing and Instagram: @TOTHRacing.
NEXT 2014 Thunder Series Race Date:
Tuesday, June 3 7:30 PM Jesse Hockett Classic USAC National Non-Wing Sprint Tour & ARDC Midgets
Admission: $25 adults, $10 children 6 to 11, Children under 6 will be admitted FREE. Pit fee is $35, no license required.