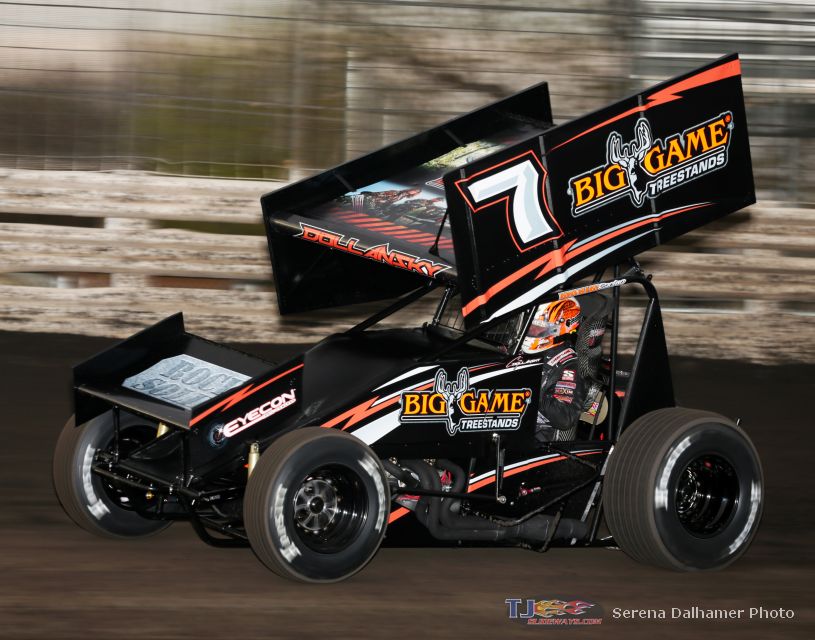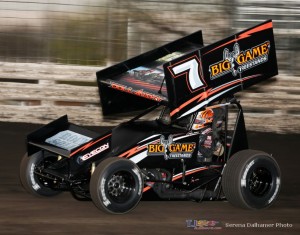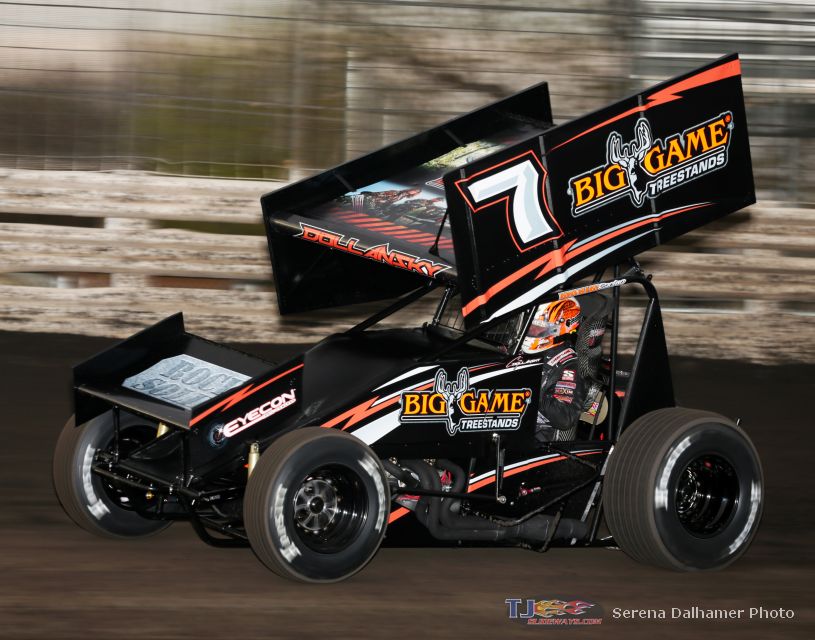 From Inside Line Promotions
Brandon, S.D. — (May 28, 2014) — Big Game Motorsports driver Craig Dollansky captured his third victory of the season in thrilling fashion last Saturday.
Dollansky powered to his 14th career win at Knoxville Raceway in Knoxville, Iowa, in a race that featured four official lead changes.
"It was a great race," he said. "There was a lot of action."
Dollansky opened the night by qualifying seventh quickest. He then finished fifth in his heat race to lock the Big Game Treestands car into the 20-lap main event, which Dollansky started on the pole after the feature inversion.
"I wouldn't say it went according to plan," he said. "We want to get qualified stronger, but we still have some things to work on. All in all, there were some things we struggled with throughout the night. We started on the pole, but Davey Heskin got the lead and ran a great race. We were getting into lapped traffic and it looked like it was going to mix stuff up and we had a yellow."
The caution near the midpoint of the race bunched the field together and Dollansky took advantage on the restart. He maneuvered into the lead on Lap 12 only to see Heskin retake the top spot the ensuing lap. Dollansky returned the favor on Lap 14 to regain the lead.
"We went back and forth a couple of times," he said. "I slid him and he slid me. He was running the bottom and we were running the top. I went to the bottom in turn one on the last lap and we were able to get the win in an exciting race."
Dollansky's victory was his second of the season at Knoxville Raceway, where he ranks fifth in the championship standings.
The Big Game Treestands team headed to Huset's Speedway on Sunday, when mechanical gremlins plagued Dollansky. After qualifying second quickest and rallying for a third-place finish in his heat race, Dollansky started the main event on the inside of the third row.
"We struggled with a couple of different mechanical issues," he said. "We struggled our way through it."
Dollansky maintained a top five throughout the main event before finishing with a fourth-place result, which marked the seventh top five in 11 races this season for the Big Game Treestands team. He is the current points leader at Huset's Speedway.
"To come out of there the way that we did it wasn't too bad," he said. "I'm happy that we found some things there that we'll have corrected for this weekend."
Dollansky and his Big Game Treestands team will return to Knoxville Raceway this Saturday and to Huset's Speedway on Sunday.
QUICK RESULTS –
May 24 – Knoxville Raceway in Knoxville, Iowa – Qualifying: 7; Heat race: 5 (4); Feature: 1 (1).
May 25 – Huset's Speedway in Brandon, S.D. – Qualifying: 2; Heat race: 3 (6); Feature: 4 (5).
SEASON STATS –
11 races, 3 wins, 7 top fives, 9 top 10s, 10 top 15s, 10 top 20s
UP NEXT –
Saturday at Knoxville Raceway in Knoxville, Iowa, and Sunday at Huset's Speedway in Brandon, S.D.
MEDIA LINKS –
Website: http://www.BigGameTreestands.com
Twitter: https://twitter.com/BigGameMotorspt
Facebook: https://www.facebook.com/pages/Big-Game-Treestands/251832101535076?fref=ts
Aggressive Hydraulics: http://www.AggressiveHydraulics.com
MobileStar: http://www.MobileStar.us/mobilestarwebsite