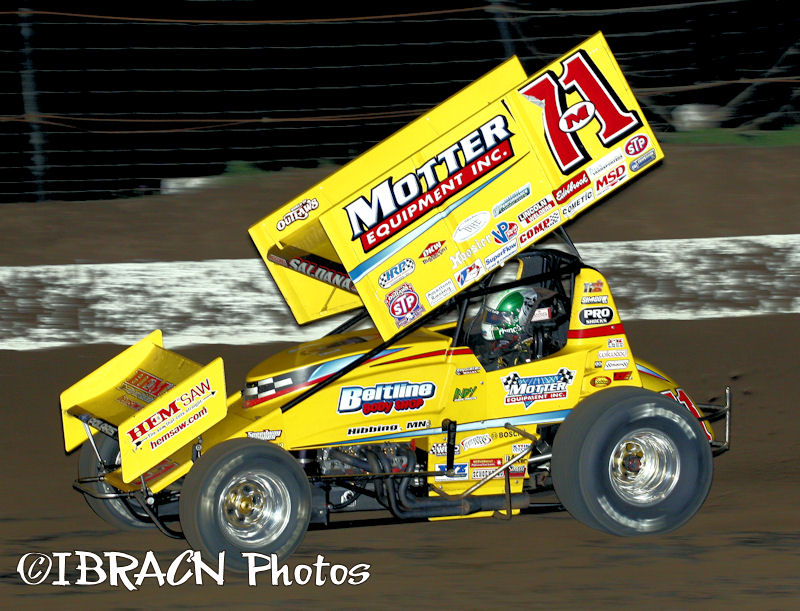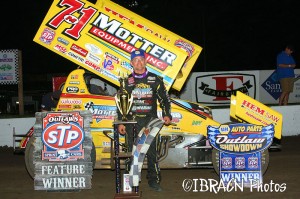 From the World of Outlaws
Greenwood, NE — (May 31, 2014) — From the front row, Joey Saldana jumped out to an early lead and held off challenges from Donny Schatz and Paul McMahan to win the World of Outlaws STP Sprint Cars' NAPA Auto Parts Outlaw Showdown at I-80 Speedway.
Despite the fact that the Outlaws have not raced at I-80 in more than a decade, Saldana, who led all 30 laps of the race, said the track drove much like he expected it to.
"I've watched races on YouTube," Saldana said. "It didn't race any different top, bottom – if you got a run on the bottom you had to hit your marks – just a great track. This is a perfect track for 410 sprint cars… I'm glad everyone supported it… hopefully this is a testament of things to come."
Early on in the NAPA Auto Parts Outlaw Showdown at I-80 Saldana faced a strong challenge from McMahan. As the race progressed and Schatz got around McMahan, it was Schatz who looked to reel Saldana in.
"I don't know if I had the best car but I definitely had track position," Saldana said. "I could move around and I think that one lapped car helped me block the 51 or the 15."
Saldana said this was a really special win for him personally because the last time the Outlaws raced at the track in 2003 was one of the last times his grandfather watched Saldana race before his grandfather died. It is also close to home for his parents and sisters.
This was Saldana's fourth win of the season. He is third in total wins behind Schatz and Daryn Pittman. Saldana also remains in third in the race for the championship, moving to within 29 points of the lead.
Saldana and Schatz led the field to the green flag with Kerry Madsen and McMahan on the second row and Sammy Swindell and Terry McCarl in the third.
As the green flag flew on the 30-lap A main, Saldana, driving his Motter Equipment car, jumped out challenging Schatz for the lead. A quick caution fell before lap one could be completed and the field was reset.
Following the restart, it was once again Saldana battling Schatz. Saldana caught Schatz going down the backstretch and rode the high side through turns three and four. Before the cars could return to the start/finish line, Saldana fought past Schatz and eventually led the first official lap of the race.
It was McMahan who next set his sights on Saldana and the lead. After fighting his CJB Motorsports car past Schatz, McMahan tried different lines to advance forward. He got looks for the lead on laps three and five but wasn't able to clear Saldana.
By lap nine, Schatz had caught McMahan and found his way around for second. The two would again trade positions on laps 15 and 20.
On lap 24, Schatz, now firmly in second, began to reel in Saldana. As the 71M utilized the low line in one and two, and three and four, Schatz followed trying to make something work.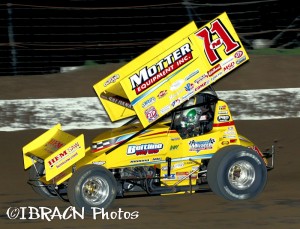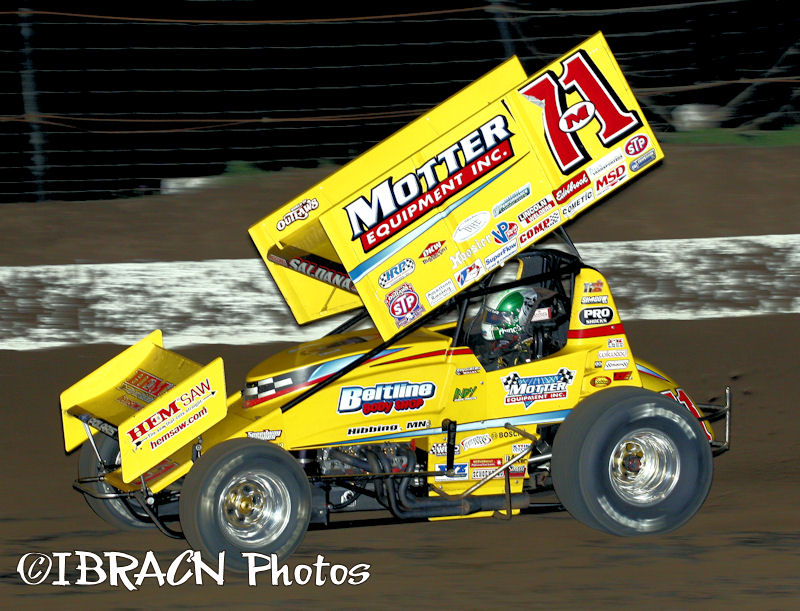 When the white flag flew, Schatz took one last run at Saldana down the backstretch and low through three and four. With momentum on to the frontstretch, Schatz, on Saldana's rear bumper bar, tried to make his pass. It was too late as Saldana took the checkered flag and the win.
"[Joey] could keep his speed getting off the corners there," said Schatz, a five-time Outlaws champion. "I tried everything I could… But it wasn't enough. Maybe later tonight I'll figure out something and replay the race."
"It's been a longtime since we've been here and I don't remember how it raced back then but times change. You have to move around the race track. I'd just kind of go wherever they didn't. I couldn't really make the top work in one and two all that well. Everybody was on the top of three and four so I had to try something and that's just the nature of the beast."
Schatz commended his STP/Armor All team for the effort they put into his race car and the run on Friday night. He increased his championship points lead on second place Pittman to 19.
"I had an awesome race car. Second was the best we could do tonight."
McMahan congratulated his good friend Saldana on the win tonight. He said Saldana was tough to get around.
"I had a good car tonight," McMahan said. "I showed Joey the bottom there and wasn't able to clear him and he moved down, just being the smart racer he is. Then Donny got rolling through the middle and got by us and we got back by him.
"I'll tell you what, it was a lot of fun racing. I hate running third but it was a lot of fun."
McMahan echoed sentiments from both Schatz and Saldana, thanking the large crowd at I-80 and wishing good things for the years to come.
The World of Outlaws STP Sprint Cars next go to Lakeside Speedway in Kansas City, Kan., tomorrow, Sunday, June 7 for the FVP Outlaws at Lakeside. The Outlaws race at Jackson Speedway in Jackson, Minn. on Friday, June 13 and then move to Knoxville Raceway in Knoxville, Iowa for the Mediacom Shootout on Saturday, June 14.
I-80 Speedway NOTES: This is Joey Saldana's fourth win of the season… Saldana passed Daryn Pittman tonight for the most laps led this season – 173 to Pittman's 171… Ian Madsen was tonight's KSE Hard Charger Award winner, the 18th different recipient of the award this season… After tonight, Donny Schatz is now tied with Cody Darrah and Kerry Madsen for most Heat wins this season. The three drivers all now have nine wins.
SEASON WINNERS: Daryn Pittman – 7 (Thunderbowl Raceway on March 14, Calistoga Speedway on April 6 and Devil's Bowl Speedway on April 19, Williams Grove Speedway on May 16 and May 17, Orange County Fair Speedway, May 18, New Egypt Speedway, May 20); Donny Schatz – 5 (Volusia Speedway Park on Feb. 15, The Dirt Track at Las Vegas on March 6 and Devil's Bowl Speedway on April 19, Lawrenceburg Speedway on May 27, I-96 Speedway on May 31); Joey Saldana – 4 (Perris Auto Speedway on April 12 and Salina Highbanks on April 25, The Dirt Track at Charlotte on May 23, I-80 Speedway on June 6); David Gravel – 3 (Merced Speedway on March 28, Eldora Speedway on May 3, and Wilmot Raceway on May 9); Brad Sweet – 3 (Volusia Speedway Park on Feb. 14, Tucson International Raceway on March 8 and Calistoga Speedway on April 5); Kerry Madsen – 2 (Stockton Dirt track on March 22 and El Paso Speedway Park on April 15); Paul McMahan – 2 (The Dirt Track at Las Vegas on March 5, Tri-State Speedway on May 10);Rico Abreu – 1 (Thunderbowl Raceway on March 15); Dale Blaney – 1 (Attica Raceway Park on May 30);Christopher Bell – 1 (Jacksonville Speedway on May 7); Cody Darrah – 1 (Kings Speedway on April 11);Steve Kinser – 1 (Volusia Speedway Park on Feb. 16); Stevie Smith – 1 (Lincoln Speedway on May 14); Shane Stewart – 1 (Eldora Speedway on May 2); Sammy Swindell – 1 (Federated Auto Parts Raceway at I-55 on April 26).
World of Outlaws STP Sprint Car Series Statistical Report; I-80 Speedway; Greenwood, Neb.; June 6, 2014
A-Main – (30 Laps) – 1. 71M-Joey Saldana [2] [$10,000]; 2. 15-Donny Schatz [1] [$5,500]; 3. 51-Paul McMahan [4] [$3,200]; 4. 29-Kerry Madsen [3] [$2,800]; 5. 1-Sammy Swindell [5] [$2,500]; 6. 9-Daryn Pittman [8] [$2,300]; 7. 18-Ian Madsen [16] [$2,200]; 8. 49-Brad Sweet [13] [$2,100]; 9. 4-Cody Darrah [9] [$2,050]; 10. 24-Terry McCarl [6] [$2,000]; 11. 21-Brian Brown [10] [$1,500]; 12. 83-David Gravel [15] [$1,200]; 13. 7S-Jason Sides [18] [$1,100]; 14. 11-Steve Kinser [14] [$1,050]; 15. 11K-Kraig Kinser [17] [$1,000]; 16. 7K-Dustin Selvage [20] [$900]; 17. 13V-Seth Brahmer [21] [$800]; 18. 33-Danny Lasoski [11] [$800]; 19. 77X-Wayne Johnson [19] [$800]; 20. 7-Craig Dollansky [7] [$800]; 21. 71A-R.J. Johnson [22] [$800]; 22. 1A-Jacob Allen [23] [$800]; 23. 1S-Logan Schuchart [25] [$]; 24. 9X-Paul Nienhiser [12] [$800]; 25. 1B-Jordon Boston [24] [$800]. Lap Leaders: Joey Saldana 1-30. KSE Hard Charger Award: 18-Ian Madsen [+9]
Qualifying – 1. 51-Paul McMahan, 14.076; 2. 71M-Joey Saldana, 14.082; 3. 15-Donny Schatz, 14.260; 4. 1-Sammy Swindell, 14.297; 5. 1B-Jordon Boston, 14.324; 6. 9-Daryn Pittman, 14.341; 7. 29-Kerry Madsen, 14.366; 8. 4-Cody Darrah, 14.373; 9. 24-Terry McCarl, 14.407; 10. 21-Brian Brown, 14.425; 11. 7-Craig Dollansky, 14.430; 12. 33-Danny Lasoski, 14.473; 13. 9X-Paul Nienhiser, 14.514; 14. 49-Brad Sweet, 14.539; 15. 71A-R.J. Johnson, 14.547; 16. 11-Steve Kinser, 14.558; 17. 83-David Gravel, 14.581; 18. 18-Ian Madsen, 14.607; 19. 82-Roger Crockett, 14.611; 20. 3-Billy Alley, 14.620; 21. 11K-Kraig Kinser, 14.650; 22. 7S-Jason Sides, 14.677; 23. 77X-Wayne Johnson, 14.748; 24. 7K-Dustin Selvage, 14.863; 25. 75-Glen Saville, 14.893; 26. 13V-Seth Brahmer, 14.911; 27. 2-Kevin Ingle, 14.967; 28. 44-Chris Martin, 15.025; 29. 1A-Jacob Allen, 15.126; 30. 1S-Logan Schuchart, 15.452
Heat 1 – (8 Laps – Top 6 finishers transfer to the A-feature) – 1. 29-Kerry Madsen [2]; 2. 21-Brian Brown [1]; 3. 51-Paul McMahan [4]; 4. 1-Sammy Swindell [3]; 5. 9X-Paul Nienhiser [5]; 6. 11-Steve Kinser [6]; 7. 75-Glen Saville [9]; 8. 44-Chris Martin [10]; 9. 82-Roger Crockett [7]; 10. 7S-Jason Sides [8]
Heat 2 – (8 Laps – Top 6 finishers transfer to the A-feature) – 1. 7-Craig Dollansky [1]; 2. 71M-Joey Saldana [4]; 3. 4-Cody Darrah [2]; 4. 1B-Jordon Boston [3]; 5. 83-David Gravel [6]; 6. 49-Brad Sweet [5]; 7. 77X-Wayne Johnson [8]; 8. 13V-Seth Brahmer [9]; 9. 1A-Jacob Allen [10]; 10. 3-Billy Alley [7]
Heat 3 – (8 Laps – Top 6 finishers transfer to the A-feature) – 1. 24-Terry McCarl [2]; 2. 15-Donny Schatz [4]; 3. 9-Daryn Pittman [3]; 4. 18-Ian Madsen [6]; 5. 33-Danny Lasoski [1]; 6. 11K-Kraig Kinser [7]; 7. 7K-Dustin Selvage [8]; 8. 71A-R.J. Johnson [5]; 9. 2-Kevin Ingle [9]; 10. 1S-Logan Schuchart [10]
Dash – (6 Laps, finishing order determined first 8 starting positions of A-feature) – 1. 15-Donny Schatz [2]; 2. 71M-Joey Saldana [3]; 3. 29-Kerry Madsen [6]; 4. 51-Paul McMahan [4]; 5. 1-Sammy Swindell [1]; 6. 24-Terry McCarl [7]; 7. 7-Craig Dollansky [8]; 8. 1B-Jordon Boston [5]
Last Chance Showdown – (12 Laps – Top 6 finishers transfer to the A-feature) – 1. 77X-Wayne Johnson [5] [-]; 2. 13V-Seth Brahmer [8] [-]; 3. 7K-Dustin Selvage [6] [-]; 4. 7S-Jason Sides [4] [-]; 5. 71A-R.J. Johnson [1] [-]; 6. 1A-Jacob Allen [11] [-]; 7. 2-Kevin Ingle [9] [$200]; 8. 75-Glen Saville [7] [$180]; 9. 44-Chris Martin [10] [$175]; 10. 82-Roger Crockett [2] [$160]; 11. 3-Billy Alley [3] [$150]; 12. 1S-Logan Schuchart [12] [$150]
World of Outlaws STP Sprint Car Series Championship Standings