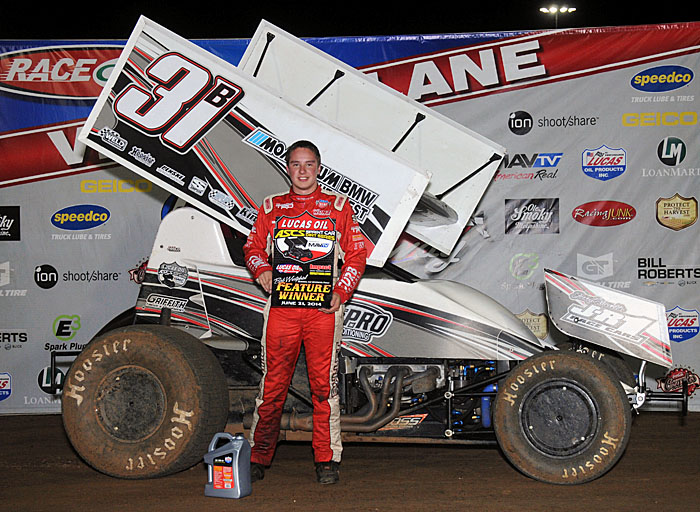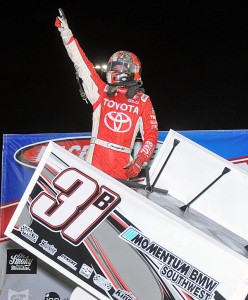 From Lonnie Wheatley
Norman, OK — (June 24, 2014) — It had been over a month since Christopher Bell had turned a lap in a winged Sprint Car.
Little difference did it make though, as the Norman, OK, native kicked off four nights of ASCS Speedweek action with Hard Charger efforts at Lawton Speedway last Wednesday before topping two of the next three events at Creek County Speedway and Lucas Oil Speedway to run his season total to 14 feature wins.
And the 19-year-old was ever so close to another win aboard Brandon Berryman's All Pro No. 31b JR1 Chassis with fuel problems sidelining a possible Friday night score at Outlaw Motorsports Park.
Bell's ASCS Speedweek action kicked off Wednesday atop the red clay of Lawton Speedway in Southwest Oklahoma. Arriving at the track just in time for hot laps after travel delays, a broken wing valve in heat race action set up a spectacular rally from the tail of a "B" Main into the third and final transfer position.
Bell then raced from 20th to tenth in the feature before the track locked down, earning Hard Charger honors and setting up a drive for the ages the following night at Creek County Speedway.
With the balance of the field struggling on a heavy, seemingly narrow Creek County surface near Tulsa, OK, on Thursday night, Bell made it look easy.
Starting from the front row outside, Bell gunned into the lead and dominated the field by lapping all but the second and third place cars with a pair of cautions the only thing keeping the remaining podium finishers on the lead lap.
"I tried it down low some early but I was way too tight for that like everyone else," Bell explained. "I moved up the track and just ran it harder, the harder you run a winged car the better it goes."
Racing in front of numerous friends and family at one of the tracks Bell grew up on in the Micro Sprint ranks was a special moment. "I grew up running Micros around here, I always enjoy coming back to this place."
Bell particularly enjoyed the cozy confines of the Creek County Speedway clay oval on this night. "I just love these rough and heavy little bullrings. You can really sit up in the seat where the driver can really make a difference."
Coming off a thorough thrashing of ASCS competition on Thursday, the young sensation worked his way into a threatening third position in Friday's feature at the Outlaw Motorsports Park. Set to challenge front-runners Brad Loyet and Jeff Swindell for the point after a caution with just six laps to go, only a fuel shortage could slow Bell's charge and result in a DNF.
"I think we had as good a shot at winning that as anyone, we were good," Bell explained.
On to the ASCS Speedweek finale at the "Diamond of Dirt Tracks", Lucas Oil Speedway in Wheatland, MO, Bell rallied from ninth to second in his heat race to rank as high point driver among the loaded 53-car field.
Redrawing the number seven, Bell wasted little time racing forward from his fourth row inside starting position, cracking the top five by the fifth round and then taking second from Brad Loyet on the tenth circuit.
Bell reeled in Matt Covington and raced into the lead at the midway point of the 30-lapper, racing the rest of the way virtually unchallenged to his 14th win of the year, a world-best open wheel win total for 2014.
"That was a blast, it doesn't get much better than that," Bell explained of his triumph on the well-manicured Lucas Oil Speedway clay oval.
"I just can't thank Brandon (Berryman), Bobby Craft and Jerry Russell enough, they gave me a great car each night," Bell comments. "We won two out of four races, can't complain about that at all.
With another successful stint aboard the Berryman No. 31b in the books, the beat continues with Bell making the fast trek to Ohio for the annual All Star Circuit of Champions Ohio Sprint Speedweek.
Sunday's Ohio Speedweek start for Bell in the Ray Marshall Motorsports No. 33 wrenched by Rick Ferkel at Waynesfield Raceway Park netted a tenth place finish after an earlier spin with Monday night's go at Wayne County Speedway falling victim to rain.
"We made a couple of little changes in the front end, it felt better in the couple of laps we got before it rained," Bell explained of the car before rain washed out Monday's action at Wayne County Speedway after qualifying.
With Tuesday's card at Sharon Speedway falling victim to rain as well, Ohio Speedweek continues with Bell in the Marshall Motorsports No. 33 at Atomic Speedway on Wednesday before climbing aboard the Keith Kunz No. 67 for the final three rounds at Fremont Speedway (Thursday and Saturday) and Limaland Motorsports Park (Friday).
2014 Quick Stats: 52 races, 14 wins, 29 top-fives, 35 top-tens.
In Progress: All-Star Circuit of Champions Ohio Sprint Speedweek:
Sunday, Waynesfield Raceway Park (Waynesfield, OH) – Marshall Motorsports 33 Winged Sprint Car (10th)
Monday, Wayne County Speedway (Orrville, OH) – Marshall Motorsports 33 Winged Sprint Car (Rained Out)
Tuesday, Sharon Speedway (Hartford, OH) – Marshall Motorsports 33 Winged Sprint Car (Rained Out)
Wednesday, Atomic Speedway (Chillicothe, OH) – Marshall Motorsports 33 Winged Sprint Car
Thursday, Fremont Speedway (Fremont, OH) – Kunz 67 Winged Sprint Car
Friday, Limaland Motorsports Park (Lima, OH) – Kunz 67 Winged Sprint Car
Saturday, Fremont Speedway (Fremont, OH) – Kunz 67 Winged Sprint Car
Keep Track: Keep track of Christopher Bell's on-track action including schedule and results at http://www.christopherbellracing.com/.