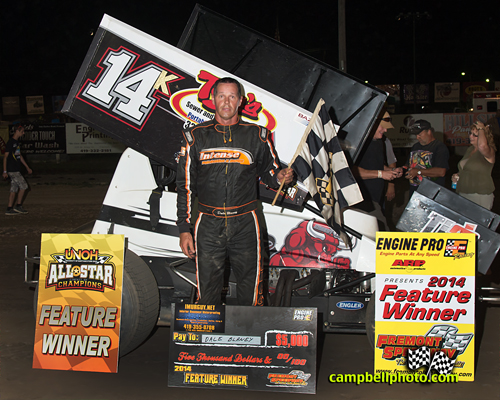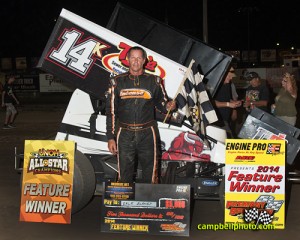 From Brian Liskai
Fremont, OH — (June 26, 2014) — Fremont Speedway was Dale Blaney's personal ATM in 2013. But, after opening the track's season with a win in April, "The Low Rider" has been held winless at "The Track That Action Built." That all changed Thursday during night #4 of the 32nd Annual Ohio Sprint Speedweek with the University of Northwestern Ohio All Star Circuit of Champions.
The four time and defending UNOH All Star Champion took a major step to claiming an unprecedented fifth series title by blasting past James McFadden on a restart at the half-way point of the feature and driving to his second Ohio Sprint Speedweek win. The victory is Blaney's 102nd career UNOH All Star win and the third series victory of 2014. He now has 21 career victories at Fremont, of which, 15 have been All Star triumphs.
Blaney now holds a commanding lead in the Ohio Sprint Speedweek point standings as he looks to claim that title for the fifth time in his career. In fact, he has not finished out of the top three in any of the four speedweek events. He also pads his point lead in the UNOH All Star's national and Ohio region points.
"I was really really tight entering the corners. Him (McFadden) in front of me…it had me all balled up. I was able to get a good run on him in one and two and in three he saw me and he had been running down and he caught it and I got around him and moved to the top. The car got really good the last 12 laps. I was able to get off two really well," said Blaney beside his Kennedy Cattle/Penske Shocks/Ti22 Performance/GF1 Chassis #14k.
"George and Tony and Donny and Skippy…they do an awesome job with this thing. It's such a pleasure for me to drive this right now. Those guys do 80 percent of the work and the credit should go to them…I just get to drive it," added Blaney in the Engine Pro Victory Lane.
For McFadden, Fremont Speedway has been fantastic to the Australian driver as he scored a $10,000-to-win victory back in May at the track and followed with a second place run Thursday on "I'm Your Guy Water Proofing Night." The battle he had with Jac Haudenschild for second the last hand full of laps kept the big crowd entertained to say the least.
"I really like this track…it's a lot like home. The track's a little bit flatter but slicker than I'm used to. The team gave me an awesome car and it's a pleasure to drive and it's easy to get around here," said McFadden beside his Tim Norman/Joe Gaerte owned #3G.
"It is always fun racing with someone like Jac. I probably used him up a little too much coming into three…didn't expect to move up as much as I did…it kind of got away from me and I'm sorry about that. But, this gives us a lot of momentum going into the last two races," added McFadden beside his Gaerte Engines/XYZ Machining/Red Line Oil/All Star Performance backed machine.
Haudenschild, who won the speedweek event the previous night at Atomic Speedway, is happy with the direction of his Rick Rodgers backed team.
"James and I had a real good race there…we slid back and forth a couple of times. That was fun. We're getting better here and I'm looking forward to coming back here in a couple of days. I said it about a month ago…this team is starting to gel," said Haudenschild beside his Mondak Portables/Triple X Racing/Renegade Rentals/Champion Oil/Destiny Racing backed #9w.
In a crash marred Fremont Federal Credit Union 305 Sprint feature, Fremont's Paul Weaver would hold off Steve Rando for his first win of the season. The victory is Weaver's 34th career win at the track and ties him with Al Franks for 10th on the track's all-time win list. It wasn't easy for Weaver, who said he ran out of fuel on the last lap.
"I ran out of fuel but I'm sure others did too. It just wouldn't go down the straight away and we were slipping and sliding. I couldn't find a good way into one. It was almost like close your eyes and where it ends up it ends up. We have been doing everything we could and Jamie Miller came along to help me including putting another car together. We put this one back together and right off the bat we win," said Weaver beside his Hampshire Racing Engines/Buckeye Mobile Coatings/Weaver Performance Karts and Parts/Fostoria Mod Shop/M&L Excavating/Tender Touch Car Wash backed machine.
In the AAA Ohio Auto Club Dirt Trucks, Risingsun, Ohio's Shawn Valenti battled the first half of the race with Art Ball and Matt Foos and then with Jimmy McGrath Jr. At the end, he held off a charging Daniel Roepke to score his 8th win of the season at Fremont. The victory is his 17th career win at the track.
"I have to thank Joe and Mike Burkin for putting me in their sprint car tonight and Jeff Babcock for this awesome truck. The truck is rolling the cushion nice," said Valenti beside his Craig Miller Trucking/Conrad Transport/Dave Story Equipment Repair/Day Dream and Memories Crafts and Antiques/KS Sales and Service backed #7b.
After the field of 51 UNOH All Star Sprint Cars – second highest car count of the week – was whittled down to the 24-car starting grid for the 40-lap feature, McFadden and Lee Jacobs would make up the front row. Jacobs, who holds the track record at Fremont Speedway, would bolt into the lead over McFadden, Blaney, Gary Taylor, Cap Henry and Haudenschild.
Jacobs set a blistering pace, hitting lapped traffic by the 7th circuit with McFadden, Blaney and Taylor closing. Taylor would use the lapped cars to steal third on lap 8. As Jacobs and McFadden tried to negotiate through the traffic, Taylor and Blaney closed. As Jacobs tried to maintain the lead and get around the lapped car of Brandon Wimmer, the two touched wheels with Jacobs slamming into the front stretch wall, ending his night and handing the lead to McFadden. Taylor too would suffer a flat tire and relinquished his second running spot to Blaney.
The restart order was McFadden, Blaney, Henry, Haudenschild, Christopher Bell, Chad Kemenah and Randy Hannagan. Haudenschild would move into third on lap 13 with Bell taking fourth by lap 16, bringing Kemenah to fifth. Travis Philo would spin on lap 19 to bunch up the field and on the restart; Blaney drove around the high side of McFadden in turns one and two to grab the lead.
Just past the half-way point the running order was Blaney, McFadden, Haudenschild, Kemenah, Bell and Henry. The car on the move was Chris Andrews who started 19th and was up to 7th by lap 24. With 11 laps remaining both McFadden and Haudenschild were closing on Blaney with Kemenah fourth and Andrews fifth.
The final caution would fly with five laps to go when Broc Martin spun. With a clear track Blaney would drive away as McFadden and Haudenschild put on a heck of a show battling for second with Andrews grabbing fourth. Haudenschild would move into second on lap 37 but McFadden squeezed back by a circuit later.
At the checkered it was Blaney over McFadden, Haudenschild, Andrews and Kemenah.
As a way to thank the teams for supporting Fremont Speedway during the Ohio Sprint Speedweek event, track promoter Rich Farmer added extra funds to the B-main.
Rookie Kyle Capodice and Weaver would bring the field to green for the 25-lap 305 sprint feature with Weaver gaining the advantage over Capodice, Steve Rando, Nate Dussel, Dan McCarron, Alvin Roepke, Dan Hammond and John Ivy.
The action ground to a half on lap three when Jordan Ryan tipped over in turn two. The restart order was Weaver, Capodice, Rando, Dussel, Roepke, McCarron, Ivy and Seth Schneider. Rando would take charge of second on lap five, bringing Dussel and Roepke around Capodice. Roepke would bring out the caution on lap 11 when he found one of the infield tractor tires, ending his night. On the restart Ivy was able to drive around Dussel for third.
On lap 13 one of the infield tractor tires was moved into the racing groove to bring out the caution. On the restart Brandon Moore would spin. When the green came back out the running order was Weaver, Rando, Ivy, Dussel and Dustin Dinan. Dan Hammond would spin on lap 15 for another caution. When the green flew again it didn't hold for too long as Dustin Stroup and Ricky Peterson would tangle on the front stretch necessitating a red. On the ensuing restart Capodice would spin. After lap 19 was recorded with the running order Weaver, Rando, Ivy, Dussel, Dinan and Schneider, McCarron would spin.
On the ensuing restart Dussel and Ivy would collide, sending both upside down. Now the restart order was Weaver, Rando, Dinan, Schneider, Jimmy Colvin, TJ Michael and Bobby Clark. Weaver and Rando pulled away from Dinan and it looked as if Weaver had the race in hand. But, on the final corner of the final lap, his car bobbled slightly and Rando drove to his inside as it was a drag race to the checkers. Weaver held on to win over Rando, Dinan, Schneider and Michael.
Brandon Moore took the Baumann Auto Group Big Bucks Bump Challenge and left his front row starting spot to go to the tail for a chance at a $5,000 bonus. He would come up short, finishing 10th. But, because he accepted the challenge, his 10th spot pay was doubled.
Art Ball and Matt Foos would bring the field to green for the 20-lap dirt truck feature. Right away it was a tremendous three truck battle between Ball, Foos and Valenti. The caution would fly on lap 3 when Brad Keckler tangled with Foos who had gotten a bit sideways in turn three. That handed the lead to Ball with Valenti and Jimmy McGrath locked in a battle for second. Ball, McGrath and Valenti now raced hard for the lead with Roepke and Kent Brewer in tow. McGrath Jr. would take the lead on lap six with Valenti and Ball glued to his bumper. Valenti would drive into second on lap eight and blasted around McGrath for the lead a circuit later.
At the half-way point the running order was Valenti, McGrath Jr., Ball, Roepke, Brewer and Cory Ward. Ball would spin on lap 16, handing third to Roepke who would then drive around McGrath on lap 18. Brandon Leighton would spin on lap 19, setting up a one-lap dash to the checkers. Valenti would hold off Roepke with McGrath Jr., Brewer and Ward rounding out the top five.
For more information about Saturday's Ohio Sprint Speedweek finale paying $10,000 to win with the dirt trucks and 305 sprints also in action, go to www.fremontohspeedway.com
Art Ball and Jim McGrath
Fremont Speedway – 6/26/2014
UNOH Night
All Star Circuit of Champions (51 Cars)
[#]-Starting Position
Qualifying – Kistler Engines
1. 1ST-Gary Taylor, 12.234; 2. 63-Chad Kemenah, 12.280; 3. 40DD-Caleb Griffith, 12.285; 4. 11N-Randy Hannagan, 12.317; 5. 77AU-Darren Mollenoyux, 12.353; 6. 14K-Dale Blaney, 12.365; 7. 81-Lee Jacobs, 12.423; 8. 3G-James McFadden, 12.425; 9. 53-Cap Henry, 12.453; 10. 83M-Broc Martin, 12.470; 11. 9W-Jac Haudenschild, 12.480; 12. 67-Christopher Bell, 12.492; 13. 99-Brady Bacon, 12.495; 14. 2-Shane Stewart, 12.502; 15. 45L-Brian Lay, 12.502; 16. 23JR-Jack Sodeman Jr., 12.506; 17. 70-Derek Hagar, 12.518; 18. 35AU-Jamie Veal, 12.523; 19. 35-Stuart Brubaker, 12.542; 20. 16-Chris Andrews, 12.572; 21. 45-Tim Shaffer, 12.574; 22. 5T-Travis Philo, 12.579; 23. 48-Danny Dietrich, 12.599; 24. 2+-Brian Smith, 12.604; 25. 11F-D.J. Foos, 12.610; 26. 9Z-Duane Zablocki, 12.614; 27. 24H-Brandon Wimmer, 12.623; 28. 57X-Andrew Palker, 12.627; 29. 60K-Jody Keegan, 12.668; 30. 40-Caleb Helms, 12.668; 31. 49-Cole Duncan, 12.684; 32. 71MX-Paul May, 12.701; 33. 10H-Danny Holtgraver, 12.727; 34. 11X-Brandon Martin, 12.742; 35. 78-Todd Kane, 12.750; 36. 44W-Austin Wheatley, 12.751; 37. 9-Dean Jacobs, 12.780; 38. 21-Dallas Hewitt, 12.800; 39. W20-Greg Wilson, 12.817; 40. 71AU-Ryan Davis, 12.826; 41. 5R-Byron Reed, 12.869; 42. O7X-Dain Naida, 12.888; 43. 97-Sam Hafertepe Jr., 12.906; 44. 83-Stevie Smith, 12.940; 45. 40I-Mark Imler, 12.960; 46. 312-Mike Linder, 12.966; 47. 46AU-Stuart Williams, 13.023; 48. 38-Dennis Wagner, 13.389; 49. 39M-Matt Merrill, 13.818; 50. 5-Dave Glennon, 99.991; 51. 19P-Paige Polyak, 99.992
Heat 1 – Kears Speed Shop (10 Laps – Top 5 finishers transfer to the A-feature)
1. 45-Tim Shaffer[1] ; 2. 70-Derek Hagar[2] ; 3. 1ST-Gary Taylor[6] ; 4. 99-Brady Bacon[3] ; 5. 53-Cap Henry[4] ; 6. 9-Dean Jacobs[10] ; 7. 77AU-Darren Mollenoyux[5] ; 8. 10H-Danny Holtgraver[9] ; 9. 5R-Byron Reed[11] ; 10. 60K-Jody Keegan[8] ; 11. 11F-D.J. Foos[7] ; 12. 39M-Matt Merrill[13] ; 13. 40I-Mark Imler[12]
Heat 2 – All Pro Aluminum Heads (10 Laps – Top 5 finishers transfer to the A-feature)
1. 2-Shane Stewart[3] ; 2. 35AU-Jamie Veal[2] ; 3. 5T-Travis Philo[1] ; 4. 83M-Broc Martin[4] ; 5. 14K-Dale Blaney[5] ; 6. 63-Chad Kemenah[6] ; 7. 9Z-Duane Zablocki[7] ; 8. 21-Dallas Hewitt[10] ; 9. 312-Mike Linder[12] ; 10. O7X-Dain Naida[11] ; 11. 5-Dave Glennon[13] ; 12. 11X-Brandon Martin[9] ; 13. 40-Caleb Helms[8]
Heat 3 – Dragon Racing Fuels (10 Laps – Top 5 finishers transfer to the A-feature)
1. 48-Danny Dietrich[1] ; 2. 9W-Jac Haudenschild[4] ; 3. 35-Stuart Brubaker[2] ; 4. 45L-Brian Lay[3] ; 5. 81-Lee Jacobs[5] ; 6. 40DD-Caleb Griffith[6] ; 7. 24H-Brandon Wimmer[7] ; 8. 49-Cole Duncan[8] ; 9. W20-Greg Wilson[10] ; 10. 19P-Paige Polyak[13] ; 11. 46AU-Stuart Williams[12] ; 12. 97-Sam Hafertepe Jr.[11] ; 13. 78-Todd Kane[9]
Heat 4 – Kinsler Fuel Injection (10 Laps – Top 5 finishers transfer to the A-feature)
1. 16-Chris Andrews[2] ; 2. 2+-Brian Smith[1] ; 3. 3G-James McFadden[5] ; 4. 11N-Randy Hannagan[6] ; 5. 67-Christopher Bell[4] ; 6. 83-Stevie Smith[11] ; 7. 57X-Andrew Palker[7] ; 8. 71AU-Ryan Davis[10] ; 9. 38-Dennis Wagner[12] ; 10. 23JR-Jack Sodeman Jr.[3] ; 11. 44W-Austin Wheatley[9] ; 12. 71MX-Paul May[8]
Dash – Howard Johnson Hotel – Lima, OH (6 Laps, finishing order determined first 6 starting positions of A-feature
1. 3G-James McFadden[1] ; 2. 81-Lee Jacobs[2] ; 3. 53-Cap Henry[3] ; 4. 14K-Dale Blaney[5] ; 5. 11N-Randy Hannagan[4] ; 6. 1ST-Gary Taylor[6]
C-Main – Computer Man Inc. (10 Laps – Top 2 finishers transfer to the B-feature)
1. W20-Greg Wilson[1] ; 2. 83-Stevie Smith[6] ; 3. 97-Sam Hafertepe Jr.[5] ; 4. O7X-Dain Naida[4] ; 5. 46AU-Stuart Williams[9] ; 6. 19P-Paige Polyak[13] ; 7. 40I-Mark Imler[7] ; 8. 39M-Matt Merrill[11] ; 9. 38-Dennis Wagner[10] ; 10. 71AU-Ryan Davis[2] ; 11. 5-Dave Glennon[12]
B-Main – MSD Ignition (12 Laps – Top 4 finishers transfer to the A-feature)
1. 63-Chad Kemenah[1] ; 2. 40DD-Caleb Griffith[2] ; 3. 23JR-Jack Sodeman Jr.[4] ; 4. 24H-Brandon Wimmer[7] ; 5. 77AU-Darren Mollenoyux[3] ; 6. 9Z-Duane Zablocki[6] ; 7. 10H-Danny Holtgraver[13] ; 8. 9-Dean Jacobs[17] ; 9. 57X-Andrew Palker[8] ; 10. 83-Stevie Smith[20] ; 11. W20-Greg Wilson[19] ; 12. 44W-Austin Wheatley[16] ; 13. 11X-Brandon Martin[14] ; 14. 78-Todd Kane[15] ; 15. 60K-Jody Keegan[9] ; 16. 49-Cole Duncan[11] ; 17. 21-Dallas Hewitt[18] ; 18. 11F-D.J. Foos[5]
A-Main – University of Northwestern Ohio (40 Laps)
1. 14K-Dale Blaney[4]; 2. 3G-James McFadden[1]; 3. 9W-Jac Haudenschild[8]; 4. 16-Chris Andrews[19]; 5. 63-Chad Kemenah[11]; 6. 11N-Randy Hannagan[5]; 7. 67-Christopher Bell[9]; 8. 35AU-Jamie Veal[17]; 9. 45L-Brian Lay[14]; 10. 40DD-Caleb Griffith[12]; 11. 53-Cap Henry[3]; 12. 2-Shane Stewart[13]; 13. 70-Derek Hagar[16]; 14. 1ST-Gary Taylor[6]; 15. 99-Brady Bacon[10]; 16. 48-Danny Dietrich[22]; 17. 5T-Travis Philo[21]; 18. 24H-Brandon Wimmer[24]; 19. 2+-Brian Smith[23]; 20. 83M-Broc Martin[7]; 21. 35-Stuart Brubaker[18]; 22. 81-Lee Jacobs[2]; 23. 23JR-Jack Sodeman Jr.[15]; 24. 45-Tim Shaffer[20]
Hard Charger: 16-Chris Andrews[+15]
Fremont Federal Credit Untion 305 Sprints (27 Cars)
[#]-Starting Position
Heat 1 – American Power Sports (8 Laps – Top 5 finishers transfer to the A-feature)
1. 8I-John Ivy[1] ; 2. 5R-Jordan Ryan[2] ; 3. 1-Nate Dussel[3] ; 4. 19R-Steve Rando[8] ; 5. 28-Dustin Stroup[6] ; 6. 8-Bobby Clark[7] ; 7. 68G-Tyler Gunn[5] ; 8. 3J-Trey Jacobs[4] ; 9. 11G-Luke Griffith[9]
Heat 2 – Kistler Racing Products (8 Laps – Top 5 finishers transfer to the A-feature)
1. 1W-Paul Weaver[4] ; 2. 12-Kyle Capodice[1] ; 3. 36-Seth Schneider[5] ; 4. 22D-Dan Hammond[3] ; 5. 8M-T.J Michael[7] ; 6. 2-Ricky Peterson[9] ; 7. 25-Jason Keckler[8] ; 8. 10-Josh Harrison[6] ; 9. 32-Ryan French[2]
Heat 3 – Hoosier Racing Tires (8 Laps – Top 5 finishers transfer to the A-feature)
1. 7A-Alvin Roepke[1] ; 2. 6-Dustin Dinan[7] ; 3. 7M-Brandon Moore[3] ; 4. 22M-Dan McCarron[5] ; 5. 9-Jimmy Colvin[8] ; 6. 48-Shawn Valenti[2] ; 7. 10S-Roger Shammo[9] ; 8. 29P-Mark Pinski[4] ; 9. 94K-Kurt Huber[6]
B-Main – Computer Man Inc. (10 Laps – Top 5 finishers transfer to the A-feature)
1. 68G-Tyler Gunn[4] ; 2. 8-Bobby Clark[1] ; 3. 2-Ricky Peterson[2] ; 4. 25-Jason Keckler[5] ; 5. 3J-Trey Jacobs[7] ; 6. 11G-Luke Griffith[10] ; 7. 10-Josh Harrison[8] ; 8. 10S-Roger Shammo[6] ; 9. 48-Shawn Valenti[3] ; 10. 29P-Mark Pinski[9] ; 11. 94K-Kurt Huber[12] ; 12. 32-Ryan French[11]
A-Main – (25 Laps)
1. 1W-Paul Weaver[2]; 2. 19R-Steve Rando[3]; 3. 6-Dustin Dinan[11]; 4. 36-Seth Schneider[7]; 5. 8M-T.J Michael[12]; 6. 8-Bobby Clark[17]; 7. 9-Jimmy Colvin[15]; 8. 12-Kyle Capodice[1]; 9. 25-Jason Keckler[19]; 10. 7M-Brandon Moore[20]; 11. 68G-Tyler Gunn[14]; 12. 8I-John Ivy[10]; 13. 1-Nate Dussel[6]; 14. 22M-Dan McCarron[4]; 15. 22D-Dan Hammond[5]; 16. 2-Ricky Peterson[16]; 17. 28-Dustin Stroup[13]; 18. 7A-Alvin Roepke[8]; 19. 5R-Jordan Ryan[9]
Hard Charger: 8-Bobby Clark[+11]
©2014 – Results Provided by: Computer Man Inc. Fremont, OH
AAA Auto Club Dirt Trucks (19 Trucks)
[#]-Starting Position
Heat 1 – American Power Sports (8 Laps – Top 10 finishers transfer to the A-feature)
1. 2-Matt Foos[5] ; 2. 5JR-Jimmy McGrath Jr.[4] ; 3. 5-Jim McGrath[9] ; 4. 3X-Brad Keckler[1] ; 5. O1-Art Ball[6] ; 6. 4S-Keith Sorg[10] ; 7. 8KB-Kent Brewer[7] ; 8. O-Jim Keegan[3] ; 9. D1-Dustin Keegan[8] ; 10. 22-Brandon Leighton[2]
Heat 2 – Kistler Racing Products (8 Laps – Top 10 finishers transfer to the A-feature)
1. 36M-Cory McCaughey[2] ; 2. 88-Dan Roepke Jr.[3] ; 3. 7B-Shawn Valenti[7] ; 4. 18W-Cory Ward[4] ; 5. 33-Jeff Ward[8] ; 6. 7-Dana Frey[6] ; 7. 37-Eric Devanna[9] ; 8. 85S-Bradley Stuckey[5] ; 9. 3-Andy Earnhart[1]
A-Main – (20 Laps)
1. 7B-Shawn Valenti[4]; 2. 88-Dan Roepke Jr.[9]; 3. 5JR-Jimmy McGrath Jr.[6]; 4. 8KB-Kent Brewer[13]; 5. 18W-Cory Ward[7]; 6. 36M-Cory McCaughey[8]; 7. 33-Jeff Ward[5]; 8. 37-Eric Devanna[12]; 9. D1-Dustin Keegan[17]; 10. O-Jim Keegan[15]; 11. O1-Art Ball[1]; 12. 4S-Keith Sorg[11]; 13. 85S-Bradley Stuckey[14]; 14. 22-Brandon Leighton[18]; 15. 7-Dana Frey[10]; 16. 2-Matt Foos[2]; 17. 3X-Brad Keckler[3]; 18. 5-Jim McGrath[19]; 19. 3-Andy Earnhart[16]
Hard Charger: 8KB-Kent Brewer[+9]