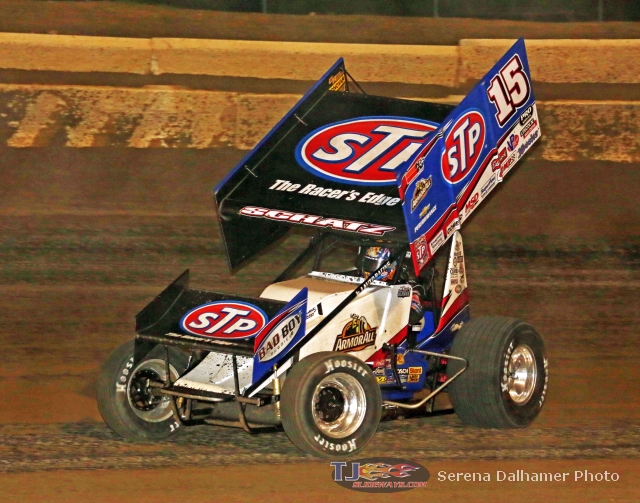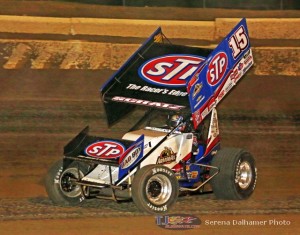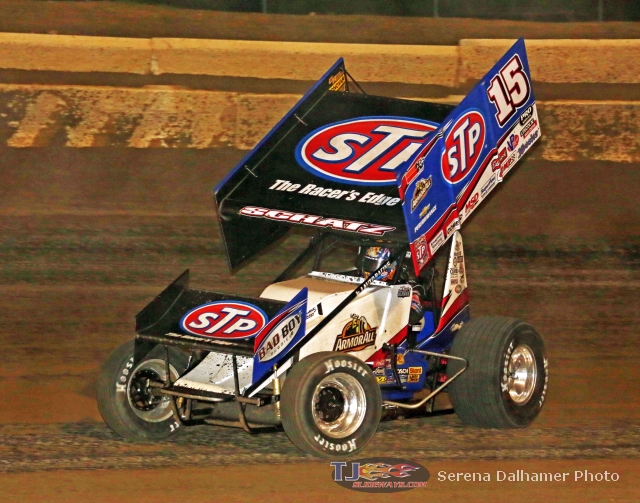 From Aaron Fielder
New Richmond, WI — (June 29, 2014) — Donny Schatz is on a roll, scoring his second World of Outlaws STP Sprint Car Series win in three nights, fifth win in 12 races and his eighth win of the season Sunday night at the FVP Outlaws at Cedar Lake Speedway.
For Schatz, Cedar Lake is the site of one of his earliest sprint car wins. In total, he has eight Outlaws wins at the track.
"This is like coming home, really," said Schatz, a 155-time Outlaws winner. "I spent a lot of Saturday nights coming here – crashing, wrecking, going fast, going slow – we did a little bit of everything here."
In his STP/Armor All car, Schatz battled for much of the night with 22-year-old David Gravel. Gravel searched all night for a way around Schatz, even leading lap 24.
"It was pretty fun racing with David there," Schatz said. "He was going to go on the top – I learned 20 years ago you ain't going to move that wall, so I wasn't going to mess with it… My car was very good through the middle and the bottom. I just kind of had to play it cautious, pick my way through traffic and just kind of be as smart as I could. He had a good run with us, stayed with us on the restart and made a good race out of it. He was quite a handful."
"This STP team did a great job, just kept adjusting on the car. We finally got a balance on this racecar where we can fine tune little things and do a lot of learning and that's how you get ahead. So, I feel good right now."
Schatz left Cedar Lake with a 93 point lead over Daryn Pittman in the fight for the championship. In scoring his eighth win of the season, Schatz also became the winningest driver on the season, surpassing Pittman.
The race began in front of a large crowd at the 3/8 mile track in New Richmond, Wis. After taking the quick time and winning the Dash, Cody Darrah led the field to green followed by Schatz, last year's winner Sammy Swindell and Gravel.
A three-wide drag race broke just past the start/finish line with polesitter Darrah on the losing end. Schatz led the first lap with Gravel in close pursuit. After a caution on lap nine, another battle took shape in the third position as Kerry Madsen got past Swindell and Brian Brown on the restart to challenge Cody Darrah for the position. Madsen took third a few laps later.
By lap 22, Davey Heskin, who won his Heat earlier in the night and started the feature in the eighth position, had worked his way to fourth and set his sights on Madsen.
Meanwhile, Schatz and Gravel battled for the lead, as Gravel looked for a way around the five-time champion. On lap 24, Gravel got a run off of turn four and drag raced Schatz down the front stretch. Gravel officially led the lap but was forced to cede the position soon after.
Heskin and Madsen continued their battle in the closing laps, trading the position several times. Ultimately, it was Madsen who took the position for good as the white flag flew.
Heskin's strong performance is the third in a row for a non-Outlaw driver. He followed up two strong performances by Bill Balog at 34 Raceway and Beaver Dam Raceway. In addition to leading much of the race Saturday, Balog also had the best World of Outlaws finish of his career – third place at 34 Raceway.
After the race, Gravel said he was able to run his Roth Motorsports car in a variety of lines around the track. He said he gave it his all in trying to get around Schatz.
"Obviously Donny is really good on the pedal and he can run the bottom really well," Gravel said. "I had to run where he wasn't. It was pretty hard to catch him running his line, so I had to try something different. I was really good on the restarts and I could keep up but the more I slid my tires, the worse I got. I just got in line at the end. He did a good job. I've got to thank Dennis and Teresa Roth, all my crew guys."
Madsen, who briefly took over the second position before a caution came out, reverting the field back to its previous position, said he had a great racecar, but didn't catch the breaks he needed.
"You know, I thought we had a shot at [the win]," Madsen said. "Right before that yellow I passed David, Donny was right there and man it would have been nice to get up there and tussle with Donny. I'm sure he had a bit left under his sleeve."
"Awesome to get on the podium, just felt like we could have done a little bit more. Any night you run in the top-three is a great night. Cedar Lake is one of the funnest tracks go to and we really look forward to it every year."
The World of Outlaws STP Sprint Car Series next stops at Huset's Speedway in Brandon, S.D. on Wednesday, July 2. The series follows that up on July 4 and 5 with the Boothill Showdown presented by Roto-Mix at Dodge City Raceway Park.
CEDAR LAKE SPEEDWAY NOTES: For the third night in a row, a non-Outlaw driver, Davey Heskin, had a strong run. Bill Balog led last night at Beaver Dam, and finished third on Friday at 34 Raceway… Donny Schatz extended his championship lead over second place Daryn Pittman to 93 points… Cody Darrah, Sammy Swindell and Davey Heskin all won their Heats tonight.
SEASON WINNERS: Donny Schatz – 8 (Volusia Speedway Park on Feb. 15, The Dirt Track at Las Vegas on March 6, Devil's Bowl Speedway on April 19, Lawrenceburg Speedway on May 27, I-96 Speedway on May 31, River Cities Speedway on June 20, 34 Raceway on June 27 and Cedar Lake Speedway on June 29); Daryn Pittman – 7 (Thunderbowl Raceway on March 14, Calistoga Speedway on April 6, Devil's Bowl Speedway on April 19, Williams Grove Speedway on May 16 and May 17, Orange County Fair Speedway, May 18 and New Egypt Speedway, May 20); Joey Saldana – 5(Perris Auto Speedway on April 12, Salina Highbanks on April 25, The Dirt Track at Charlotte on May 23, I-80 Speedway on June 6 and Jackson Speedway on June 13); Brad Sweet – 5 (Volusia Speedway Park on Feb. 14, Tucson International Raceway on March 8, Calistoga Speedway on April 5, Knoxville Raceway on June 14 and Beaver Dam Raceway on June 28); David Gravel – 3(Merced Speedway on March 28, Eldora Speedway on May 3, and Wilmot Raceway on May 9); Kerry Madsen – 3(Stockton Dirt track on March 22, El Paso Speedway Park on April 15 and Lakeside Speedway on June 7); Paul McMahan – 2(The Dirt Track at Las Vegas on March 5, Tri-State Speedway on May 10);Rico Abreu – 1(Thunderbowl Raceway on March 15); Dale Blaney – 1 (Attica Raceway Park on May 30);Christopher Bell – 1(Jacksonville Speedway on May 7); Roger Crockett – 1(I-94 Speedway on June 21);Cody Darrah – 1(Kings Speedway on April 11);Steve Kinser – 1 (Volusia Speedway Park on Feb. 16);Stevie Smith – 1(Lincoln Speedway on May 14); Shane Stewart – 1(Eldora Speedway on May 2) ; Sammy Swindell – 1(Federated Auto Parts Raceway at I-55 on April 26).
World of Outlaws STP Sprint Car Series Statistical Report; Cedar Lake Speedway; New Richmond, Wis.; June 29, 2014
A-Main – (35 Laps) – 1. 15-Donny Schatz [2] [$10,000]; 2. 83-David Gravel [4] [$5,500]; 3. 29-Kerry Madsen [9] [$3,200]; 4. 56-David Heskin [8] [$2,800]; 5. 1-Sammy Swindell [3] [$2,500]; 6. 21-Brian Brown [7] [$2,300]; 7. 4-Cody Darrah [1] [$2,200]; 8. 59-Tim Kaeding [10] [$2,100]; 9. 11K-Kraig Kinser [6] [$2,050]; 10. 49-Brad Sweet [12] [$2,000]; 11. 51-Paul McMahan [14] [$1,500]; 12. 9-Daryn Pittman [16] [$1,200]; 13. 11-Steve Kinser [13] [$1,100]; 14. 1s-Logan Schuchart [17] [$1,050]; 15. 7S-Jason Sides [22] [$1,000]; 16. 17B-Bill Balog [15] [$900]; 17. 7-Craig Dollansky [20] [$800]; 18. 71M-Joey Saldana [5] [$800]; 19. 55-Brooke Tatnell [11] [$800]; 20. 77X-Wayne Johnson [18] [$800]; 21. 44-Chris Martin [19] [$800]; 22. 71A-R.J. Johnson [24] [$800]; 23. 19-Jason Tostenson [23] [$800]; 24. 5-Dave Glennon [21] [$800]. Lap Leaders: Donny Schatz 1-23, 25-35; David Gravel 24. KSE Hard Charger Award: 7S-Jason Sides [+7]
Qualifying – 1. 4-Cody Darrah, 11.954; 2. 83-David Gravel, 11.960; 3. 15-Donny Schatz, 11.970; 4. 1-Sammy Swindell, 12.027; 5. 11K-Kraig Kinser, 12.039; 6. 71M-Joey Saldana, 12.078; 7. 29-Kerry Madsen, 12.108; 8. 59-Tim Kaeding, 12.188; 9. 56-David Heskin, 12.301; 10. 55-Brooke Tatnell, 12.301; 11. 21-Brian Brown, 12.320; 12. 49-Brad Sweet, 12.331; 13. 11-Steve Kinser, 12.339; 14. 51-Paul McMahan, 12.364; 15. 17B-Bill Balog, 12.508; 16. 9-Daryn Pittman, 12.591; 17. 1s-Logan Schuchart, 12.612; 18. 77X-Wayne Johnson, 12.736; 19. 44-Chris Martin, 12.814; 20. 7-Craig Dollansky, 12.852; 21. 5-Dave Glennon, 13.029; 22. 19-Jason Tostenson, 13.118; 23. 7S-Jason Sides, 13.153; 24. 71A-R.J. Johnson, 13.223; 25. 1A-Jacob Allen, 13.261; 26. 10X-Jenni Eriksen, 13.449; 27. 91-John Sernett, 22.679; 28. 10-Garrett Dollansky, nt
Heat 1 – (10 Laps – Top 6 finishers transfer to the A-feature) – 1. 1-Sammy Swindell [3]; 2. 29-Kerry Madsen [2]; 3. 4-Cody Darrah [4]; 4. 55-Brooke Tatnell [1]; 5. 9-Daryn Pittman [6]; 6. 11-Steve Kinser [5]; 7. 44-Chris Martin [7]; 8. 19-Jason Tostenson [8]; 9. 1A-Jacob Allen [9]; 10. 10-Garrett Dollansky [10]
Heat 2 – (10 Laps – Top 6 finishers transfer to the A-feature) – 1. 21-Brian Brown [1]; 2. 59-Tim Kaeding [2]; 3. 83-David Gravel [4]; 4. 7-Craig Dollansky [7]; 5. 11K-Kraig Kinser [3]; 6. 51-Paul McMahan [5]; 7. 7S-Jason Sides [8]; 8. 1s-Logan Schuchart [6]; 9. 10X-Jenni Eriksen [9]
Heat 3 – (10 Laps – Top 6 finishers transfer to the A-feature) – 1. 56-David Heskin [2]; 2. 15-Donny Schatz [4]; 3. 71M-Joey Saldana [3]; 4. 49-Brad Sweet [1]; 5. 17B-Bill Balog [5]; 6. 77X-Wayne Johnson [6]; 7. 71A-R.J. Johnson [8]; 8. 5-Dave Glennon [7]; 9. 91-John Sernett [9]
Dash – (8 Laps, finishing order determined first 8 starting positions of A-feature) – 1. 4-Cody Darrah [1]; 2. 15-Donny Schatz [3]; 3. 1-Sammy Swindell [4]; 4. 83-David Gravel [2]; 5. 71M-Joey Saldana [6]; 6. 11K-Kraig Kinser [5]; 7. 21-Brian Brown [8]; 8. 56-David Heskin [7]
Last Chance Showdown – (10 Laps – Top 6 finishers transfer to the A-feature) – 1. 1s-Logan Schuchart [1] [-]; 2. 7S-Jason Sides [5] [-]; 3. 44-Chris Martin [2] [-]; 4. 5-Dave Glennon [3] [-]; 5. 19-Jason Tostenson [4] [-]; 6. 71A-R.J. Johnson [6] [-]; 7. 91-John Sernett [9] [$200]; 8. 10X-Jenni Eriksen [8] [$180]; 9. 1A-Jacob Allen [7] [$175]; 10. 10-Garrett Dollansky [10] [$160]
World of Outlaws STP Sprint Car Series Championship Standings