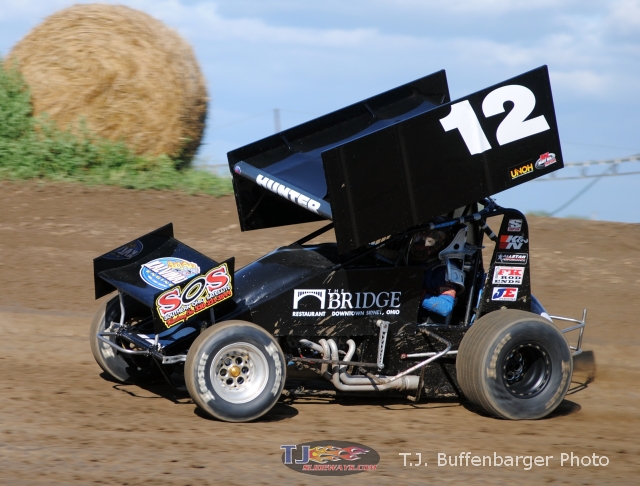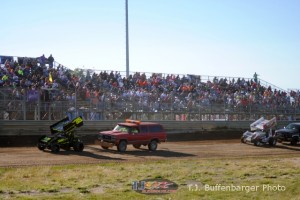 By T.J. Buffenbarger
I wanted  too long make my first visit to Waynesfield Raceway Park.   After ending up with an surprise half day off the pieces fell together to head down to the Bob Reynolds Memorial on Thursday night.   The track is in an area I am familiar with due to staying frequently in Wapakonetta, Ohio on trips to Eldora Speedway.
The track's surroundings remind me of I-96 Speedway and Owendale Speedway with farms as far as the eye can see with not much civilization around the facility.   The track itself was much higher banked that I anticipated and almost races in a circular pattern, particularly on the backstretch.  The track was also faster than I anticipated, with several people telling me that the Ohio Sprint Speedweek show is amazing to watch.
My first impression of the facility itself is that its nice.  While Waynesfield may not have some of the amenities of neighbors Limaland Motorsports Park and Eldora Speedway, Waynesfield officials have managed to take good care of everything they do have.  With the large crowd on hand the facility was clean all night, I used the restrooms late in the night and they were still clean, and everyone I encountered working at Waynesfield was welcoming.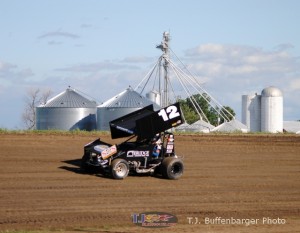 Waynefield's best asset is the track itself.   The wide, high banked racing surface races well.   Waynesfield officials working with Ron Hammons did a great job keeping the program moving.  Some credit also goes to the drivers and teams for being aware in the pit area and for only having one caution flag in a 40-lap sprint car feature.  After my unplanned visit I am looking forward to the Harvest of Sprints in October. .
T.J.'s Notes from Waynesfield…
Greg Wilson was excited and relieved after his win in Thursday night's Bob Reynolds Memorial.   Wilson mentioned on our post race podcast that his family is taking over ownership of the Warnamont 410 effort he has driven for the past eight seasons.  The team's trailer is labeled now as Greg Wilson Racing.   With the transition the $7,500 winner's prize was welcomed towards an effort where Wilson spent the first half of the season traveling around the country racing with various sanctioning bodies and tracks.

Derek Hagar has been a nice addition to the sprint car scene in Ohio over the past three weeks.- T.J. Buffenbarger Photo

Derek Hagar finished off his first Ohio Sprint Speedweek off by going home to pick up his own 360 car for the Waynesfield event, finishing in the runner up spot after getting caught up in lapped traffic during his persuit of Wilson.   The plan is for Hagar to run Hilltop and Wayne County Speedways with Pete Grove's 70 car.

Dustin Daggett blew up his second motor in two weeks of racing.  Daggett was having his best career run on pavement driving Dennis Craft's car last Friday night at Dixie Motor Speedway racing for second position when the engine expired.   Daggett credited getting proper shocks on the car in assiting him with getting comfortable in it.   Next weekend the Mott Motorsports team is considering pulling double duty with the 410 and 360 at the Kings Royal.
Team owner and race promoter for the Bob Reynolds Memorial fielded three cars on Thursday with Nate Dussel joining the two car team of Max Stambaugh and J.R. Stewart.   All three cars made the A-Main with Stambaugh the highest finisher in the group in 10th.

Gary Taylor has a busy Independence Day ahead of him. – T.J. Buffenbarger Photo

Gary Taylor kicked off a busy weekend by driving Jason Fausey's #1st on Thursday at Waynesfield.   Primarily a 410 effort, Fausey's team borrowed a 360 engine from Gregg Dalman to compete at the Reynolds Memorial.   Following Waynesfield Taylor was hustling back to Indianapolis overnight to catch a flight back to California to race with the USAC / CRA Sprint Car Series this weekend.  Taylor then is flying back while his team owner in California, Gerry Cook, is bringing the team back to Indiana to complete the entire Indiana Sprint week slate.  Taylor also incidcate that if all goes well the Fausey team will make their way out to the Knoxville Nationals in August.

Bryan Sebetto made his second start driving Joe Seeling's #97 car at Waynesfield.   Sebetto indicated the team will be competing int he NRA 360 portion of the Kings Royal weekend.   Sebetto and the Seeling team also plan on running some FAST programs over the next few weeks to get acclimated with each other.
Sheldon Haudenschild continued his second stint with Ray Marshall's team at Waynesfield, leading over half of the 40-lap feature.   Haudenschild will pilot the Marshall car again during the Kings Royal during the NRA portiion of the program.
Haudenschild's teammate was Christopher Bell, who picked up a few races during Ohio Sprint Speedweek driving for Marshall.  Bell ended up spinning during the dash and relegated him to 11th starting spot.
James McFadden continued his American tour with the JG Motorsports 3G car, making his first 360 start during the trip at Waynesfield.   McFadden looked good in the heat race before a flat tire sent him pitside.
McFadden recovered to win the B-Main with an exciting last lap pass of Nate Dussel.   JG Motorsports officials indicate that once McFadden heads back to Australia following the Knoxville Nationals Shane Stewart will be back in the 3G car for the Canadian Sprint Car Nationals.  Later in the year look for a driver that has not driven for the JG Motorsports team to take the wheel for World of Outlaws STP Sprint Car events at Bloomington Speedway and Berlin Raceway.

Waynesfield Raceway Park has plenty of on track action, shown here by J.R. Stewart. – T.J. Buffenbarger Photo

Jamie Veal's first tour of Ohio sprint car racing is winding down with Kings Royal weekend next week before heading back to Australia to tend to the family business.   Veal was very impressive on Ohio Speedweek and made his first stateside 360 start of the year at Waynesfield.  Veal hopes to build on his effort in Ohio this season into a larger effort for the 2015 season in the United States.

Randy Hannagan has been a regular on the K&L Ready Mix National Racing Alliance circuit for the past several seasons, but that could soon change.  Recently the Run for the Rabbit event at Limaland Motorsports Park was rescheduled for the same weekend as the Knoxville 360 Nationals as an NRA event.  Originally this race was only slated as a Limaland points event.   Displeased with the schedule change Hannagan indicated that his presense at the upcoming co-sanctioned event with NRA and the Sprints on Dirt at Crystal Motor Speedway is questionable.   NRA officials indicated that the decision to reschedule that weekend was credited to Limaland track management.