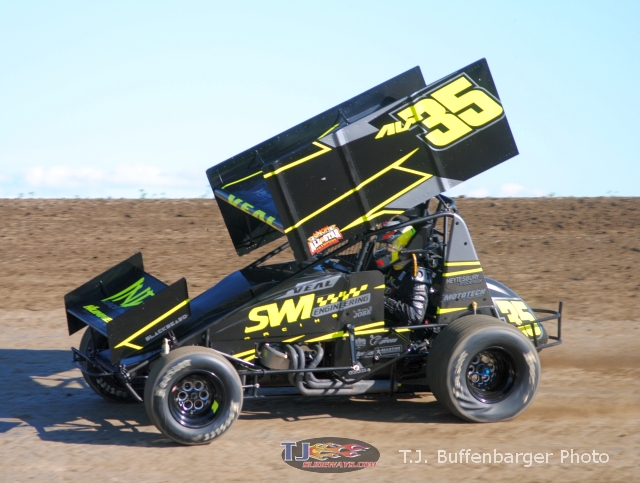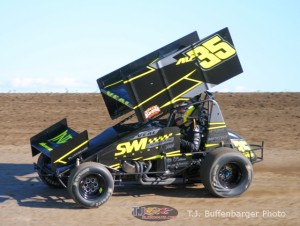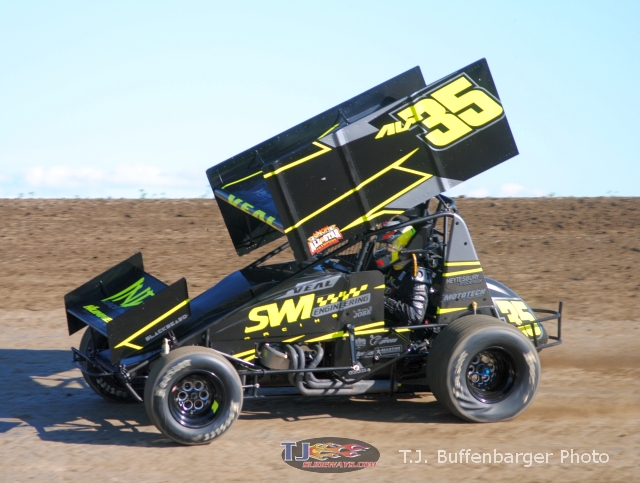 From Brian Liskai
Fremont, OH — (July 5, 2014) — The dirt truck feature winner at Fremont Speedway normally earns $400. Shawn Valenti earned that and $5,000 more Saturday at "The Track That Action Built."
The Risingsun, Ohio driver took the Baumann Auto Group Big Bucks Bonus Bump and elected to go from the pole starting position to last and then proceeded to drive through the field for the $5,000 bonus. It was Valenti's 9th win of the season at Fremont and the 18th of his career.
And not to be outdone, Brisbane, Australia's James McFadden, who has a win, a pair of runner-up finishes and a fourth in his only appearance in 2014 at Fremont Speedway in a 410 sprint car, also took the Baumann Auto Group challenge. McFadden had the crowd on their feet as he drove up to third with seven laps to go but couldn't close the deal and would come home third.
"I have to thank the track and the Baumann Auto Group for putting this together. It's unheard of for an entry level class to be racing for this kind of money," said Valenti beside his Jeff Babcock owned #7B.
"I kept wanting the chance to do the challenge and when we were on that qualifying deal…it was tough to get a front row. I just wanted to stay out of trouble at the start and get as many trucks as I could on the first couple of laps and the first lap into it up was up to eighth. I knew I was rolling pretty good," added Valenti. "I kept seeing the nose of Kent (Brewer) and I was trying to get a rhythm up on top and I was like 'man Kent you know what I'm going for here.' He raced me nice and clean…hats off to him, he's getting that thing rolling."
"I have to thank Jeff Babcock, Best Performance, Craig Miller Trucking, KS Sales and Service, Conrad Transportation, Dave Story Equipment Repair and Day Dreams and memories Crafts and Antiques, concluded Valenti.
The Fort Ball Pizza Palace 410 feature was exciting the last hand full of laps as Warrnambool, Australia's Jamie Veal, Wooster, Ohio's Dean Jacobs and McFadden battled for the lead. Veal, who lead laps 1-22, watched Jacobs slide by for the lead for four laps before Veal regained his momentum and drove by for his first career Fremont Win.
For Jacobs and his Jerry McClure owned team, he was happy to just be racing. The previous night the engine let go in his #9 and the team wasn't sure they would be racing. However, they got in touch with engine builder Scott Gressman and he arranged for them to go to Pennsylvania to pick up one of his shop motors to compete.
"That was a hell of a race. He (Jacobs) races clean and it was fun. Great to get a win here," said Veal beside his SWI Engineering/Lucas Oil/Indy Race Parts/Moro Tech/Heytesbury Stock Feeds/All Star Performance backed #35AU. "I really enjoy this joint and I hope we come back again."
When asked about McFadden's charge, Veal joked, "He's alright…I've beaten him before."
For McFadden, despite not taking home the $5,000 Baumann Auto Group Big Bucks Bonus, he did earn $2,000 for third as his prize money was doubled for accepting the challenge.
"I could see the crowd standing up in the feature. It was pretty cool. It was good to put on a show and it was good we had the car speed from that far back. I think we were a bit free there at the end but we had to be free for the start of the race and it kind of hurt us there. Congratulations Jamie. It's awesome to see and Australian winning and a good job to Dean as well. It was a pretty cool race and good fun trying. A heap of thanks to the Baumann Auto Group for putting this deal on. It's cool for the track and for the fans," said McFadden beside his Gaerte Engines/XYZ Machining backed #3G.
Unfortunately, it was the final week for the Baumann Auto Group Big Bucks Bump Challenge and Fremont Speedway Promoter Rich Farmer expressed his appreciation to the local business for all their support.
In the Fremont Federal Credit Union 305 Sprint feature, Bradner, Ohio's Nate Dussel would inherit the lead when Dustin Dinan hit the front stretch wall, flattening his right rear tire. Dussel would then pick his way through traffic to take his first Fremont win of the season. It is his 14th career victory at the track.
"It's been so long since I've been here (Engine Pro Victory Lane) and I'm going to learn to cherish this more. This group of cars out here is really tough to beat and I'm finding that out. To come out here and win means a lot to us and our confidence," said Dussel beside his Berrier Fabrication/Gressman Powersports/Kistler Racing Products/Conrad Transportation/Real Geese Decoys/Dussel Welding backed machine.
"I think we (Dinan) were going to have a good race. He was getting it pretty good on the top and I couldn't do that. It was just a little bit too rutty for me. Once I started getting the bottom dialed in I think we were about equal speed and it would have been a hell of a race for the fans," added Dussel. "We've struggled this year…we haven't won since April and it's hurting my confidence. It's hard to ask these guys (the crew) to come when I'm not getting the job done. This means a lot," concluded Dussel.
It was a Kistler Racing Products FAST (Fremont Attica Sprint Title) Championship Series event for the 410 sprints as well and with Chris Andrews would record a top 10 finish to maintain the point lead for the $10,000 season-ending payday.
In the 30-lap 410 sprint feature, Dain Naida and Cap Henry would pace the field to the green but a bad start necessitated another shot. Before the green could fly Henry would duck into the pits with mechanical woes moving Veal to the outside front row. The third attempt at the start saw Todd Heller get into a dust-up and retire to the pits.
On the fourth attempt at a start Veal would gain the advantage over Naida, Andrews, Travis Philo, Dean Jacobs, D.J. Foos and Brian Smith. But after only one lap was scored Caleb Armstrong would spin in turn two and on the opposite end of the track Foos would encounter problems, ending his night.
When the green flew again Veal bolted away as Naida and Andrews battled for second. Andrews would take the runner-up spot on lap three, bringing Jacobs into third as Naida tried to battle back. While Veal pulled away from Andrews, Jacobs, Naida, Smith and Philo, all eyes were on McFadden who drove from 20th to 7th in just eight laps. McFadden would move into sixth with 10 laps recorded and into the top five by lap 12.
On lap 16 Philo would execute a pair of 360 spins, bringing out the caution with the running order Veal, Andrews, Jacobs, Naida, McFadden, Smith and Stuart Brubaker. On the ensuing restart Stuart Williams would spin on the back stretch. When the green flew again Veal could not shake Andrews and Jacobs as McFadden drove into fourth.
Armstrong would bring out another caution on lap 18 and on the restart Jacobs drove under Andrews for second and closed on Veal. Jacobs was much better on the bottom of turns one and two while Veal blasted around the high line but Veal was much better on the high side of turns three and four with Jacobs staying on the bottom.
Jacobs would rive off the bottom of turn two on lap 23 to take the lead. McFadden pressured Andrews for third and Andrews would spin on lap 23. The restart order was Jacobs, Veal, McFadden, Smith, Reed and Naida. When the green flew Veal drove to Jacobs' outside to challenge with McFadden trying to stay close.
Philo would spin in turn one on lap 26, setting up a dramatic four lap dash. On the restart Veal drove to Jacobs' outside and got a tremendous run off the high side of turn four to regain the lead. Veal kept up his momentum and drove to the win over Jacobs, McFadden, 18th starter Reed, and Smith.
T.J. Michael and Jason Keckler brought the field to green for the 25-lap 305 sprint feature but it was third place starter Dussel who emerged as the leader over Michael, Dustin Dinan, Keckler, Bobby Clark, John Ivy, Jordan Ryan and Trey Jacobs. Dinan would blast into second on lap two and closed on Dussel with Michael also staying close. It was a three car battle for the lead when the caution flew on lap four for Kyle Farmer.
On the restart Dinan would drove to the high side of Dussel to take the lead with Michael, Ryan, Clark, Keckler, Ivy and Alvin Roepke in tow. Just as Dinan began pulling away from Dussel, he would bobble off turn four and smack the front stretch wall with the rear of his machine on lap 9. He would stop a lap later with a flat tire and would get it changed in the pits and rejoin at the tail.
Dussel was now back in command over Michael, Clark, Ryan, Keckler, Roepke, Ivy, Jacobs and Paul Weaver. Clark would grab second on lap 12 and was trying to reel in Dussel when the caution flew on lap 16 for Kyle Capodice just as the leaders were getting into lapped traffic.
On the restart Dussel led Clark as Ryan slid into third with Michael, Roepke, Keckler, Jacobs, Steve Rando and Ivy in tow. With five laps to go Ryan was starting to make up ground on the top two. As Dussel stayed glued to the bottom, Clark now had his hands full with Ryan who would take second on lap 23.
Dussel was able to pick his way through traffic to take the checkers over Ryan, Clark, Michael and Roepke.
Cory McCaughey and Art Ball brought the field to green for the AAA Ohio Auto Club Dirt Truck 20 lap feature. Keith Sorg would spin before a lap could be completed and Ball would go pit side with a flat tire and rejoin the rear of the field. On the next attempt Dana Fry led Cory Ward, Kent Brewer, Jimmy McGrath Jr., Eric Devanna and Brad Keckler. McCaughey would stop with a flat after the initial lap was completed.
When the green flew again it was a tremendous battle up front between Fry, Ward, Brewer and McGrath with Valenti coming from the tail up to eighth by lap three. Matt Foos would stop with a flat tire on lap four and when the green flew Fry led Ward, Brewer, McGrath, Keckler and Valenti.
By lap 7 Valenti had drive into third with Brewer taking the lead with Ward moving into second as they raced nearly three wide in the turns. Valenti took second on lap eight as the caution flew a circuit later for Ward who had a flat tire. On the ensuing restart Valenti blasted to the outside of Brewer for the lead.
Valenti and Brewer then raced side by side nearly the rest of the feature. Meanwhile McGrath, Fry, Keckler and Ball would put on a whale of a show for third. With six laps to go Valenti had pulled away from Brewer and he cruised to the win. Brewer, McGrath, Ball and Keckler would round out the top five.
There is no racing at Fremont Speedway on Saturday, July 12 but racing resumes on Saturday, July 36 on Fort Ball Pizza Palace Night with the 410 and 305 sprints and dirt trucks. It is "throw back night" and fans are encouraged to wear some of their older racing apparel.
Fremont Speedway – 7/5/2014
Miller Rigging Night
Fort Ball Pizza Palace 410 Sprints (25 Cars)
[#]-Starting Position
Qualifying – Fricker's Restaurant/Callie's Performance
1. 3G-James McFadden, 13.329; 2. 45L-Brian Lay, 13.461; 3. 35AU-Jamie Veal, 13.464; 4. 5T-Travis Philo, 13.464; 5. 16-Chris Andrews, 13.600; 6. 53-Cap Henry, 13.631; 7. 35-Stuart Brubaker, 13.649; 8. O7X-Dain Naida, 13.767; 9. 14H-Todd Heller, 13.785; 10. 312-Mike Linder, 13.890; 11. 9-Dean Jacobs, 13.972; 12. 2+-Brian Smith, 13.997; 13. 60-Jody Keegan, 14.034; 14. 11F-DJ Foos, 14.035; 15. 40DD-Caleb Griffith, 14.069; 16. 10X-Dustin Stroup, 14.106; 17. 46AU-Stuart Williams, 14.148; 18. 5R-Byron Reed, 14.269; 19. 17-Scott Euler, 14.304; 20. 9Z-Duane Zablocki, 14.342; 21. 39M-Matt Merrill, 14.406; 22. 7C-Caleb Armstrong, 14.407; 23. 55F-Taylor Ferns, 14.695; 24. 96AU-Bruce White, 14.771; 25. 59J-Kirk Jeffries, 15.958
Heat 1 – American Power Sports (8 Laps – Top 5 finishers transfer to the A-feature)
1. 10X-Dustin Stroup[1] ; 2. 3G-James McFadden[6] ; 3. 312-Mike Linder[3] ; 4. 5T-Travis Philo[5] ; 5. 17-Scott Euler[7] ; 6. 60-Jody Keegan[2] ; 7. 7C-Caleb Armstrong[8] ; 8. 35-Stuart Brubaker[4]
Heat 2 – Kistler Racing Products (8 Laps – Top 5 finishers transfer to the A-feature)
1. 11F-DJ Foos[2] ; 2. 46AU-Stuart Williams[1] ; 3. 9-Dean Jacobs[3] ; 4. O7X-Dain Naida[4] ; 5. 16-Chris Andrews[5] ; 6. 45L-Brian Lay[6] ; 7. 9Z-Duane Zablocki[7] ; 8. 55F-Taylor Ferns[8]
Heat 3 – Hoosier Racing Tires (8 Laps – Top 5 finishers transfer to the A-feature)
1. 5R-Byron Reed[1] ; 2. 40DD-Caleb Griffith[2] ; 3. 53-Cap Henry[5] ; 4. 2+-Brian Smith[3] ; 5. 35AU-Jamie Veal[6] ; 6. 14H-Todd Heller[4] ; 7. 39M-Matt Merrill[7] ; 8. 96AU-Bruce White[8]
Dash – Borer Glass & Mirror (6 Laps, finishing order determined first 6 starting positions of A-feature
1. 3G-James McFadden[6] ; 2. 53-Cap Henry[2] ; 3. O7X-Dain Naida[1] ; 4. 35AU-Jamie Veal[5] ; 5. 16-Chris Andrews[3] ; 6. 5T-Travis Philo[4]
B-Main – Computer Man Inc. (12 Laps – Top 5 finishers transfer to the A-feature)
1. 45L-Brian Lay[1] ; 2. 14H-Todd Heller[3] ; 3. 60-Jody Keegan[4] ; 4. 35-Stuart Brubaker[2] ; 5. 9Z-Duane Zablocki[5] ; 6. 7C-Caleb Armstrong[7] ; 7. 55F-Taylor Ferns[8] ; 8. 96AU-Bruce White[9] ; 9. 39M-Matt Merrill[6] ; 10. 59J-Kirk Jeffries[10]
A-Main – (30 Laps)
1. 35AU-Jamie Veal[4]; 2. 9-Dean Jacobs[8]; 3. 3G-James McFadden[20]; 4. 5R-Byron Reed[18]; 5. 2+-Brian Smith[7]; 6. O7X-Dain Naida[1]; 7. 35-Stuart Brubaker[12]; 8. 16-Chris Andrews[3]; 9. 46AU-Stuart Williams[13]; 10. 312-Mike Linder[5]; 11. 40DD-Caleb Griffith[11]; 12. 17-Scott Euler[15]; 13. 10X-Dustin Stroup[16]; 14. 5T-Travis Philo[6]; 15. 7C-Caleb Armstrong[19]; 16. 9Z-Duane Zablocki[17]; 17. 60-Jody Keegan[14]; 18. 11F-DJ Foos[10]; 19. 53-Cap Henry[2]; 20. 14H-Todd Heller[9]
Hard Charger: 3G-James McFadden[+17]
Fremont Federal Credit Untion 305 Sprints (23 Cars)
[#]-Starting Position
Heat 1 – American Power Sports (8 Laps – Top 8 finishers transfer to the A-feature)
1. 1W-Paul Weaver[2] ; 2. 6-Dustin Dinan[3] ; 3. 8-Bobby Clark[4] ; 4. 5R-Jordan Ryan[8] ; 5. 11G-Luke Griffith[1] ; 6. 12-Kyle Capodice[7] ; 7. 18-Zack Kramer[5] ; 8. 29-Kyle Farmer[6]
Heat 2 – Kistler Racing Products (8 Laps – Top 8 finishers transfer to the A-feature)
1. 19R-Steve Rando[1] ; 2. 25-Jason Keckler[2] ; 3. 7A-Alvin Roepke[5] ; 4. 8I-John Ivy[7] ; 5. 9-Jimmy Colvin[8] ; 6. 10-Josh Harrison[3] ; 7. 7M-Brandon Moore[6] ; 8. 32-Ryan French[4]
Heat 3 – Hoosier Racing Tires (8 Laps – Top 8 finishers transfer to the A-feature)
1. 8M-T.J Michael[1] ; 2. 68G-Tyler Gunn[6] ; 3. 3J-Trey Jacobs[2] ; 4. 1-Nate Dussel[4] ; 5. 36-Seth Schneider[7] ; 6. 22M-Dan McCarron[3] ; 7. 10S-Roger Shammo[5]
A-Main – (25 Laps)
1. 1-Nate Dussel[3]; 2. 5R-Jordan Ryan[9]; 3. 8-Bobby Clark[5]; 4. 8M-T.J Michael[1]; 5. 7A-Alvin Roepke[10]; 6. 19R-Steve Rando[12]; 7. 3J-Trey Jacobs[8]; 8. 25-Jason Keckler[2]; 9. 8I-John Ivy[6]; 10. 36-Seth Schneider[15]; 11. 1W-Paul Weaver[7]; 12. 11G-Luke Griffith[13]; 13. 68G-Tyler Gunn[11]; 14. 10-Josh Harrison[17]; 15. 18-Zack Kramer[19]; 16. 6-Dustin Dinan[4]; 17. 22M-Dan McCarron[18]; 18. 7M-Brandon Moore[20]; 19. 12-Kyle Capodice[16]; 20. 32-Ryan French[23]; 21. 10S-Roger Shammo[21]; 22. 9-Jimmy Colvin[14]; 23. 29-Kyle Farmer[22]
Hard Charger: 5R-Jordan Ryan[+7]
AAA Auto Club Dirt Trucks (17 Trucks)
[#]-Starting Position
Heat 1 – American Power Sports (8 Laps – Top 10 finishers transfer to the A-feature)
1. 7B-Shawn Valenti[1] ; 2. 8KB-Kent Brewer[5] ; 3. 18W-Cory Ward[3] ; 4. D1-Dustin Keegan[2] ; 5. 36M-Cory McCaughey[9] ; 6. 3X-Brad Keckler[4] ; 7. 2-Matt Foos[6] ; 8. 33-Jeff Ward[7] ; 9. 3G-Steve Sabo[8]
Heat 2 – Kistler Racing Products (8 Laps – Top 10 finishers transfer to the A-feature)
1. 5JR-Jimmy McGrath Jr.[3] ; 2. 7-Dana Frey[1] ; 3. O1-Art Ball[8] ; 4. 4S-Keith Sorg[2] ; 5. 37-Eric Devanna[4] ; 6. 22-Brandon Leighton[5] ; 7. O-Len Benyak[7]
A-Main – (20 Laps)
1. 7B-Shawn Valenti[16]; 2. 8KB-Kent Brewer[7]; 3. 5JR-Jimmy McGrath Jr.[8]; 4. O1-Art Ball[2]; 5. 3X-Brad Keckler[9]; 6. 7-Dana Frey[6]; 7. 33-Jeff Ward[13]; 8. D1-Dustin Keegan[5]; 9. 3G-Steve Sabo[15]; 10. 36M-Cory McCaughey[1]; 11. 4S-Keith Sorg[4]; 12. 37-Eric Devanna[10]; 13. 18W-Cory Ward[3]; 14. O-Len Benyak[14]; 15. 22-Brandon Leighton[12]; 16. 2-Matt Foos[11]
Hard Charger: 7B-Shawn Valenti[+15]