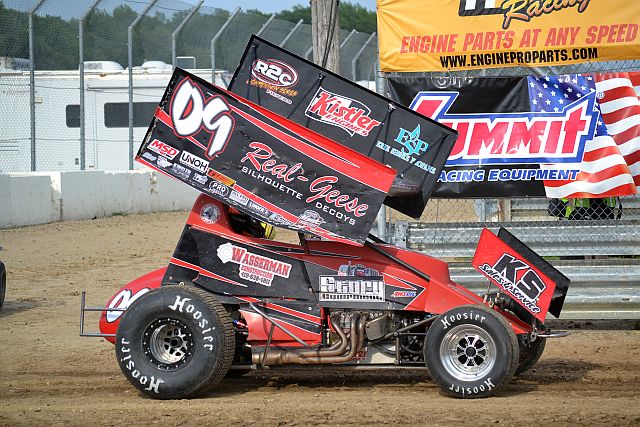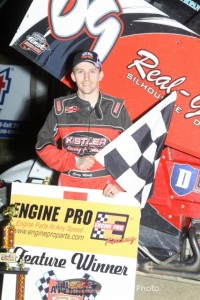 Attica, OH — (July 18, 2014) — On June 13 Craig Mintz was involved in a multi-car crash in the O'Reilly Auto Parts 410 sprints feature at Attica Raceway Park. The Gibsonburg, Ohio driver had been having a fantastic season up to that point. The crash left him with injuries to his back and sidelined him until this Friday. And he came back with a vengeance, leading all 30 laps for the $3,000 payday.
It wasn't easy for Mintz, a crash on the last lap set up a one-lap battle for the checkers. Christopher Bell executed a slide job in the final two corners on the restart but Mintz turned back under and drove to his third win of the year at Attica. It was his 12th career victory at Attica and moves him to 10th on the track's all-time win list.
It was also a Kistler Racing Products FAST (Fremont Attica Sprint Title) Championship Series points event. And when point leader Chris Andrews was involved in a late race crash, the chase to the Kistler Cup will tighten up.
"I had a lot of naysayers saying it's just a small injury and stuff like that. This proves we can run here with anybody and for them naysayers…we're on the horse track," said Mintz beside his Damschroder Roofing/Real Geese Decoys/Dave Story Equipment Repair/Gf1 Chassis/Kistler Engines/KS Sales and Service/Design Graphics Group backed #09.
"He (Bell) is one of the best in the country in anything he gets into. I knew he was coming and he surprised me…if that's not dirt track excitement I don't know what is," added Mintz.
Mintz and Sheldon Haudenschild would lead the field of 20 to the green with Mintz gaining the advantage over Cap Henry, Haudenschild, Christopher Bell, Andrews, Caleb Armstrong and James McFadden. Haudenschild would drive back into second on lap two as Henry also stayed close. Andrews would move into fourth on lap six as Mintz pulled away from Haudenschild and Henry.
Mintz set a blistering pace, hitting lapped traffic by just the ninth lap as the traffic allowed Henry to catch Haudenschild. Henry drove into the runner-up spot on lap 10 as Andrews grabbed third. Henry and Andrews would tangle a lap later, as Andrews lost three positions.
The first caution flew on lap 13 for an Armstrong spin. The restart order was Mintz, Henry, Bell, Haudenschild, McFadden and Andrews. When the green flew Mintz pulled away from Henry and Bell as Andrews blasted back into fourth. With 10 laps to go Mintz was comfortably in the lead while Henry and Bell battled for second with Andrews trying to hold off McFadden for fourth with Caleb Griffith, Byron Reed, Dean Jacobs and Travis Philo in tow.
With seven laps to go again Mintz caught lapped traffic and that allowed Henry and Bell to close with Andrews, McFadden, Griffith, Philo and Jacobs giving chase. Bell would move into second on lap 26 with Henry now trying to hold off Andrews for third. It looked like Mintz was on cruise control when he took the white flag as Bell was several car lengths behind. But, Henry and Andrews would tangle once again in turn four with Andrews ending up on his lid with McFadden also involved. Henry was done while Andrews' crew patched his machine together to restart.
When the green and white flew together, Mintz got through turns one and two well with Bell right on his bumper with Philo, Griffith, Reed and Jacobs in tow. Bell would dive under Mintz in turn three and slide up in front. But, Mintz turned back down and rocketed off the corner to take the win over Bell, Philo, Griffith and Jacobs.
Full Results: Kistler Racing Products Fremont/Attica Sprint Title '410' Championship Series presented by KS Sales & Service – Night #12 – July 18th, 2014
Heat Race #1 Qualifying Results: (Invert 4)
1. 09 – Craig Mintz – 12.568 2. 16 – Chris Andrews – 12.708 3. 3G – James McFadden – 12.947 4. 96AU – Bruce White – 13.725 5. 8 – Kevin Shelbo – 13.788 6. 60 – Jody Keegan – 13.801 7. 97X – Rodney Hurst – 14.914
Heat Race #2 Qualifying Results: (Invert 4)
1. 55F – Taylor Ferns – 12.789 2. 63 – Chad Kemenah – 13.040 3. 53C – Christopher Bell – 13.072 4. 93 – Sheldon Haudenschild – 13.167 5. 35 – Stuart Brubaker – 13.222 6. 07X – Dain Naida – 13.277 7. 91 – Cale Thomas – 13.355
Heat Race #3 Qualifying Results: (Invert 4)
1. 45L – Brian Lay – 12.926 2. 5T – Travis Philo – 12.959 3. 7C – Caleb Armstrong – 13.014 4. 23 – Jimmy Light – 13.110 5. 40I – Mark Imler – 13.393 6. 9 – Dean Jacobs – 13.419 7. 25AU – Jack Lee – 13.983
Heat Race #4 Qualifying Results: (Invert 4)
1. 40 – Caleb Helms – 12.858 2. 40DD – Caleb Griffith – 12.921 3. 53 – Cap Henry – 13.074 4. 5R – Byron Reed – 13.129 5. 9Z – Duane Zablocki – 13.242 6. 1 – Chad Blonde – 13.317 7. 46AU – Stuart Williams – 13.932
Heat #1 Results (Top 4 Transfer)
1. Craig Mintz 2. Chris Andrews 3. James McFadden 4. Jody Keegan 5. Bruce White 6. Kevin Shelbo 7. Rodney Hurst
Heat #2 Results: (Top 4 Transfer)
1. Sheldon Haudenschild 2. Christopher Bell 3. Taylor Ferns 4. Chad Kemenah 5. Stuart Brubaker 6. Cale Thomas 7. Dain Naida
Heat #3 Results: (Top 4 Transfer)
1. Caleb Armstrong 2. Travis Philo 3. Jimmy Light 4. Dean Jacobs 5. Brian Lay 6. Jack Lee 7. Mark Imler
Heat #4 Results: (Top 4 Transfer)
1. Caleb Griffith 2. Cap Henry 3. Byron Reed 4. Stuart Williams 5. Chad Blonde 6. Caleb Helms 7. Duane Zablocki
B-Main Results: (Top 4 Transfer)
1. Stuart Brubaker 2. Brian Lay 3. Cale Thomas 4. Chad Blonde 5. Caleb Helms 6. Duane Zablocki 7. Dain Naida 8. Jack Lee 9. Bruce White 10. Kevin Shelbo 11. Mark Imler 12. Rodney Hurst
A-Main Results: (30-Laps)
1. ($3,000) – Craig Mintz 2. Christopher Bell 3. Travis Philo 4. Caleb Griffith 5. Dean Jacobs 6. Sheldon Haudenschild 7. Byron Reed 8. Cale Thomas 9. Chad Kemenah 10. Jimmy Light 11. James McFadden 12. Stuart Brubaker 13. Taylor Ferns 14. Chris Andrews 15. Chad Blonde 16. Brian Lay 17. Caleb Armstrong 18. Stuart Williams 19. Cap Henry 20. Jody Keegan
Hard Charger – Cale Thomas [+11]