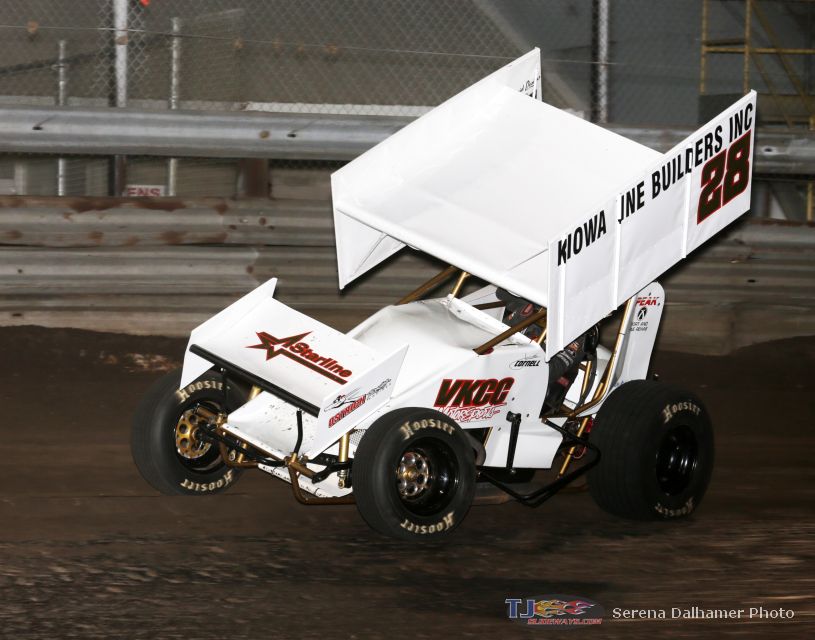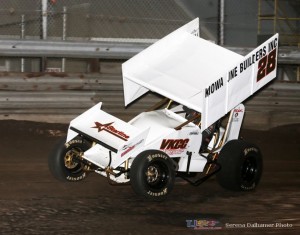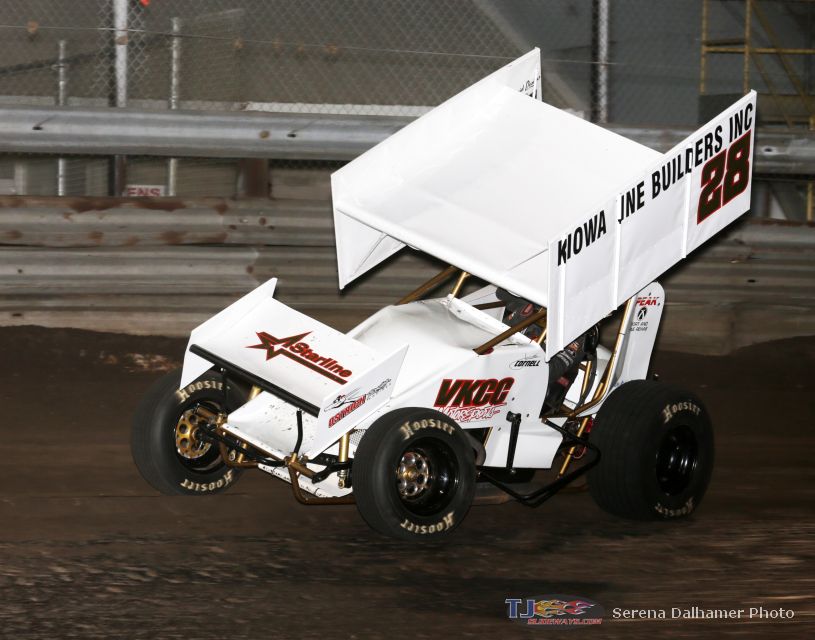 From Brian Hulbert
Moberly, MO —  (July 19, 2014) — A capacity crowd and 21 Speedway Motors ASCS Warrior Region Sprint Cars gathered at the Randolph County Raceway with Jonathan Cornell taking his fourth win in as many races with the Missouri based region of the ASCS Nation.
After a red brought the field back on the initial start, second starting Cornell would get the jump and never look back as he was chased to the checkered flag by Austin Alumbaugh with point leader, Jay Russell taking the show position. Randy Martin clawed from thirteenth to fourth with Josh Fisher from ninth to make up the top-five.
Brandon Hahn from twelfth was sixth followed by J.D. Johnson, Evan Martin, Kyle Bellm, and Ricky Stangl with an impressive run from twenty-first to grab tenth.
The Speedway Motors ASCS Warrior Region races next at the Double X Speedway in California, Mo. on Sunday, July 20. For continued updates on the American Sprint Car Series, logo onto http://www.ascsracing.com.
Speedway Motors ASCS Warrior Region
Randolph County Raceway -Moberly, Mo.
Saturday, July 19, 2014
Car Count: 21
Heat 1 (8 Laps): 1. 4-Evan Martin; 2. 3Z-Zach Davis; 3. 0-Austin Alumbaugh; 4. 72X-Josh Fisher; 5. 14-Randy Martin; 6. 75-Tyler Blank; 7. 24S-Ricky Stangl
Heat 2 (8 Laps): 1. 51-Mitchell Moore; 2. 76-Jay Russell; 3. 22-Dustin Barks; 4. 86-Kyle Bellm; 5. 34-Corey Nelson; 6. 81A-Chris Morgan; 7. 5-Matt Close
Heat 3 (8 Laps): 1. 2A-Randy Hibbs; 2. 28-Jonathan Cornell; 3. 8W-J.D. Johnson; 4. 29-Brandon Hahn; 5. 24C-Lanny Carpenter; 6. 82-Vincent Ward; 7. (DNF) 92J-J.R. Topper
A Feature (25 Laps): 1. 28-Jonathan Cornell[2]; 2. 0-Austin Alumbaugh[3]; 3. 76-Jay Russell[5]; 4. 14-Randy Martin[13]; 5. 72X-Josh Fisher[9]; 6. 29-Brandon Hahn[12]; 7. 8W-J.D. Johnson[6]; 8. 4-Evan Martin[4]; 9. 86-Kyle Bellm[11]; 10. 24S-Ricky Stangl[21]; 11. 81A-Chris Morgan[16]; 12. 2A-Randy Hibbs[8]; 13. 22-Dustin Barks[10]; 14. 24C-Lanny Carpenter[14]; 15. 34-Corey Nelson[15]; 16. 5-Matt Close[19]; 17. (DNF) 3Z-Zach Davis[1]; 18. (DNF) 82-Vincent Ward[18]; 19. (DNF) 75-Tyler Blank[17]; 20. (DNF) 51-Mitchell Moore[7]; 21. (DNF) 92J-J.R. Topper[20]