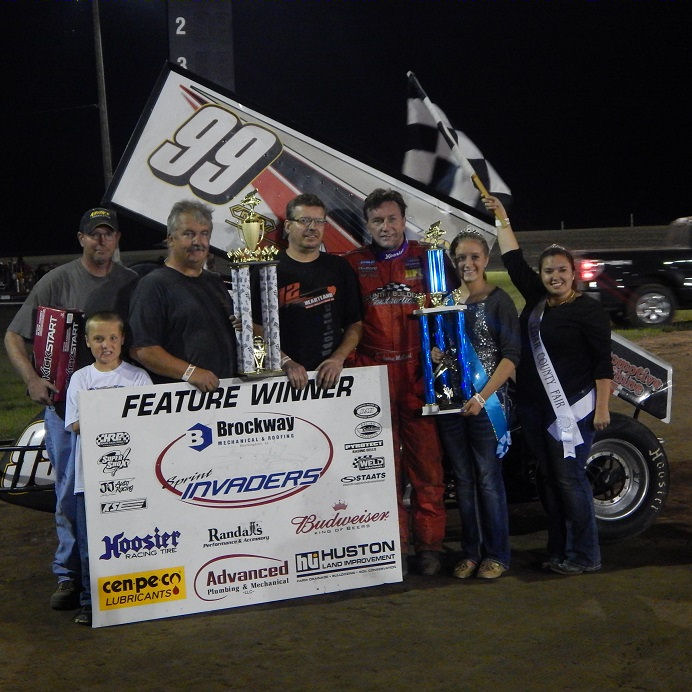 By Bill W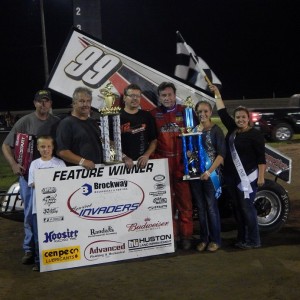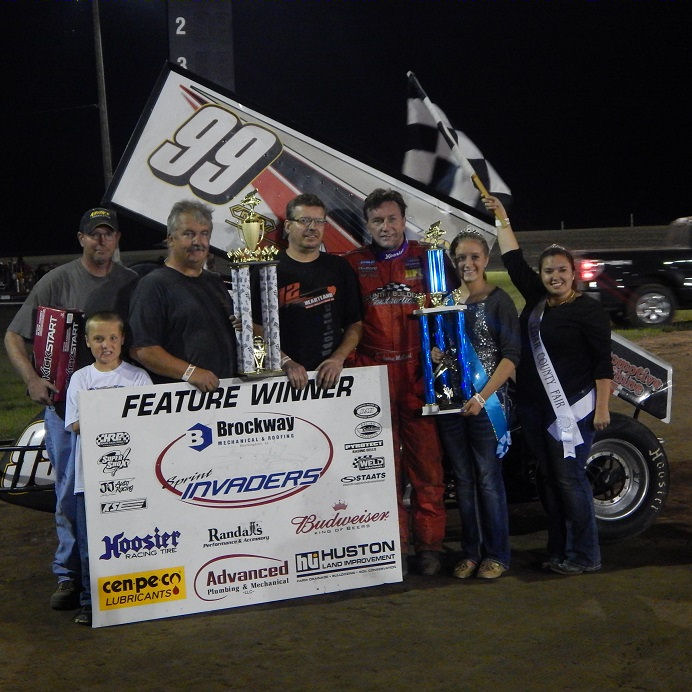 July 22, 2014 – Terry McCarl won at the Cedar County Raceway in Tipton, Iowa on Friday, July 11.  The win aboard the Jimmy Davies #99 marked the 62nd track that the Altoona, Iowa driver has won in his career.  It was a busy week of racing that will be followed by another.  TMAC will return to the #99 for three Illinois Speedweek MOWA events starting tomorrow night, before returning to weekly action Saturday at the Knoxville Raceway and with the All Stars at the Huset's Speedway in South Dakota on Sunday.
TMAC drew a starting spot outside of row four for his heat at Tipton.  "I had never been to Tipton and didn't know what to expect," he says of the ¼-mile bullring.  "We definitely had a tough heat race, but Jimmy (Davies) and Scott Bonar had the car really nice.  We were able to go where we wanted to on the track.  I thought we had a shot at second, but we settled for third."
The heat finish left him one spot short of the Dash, so TMAC would start the feature eighth.  "It was a fun racetrack," he says.  "We put our heads together, and kind of relied on each other.  When you do well, it's fun.  I think we were up to second in two or three laps.  We had an awesome racecar, and I could go anywhere I wanted to go."
That set him up behind leader Wayne Johnson.  "The yellow came out, and Wayne was leading," says TMAC.  "I had watched the B main, and I had seen Dustin Selvage really getting a run on guys on the top of turn four.  It was treacherous up there on that lip, but I learned so much watching him.  He seemed like he was 50 miles per hour faster than anyone."
An unfortunate incident occurred on the restart.  "Wayne brought the start around the top, and that was good, because that's where I was running," says TMAC.  "At the last second, he turned from the moisture right before the cone.  I knew I had him at that point.  I had such a run off the top, and I got into one.  He had been running about ¾ of the way up the track, and I had been running the top.  I decided I was going to slide him, and he decided he was going to run the bottom.  I just flat ran him over."
TMAC was remorseful.  "We are friends, and I definitely didn't mean to do it, but I ran clear over him," he says.  "I think my wheels about hit his top wing.  I can't believe I didn't flip.  Unfortunately, it hooked his rear bumper and spun him around.  In my helmet, I was hoping he would gas it, and keep it going.  He wasn't able to and spun out.  I felt horrible about it.  I definitely apologized to him.  That didn't make him feel too much better, I'm sure…especially that night."
TMAC would go on to Victory Lane in his first Tipton appearance.  "(Getting into Wayne) was unfortunate, but we had such a great car," he says.  "It's fun to run that car, and we're looking forward to running Jimmy's 410 this week in Illinois."
On Sunday, July 13, TMAC would time in 5th quick and win his heat at Huset's.  He would start the feature sixth.  "We had a really good car," he says.  "We drove to the front and got by some good cars.  The car was pretty good, but it was the nineteenth night on that engine.  Mark (Dobmeier) just ran us down.  He turned his turn signal on, drove by us, and turned it back off.  I was way better than everyone else, and he was way better than us that night.  It was pretty incredible for us and Rider engines to have nineteen nights on a motor and run that well."
TMAC drove the Jeremy Scadden #6 360 sprint car during JSTS Speedweek at Sioux Speedway in Sioux Center, Iowa on Wednesday.  He ran fourth in a stout heat.  "We started tenth in the feature and moved up to fifth," he says.  "It was kind of a strange racetrack.  It was dry, but never took rubber like we thought it might.  Guys were actually driving down in the grass."
Thursday at the Rapid Speedway in Rock Rapids, Iowa, TMAC would finish second in his heat.  "We had a really good car at Rock Rapids," he says.  "We started seventh and moved up into third.  We just didn't have anything for those first two guys by the time we got there."
Saturday's 410 field at Knoxville was as tough as it gets.  Despite being the 35th and last car out to time, TMAC was sixth quick.  "We had a new Rider in, and we were happy with that," he says.  "I don't know that we've had a harder heat all year long than that one Saturday.  Brian (Brown) was beside us, and (Craig) Dollansky, AJ Moeller, Ian Madsen and Rico (Abreu) were in front of us.  We were happy to get fourth there."
The main event would see him start sixth.  "We just missed the setup," says TMAC.  "We were way too tight.  I should have known better watching the top five 360 guys running the bottom.  It just stayed good down there."
After battling with Brian Brown and Sammy Swindell much of the way, he checkered eighth.  "I actually had my hands cramp up after the feature," said TMAC.  "I was holding on it so tight to try to get it to turn.  I'm disappointed in finishing eighth, but it was the best we could do.  We need a couple more strong finishes in this point deal, and Justin (Henderson) had a great night.  We did our best, and the track fooled us."
For Sunday's All Star race at Huset's, TMAC would again come out last to qualify.  "The track fooled us a bit at Huset's too," he says.  "The track was slick.  The straightaways were slick, and it looked like it may lay rubber.  We went out dead last, and we were fifth quick.  The All Stars have made it so just the top two in the heats make the Dash, so we were stuck in the second row.  (Craig) Dollansky and Ian Madsen were on the front row, and Dobmeier was beside us.  You have to run the same tire, so if I couldn't get to second in the first couple of laps, I was going to save the tire.  We ran fourth."
He would post from ninth in the feature.  "I know Huset's pretty well, and it fooled us," says TMAC.  "The track stayed nice and the moisture came back up.  It was nicer on the last lap of the feature than it was qualifying.  You could run anywhere you wanted to run.  We were just a little tight and ran up to fifth.  We got a little lucky with the car that got into the fence.  We had nowhere to go and we junked our wing.  So we were lucky to keep going and hold onto fifth."
TMAC teams with Jimmy Davies and his #99 for Illinois Speedweek Wednesday, Thursday and Friday at Highland, Granite City and Jacksonville.  He'll return in the TMAC Motorsports #24 Saturday at Knoxville, and in Jeremy Scadden's #6 at Huset's with the All Stars on Sunday.
To check out opportunities to partner with TMAC Motorsports on a nightly basis, visit www.TerryMcCarl.com or call 515 957-0020!
Front Row Challenge Tickets on Sale!
The 19th Annual Casey's General Stores/Musco Lighting Front Row Challenge presented by Searsboro Telephone Company will be held Monday, August 4 at the Southern Iowa Speedway in Oskaloosa, Iowa.
Tickets are now on sale!  For more information, call Front Row Challenge Enterprises, LLC at 515 957-0020.  For further information, stay tuned to www.OskyChallenges.com!
Websites for the McCarl Gang!
Driverwebsites.com develops the websites for the McCarl boys. Check out www.TerryMcCarl.com, as well as www.AustinMcCarl.com and www.CarsonMcCarl.com!
This Month in TMAC History!
On July 21, 2001, TMAC started fifth, and drove by pole-sitter, Manny Rockhold, on lap three to take his fifth win of the season at the Knoxville Raceway.  Kerry Madsen was second, followed by Don Droud Jr., Ricky Logan and Rockhold.
"Tuesdays with TMAC"!
"Tuesdays with TMAC" is an up close and personal look at colorful sprint car veteran Terry McCarl. To receive "Tuesdays with TMAC", send an e-mail to sprntcar@hotmail.com with "TMAC" in the subject line.
TMAC Motorsports would like to thank sponsors Country Builders Construction, Rossie Feed and Grain, Bosma Poultry, SnowPlow Snow Pushers – www.TheSnowPlow.com, DeBerg Concrete, Colin Bulmer – Bayaire Industries, A.R.T. Speed Equipment, Berryhill Racing, Phil and Vivian, Justice Brothers/Gillund Enterprises, Ryan Yager Trucking, Vortex Racing, Hoosier Tire, Chris Spaulding – Attorney at Law, Schoenfeld Headers, K&N Filters, Rens Trucking, NutriShop – Maple Grove, MN, HRP, All Pro Cylinder Heads, Bob and Beulah Elder, Engler Injection, T&P Brothers, Winters, DriverWebsites.com, CM Rock, Jocko's Sprint Parts, Sander, Brown and Miller, Pro Shocks, Ben Cook, Bell Helmets, Burnett's Rock and Landscaping, Van Der Brink Trucking, Van Der Brink Designs, Morgan Strawberry Farms, Buttman BBQ, Aurora Rod Ends, Crow Safety, Justice Brothers, KSE Steering, Snyder Lawn & Landscaping, Strange Performance, Saldana Racing Products, Scribner Plastics, Waterman Fuel Pumps, Weiland Racing, Butlerbuilt, PBS Bushings and Mote Fasteners.