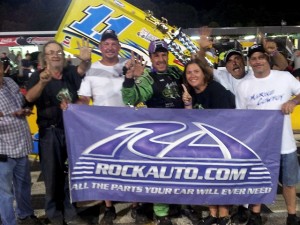 From Jacob Seelman
Anderson, SC — (July 25, 2014) — Joey "The Ace" Aguilar arrived at Anderson Motor Speedway Friday afternoon ready to compete with the United Sprint Car Series filtercharged by K&N filters and he ended up being dealt the winning cards.
Aguilar, a three-time TBARA Sprint Series winner in 2014 and pavement sprint car veteran from Tampa, Florida, powered around 1998 USCS Rookie of the Year and K&N Filters pole-sitter Johnny Bridges on lap 4 of Friday night's 25-lap Anderson Summer Nationals preliminary A-main and drove away to win by a full straightaway despite two caution periods in the first half of the event that slowed the pace.
The victory was Aguilar's sixth straight sprint car feature victory (across multiple sanctions) in 2014 and second career USCS feature win, following a win at Lanier National Speedway in 2010.
"This is sweet, just like it says on the side of my car," a jubilant Aguilar said in www.rockauto.com Victory Lane, referring to his sponsor, Sweet Manufacturing. "I really can't believe this, it's awesome to race here and you guys have seriously got me thinking about moving up here, getting out of Florida. To beat a veteran like Terry Gray, who's a class act and is so good in this series and anywhere he races, that's really special tonight. Now we want to try and double it up tomorrow."
Pole-sitter and defending USCS Anderson Motor Speedway winner (4/25/14) Bridges blasted out in front of the field to lead on the initial start, but was quickly reeled in by Aguilar, who caught the veteran in traffic early in the going. Aguilar made what turned out to be the winning pass by going almost-three wide through the middle of the race track in turns one and two. When the caution came out a lap later for the stopped car of Dave Thorman in turn four, Bridges was afforded an opportunity to return the favor.
However, the Cherryville, North Carolina native had no answer on the restart, and Aguilar again disappeared from the rest of the field's reach. As Bridges tried to give chase, he tangled with the lapped car of Tim Perry on lap 13 and came to rest on the outside of turn one with significant suspension damage, bringing out the race's final caution.
"It's just a shame, we had a good car tonight," Bridges said after the race. "I hate it because we were leading the USCS pavement points coming into tonight, but what can you do? Sometimes it's just not your night."
Following the restart, new second-place driver and ten-time series champion Terry Gray had no answer for Aguilar, who raced his way into victory lane unchallenged.
Gray, from Bartlett, Tennessee had to settle for the runner-up position while his teammate, Cordova, Tennessee's Morgan Turpen finished her night in the third position. Indian Trail, North Carolina driver and 2012 Carolina RaceSaver Sprint Series Champion Jake McLain rode home in the fourth position and Jake's brother Brandon McLain rounded out the top five finishers.
Grovetown, Georgia driver and National Guard serviceman Jay Dunham tied his career-best USCS feature finish with a sixth place result, matching his effort from Lavonia Speedway last Thursday. Pavement sprint car veteran Tom Paterson, out of Argos, Indiana crossed the line in seventh and Hickory, North Carolina rookie Greg Smyre finished eighth in just his sixth-ever sprint car race. Mooresville, North Carolina's Tim Perry came home ninth and Bridges was scored in tenth after his crash at the midway point of the race.
Johnny Bridges set the K&N Filters Fast Time during two-lap time trials on Friday afternoon with a lap of 13.26 seconds (101.810 mph), breaking Morgan Turpen's all-time track record of 13.314 seconds set in the fall of 2010.
The Hoosier Tire Speed Dash originally scheduled for Friday evening was postponed due to time constraints and will be made up during Saturday's racing program when double USCS Hoosier Speed Dash contests will be run. Terry Gray scored the win in the Engler Machine and Tool First Heat and Jake McLain grabbed the victory in the Butlerbuilt Second Heat.
Bridges was the provisional pole-sitter after receiving his time back following heat race action, and after a zero came up in the K&N Filters inversion draw, he also received the K&N Filters Pole Award.  Jake McLain passed the most cars in the A-main (six) to grab the Wilwood Disc Brakes Hard Charger Award.
The United Sprint Car Series filtercharged by K&N continues their 2014 schedule on Saturday night, July 26th with finale night of the 2014 Anderson Summer Nationals. The evening will feature a 40-lap USCS A-main event and will also be highlighted by a national qualifier for the INEX US Legend Cars in tewo separate 30 lap divisional contests.
For rules, schedules and more information on the United Sprint Car Series Outlaw Thunder Tour, please visit www.uscsracing.com or call 770-460-7223 or 770-865-6097.
RESULTS: USCS Sprint Car Series "Anderson Summer Nationals" Prelim Night; Anderson Motor Speedway; July 25th, 2014
K&N Filters Fast Time: Johnny Bridges; 13.26 seconds (new all-time track record)
Hoosier Tire Speed Dash: To be held during Saturday's racing program.
Engler Machine and Tool First Heat: Terry Gray, Joey Aguilar, Morgan Turpen, Johnny Bridges, Jay Dunham, Jim Payne, Brandon McLain, Greg Smyre.
Butlerbuilt Second Heat: Jake McLain, Tom Paterson, Joe Larkin, Tim Perry, Sonny Stroud, Bill Moore, Dave Thorman (DNS).
USCS Sprint Car Series filtercharged by K&N Summer Nationals preliminary A-main: 25-laps
1.     #11 – Joey Aguilar, Tampa, FL
2.     #10 – Terry Gray, Bartlett, TN
3.     #10M – Morgan Turpen, Cordova, TN
4.     #67 – Jake McLain, Indian Trail, NC
5.     #21B – Brandon McLain, Indian Trail, NC
6.     #51 – Jay Dunham, Grovetown, GA
7.     #11X – Tom Paterson, Argos, IN
8.     #87 – Greg Smyre, Hickory, NC
9.     #36 – Tim Perry, Mooresville, NC
10.   #07 – Johnny Bridges, Cherryville, NC
11.   #33 – Joe Larkin, Suwanee, GA
12.   #06 – Bill Moore, Mt. Ulla, NC
13.   #5 – Dave Thorman, Greenville, SC
14.   #100 – Jim Payne, Bryan, OH
15.   #5S – Sonny Stroud, Marietta, SC
USCS Sprint Car Series Race Awards:
K&N Fast Time Award: #07 – Johnny Bridges
Engler Machine and Tool First Heat: #10 – Terry Gray
Butlerbuilt Second Heat: #67 – Jake McLain
K&N Filters Pole Award: #07 – Johnny Bridges
JE Pistons Top Guns Award: #21B – Brandon McLain (5th place)
K&N Filters Podium (3rd place) Award: #10M – Morgan Turpen
Wilwood Disc Brakes Hard Charger Award: #67 – Jake McLain
Keizer Aluminum Wheels Top Five Award: #21B – Brandon McLain
Saldana Racing Products Super Sixth Award: #51 – Jay Dunham
Pyrotect Racing Cells Lucky Seven Award: #11X – Tom Paterson
DMI/Bulldog Rear Ends Top Ten Award: #07 – Johnny Bridges