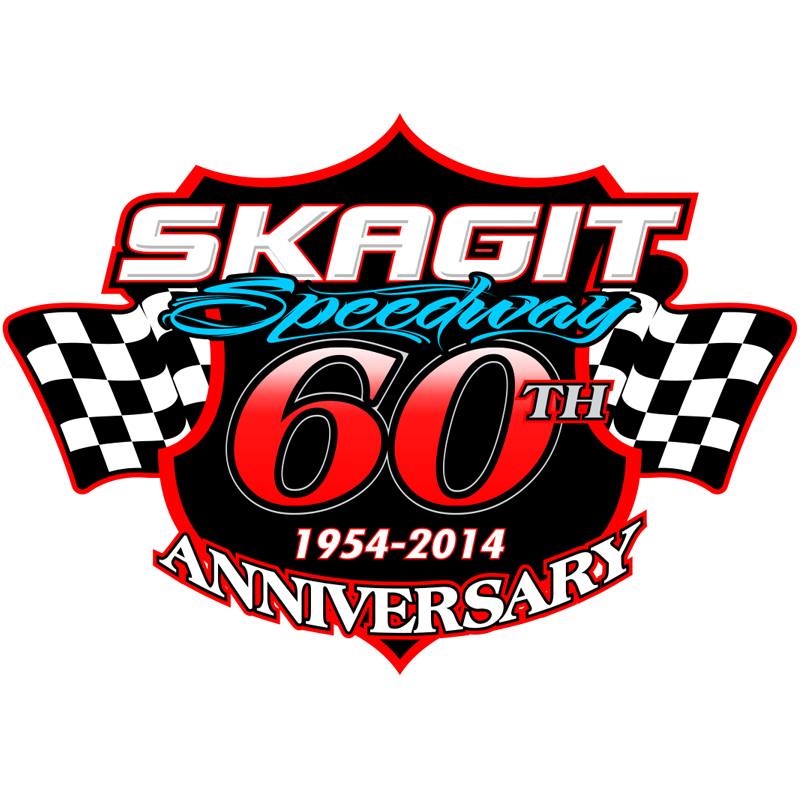 From Kaleb Hart
Alger, WA – (July 26, 2014) – After a 14th to 2nd place run on the preliminary night, Seth Bergman made things way easier on himself en route to a $10,000 win on Saturday night at Skagit Speedway as he won the 2014 Bob's Burgers & Brew Summer Nationals. After winning the A Scramble, Bergman led laps 3-40 on his way to cashing the biggest payday of his racing career.
Jason Solwold would lead the race in the early going, taking to the high side of the track to nose ahead of Bergman on the opening lap. Thinking that the bottom groove might be faster, Jason moved down the raceway on lap two, opening the door for Bergman to take a run up high. The move proved profitable for Bergman, who powered around the outside of Jason coming out of turn two to take the lead as the pair raced to the line on lap three. From there, Bergman was flawless, extending himself to a full straightaway lead before getting into slower cars. As slow traffic loomed, Trey Starks passed Solwold for second and looked to cut into Bergman's huge lead. Bergman, originally from Snohomish, WA, didn't let Starks get close enough to make a run as he masterfully moved high and low around the track, putting lapped car after lapped car in between him and Starks before the first stoppage of the race came on lap 12 for an overturned Derek Roberts. On the restart, Bergman again proved to be in a class of his own, re-extending his lead before again hitting lapped cars. Attrition was mighty, as car after car dropped out, narrowing the amount of lapped cars Bergman could put between him and Starks. As the race hit lapped 30, Starks had managed to clear the slower cars and take a clean air shot at Bergman, but Bergman again proved too strong, keeping Starks a long ways back. Trey's top five run would end on lap 35 as he blew a tire, putting Solwold back to second with 5 laps remaining and no slower cars between him and Bergman. Once again, Bergman proved it was his night and his time to shine, as he drove away from Jason on the restart to score the $10,000 victory. Solwold, a three time winner of this event, brought home second with Colton Heath taking third place. Steve Reeves won the B Scramble and Matt Jensen won the B Main.
The Outlaw Tuner Nationals ran concurrent to the Summer Nationals event and it was Tyler Ketchum writing his name to the record books with a victory. Ketchum, the prelim night feature winner, was flawless in the middle of the racetrack, holding off a very racey Brian Michelson and Freddie Vela to grab the biggest win of his tuner career. Vela and Michelson were the heat race winners on the night.
360 Sprint Cars
B Scramble – Steve Reeves, Matt Jensen, Rod Perkins, Bud Ashe, Reece Goetz
A Scramble – Seth Bergman, Jason Solwold, Trey Starks, Colton Heath, Tayler Malsam, Kelsey Carpenter
B Main – Matt Jensen, Reece Goetz, Rod Perkins, Brock Lemley, Bud Ashe, Luke Didiuk, Jeff Dunlap, Jayme Barnes, Steve James, Zeth Custer, Michael Bollinger, Ben Gunderson, Daniel Cernich, Greg Hamilton, Steve Reeves, Jason Reed, Daniel Anderson
A Main – Seth Bergman, Jason Solwold, Colton Heath, Tayler Malsam, Kelsey Carpenter, Henry Van Dam, Robbie Price, Trey Starks, JJ Hickle, Justin Youngquist, Matt Jensen, Luke Didiuk, Rod Perkins, Reece Goetz, Eric Fisher, Sean MacDonnell, Brock Lemley, Kenny Rutz, Chris Schmelzle, Derek Roberts, Jeff Dunlap, Bud Ashe
Lap Leaders – Solwold 1-2 Bergman 3-40
Outlaw Tuners
Heat 1 – Freddie Vela, Brandon Berg, Clint Meins, Mikey Powers, Adam Nelson, Tyler Ketchum, Jon Edwards
Heat 2 – Brian Michelson, Becky Boudreau, Tom Warner, Duane Warner, Howard Vos, Jon Gunderson
Main – Tyler Ketchum, Brian Michelson, Freddie Vela, Becky Boudreau, Tom Warner, Clint Meins, Jon Gunderson, Howard Vos, Adam Nelson, Jon Edwards, Duane Warner, Mike Powers Jr, Brandon Berg
Lap Leaders – Ketchum 1-20