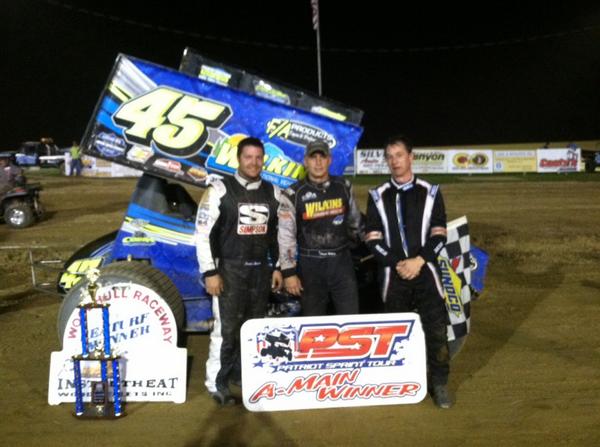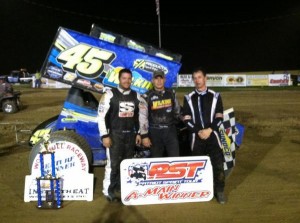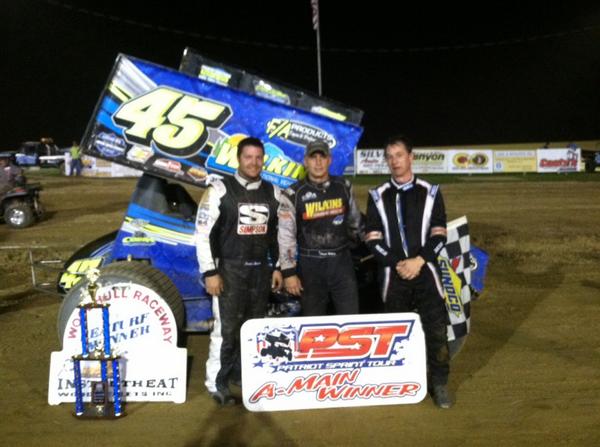 From Rich Vleck
Woodhull, NY — (July 26, 2014) — Chuck Hebing Captures Patriot Sprint Tour Season Sweep and $2,500 at Woodhull
Rich Vleck, WOODHULL, NY, (July 26, 2014)- Chuck Hebing has always been the dominant force when it comes to sprint car racing at Woodhull, winning in six of his 11 appearances at the high banks, but not until Saturday Night, has he won a bonus-paying summer race.
Hebing, of Ontario, NY, scored his seventh career win at the Woodhull Raceway in convincing fashion Saturday Night, earning his third Patriot Sprint Tour win of the season in as many starts. It was also the 40th win in Patriot Sprint Tour action for the "Cobra" in the 225th race in series history.
"The car was good. I started in the back and had to work my way up through," noted Hebing in Victory Lane. "The lapped cars were definitely tough. I like the new rule (where the lapped cars are moved to the back on restarts), tonight it helped other people too but it made for a good show in front of a good crowd and another win for Wilkins RV."
After running second in his heat to Justin Barger, Hebing drew the seventh starting position for the feature but did not waste much time getting to the front. By the time the field came around to complete the third lap, the No. 45 had moved up to the runner-up position. The first caution of the event would fly on lap seven just as Hebing was closing in on early leader Jared Fink. Fink had been solid from the outside pole but on the ensuing restart, Hebing got a solid run off the second corner and was able to execute a slide job on the No. 21F in turns three and four.
The caution flag would reappear on lap nine and on that restart, Steve Collins would move around Fink for the second position and began to stalk the "Cobra". Both cars were rather even in speed throughout, but in the closing laps, as the duo navigated the lapped cars, Collins was able to put pressure on Hebing to make sure he hit his marks.
"I got a little safer on my approach to make sure I didn't jump the cushion or get in to trouble in a lapped car, I have found that usually works out better for me at the end," reflected Hebing after the event.
On the final lap, Hebing stretched his lead out to 10 car lengths and would hold on to claim the season sweep, as well as the $2,500 top prize, the biggest payday he has scored at Woodhull.
Collins would hold on for a runner-up finish, which would be his best career PST finish. This was the first Patriot race for the "Flying Physician" since his first career feature win in non-sanctioned action last month and he was happy to stay hot and battle Hebing at a track just down the road from his Belfast, NY residence.
Justin Barger drove up to third in his first PST start of the year. Barger, who had won this event the last two years, looked dominant in the heats, but got slowed up in the opening laps of the feature and finally got to third with four laps remaining. One late caution may have given him a chance to threepeat.
One of the feel-good runs of the night was turned in by Jared Fink. Despite running a limited schedule once again this year, Fink led for the first seven laps and ran solid the rest of the way, coming home in fourth.
The battle for fifth place was hotly contested throughout, prominently by Bryan Howland, Scott Kreutter and Jared Zimbardi, the three drivers to claim the last six PST America championships. Howland, who also scored the win in the Evingham Site Excavation Four Laps of Fame, would drive up to claim the fifth spot. Current PST point leader Jared Zimbardi would draw the pole position but struggled in the opening laps and would settle for sixth at arguably his most difficult race track. Scott Kreutter won his heat race and would come home in seventh, a vast improvement from the May race when mechanical failures prohibited the 2012 series champion from qualifying.
Dave Just would drive forward to finish in eighth place, officially the best finish in his sprint car career. Jamie Bodo would quietly drive forward to place in ninth, just ahead of George Suprick, who rounded out the top 10.
A concerning forecast never materialized thankfully as a huge crowd was treated to a pleasant night at a track that had an incredible surface all night long. With 27 sprint cars on hand, a B-Main was needed, which was won by Paul Habeck. Heat wins would go to Barger, Kreutter and Brad Knab.
For more information, visit www.PatriotSprintTour.com.
Patriot Sprint Tour America Series Results: 7/26/14, Woodhull Raceway, Woodhull, NY.
A-Main (25 Laps)- 1. Chuck Hebing (45), 2. Steve Collins (67), 3. Justin Barger (5), 4. Jared Fink (21F), 5. Bryan Howland (51), 6. Jared Zimbardi (35), 7. Scott Kreutter (10B), 8. Dave Just (54J), 9. Jamie Bodo (76), 10. George Suprick (87), 11. Kyle Drum (47), 12. Parker Evans (61), 13. Brad Knab (38), 14. Dane Lorenc (00), 15. Scott Just (54JR), 16. Clint Ide (3), 17. Paul Habeck (25H), 18. Derek Jonathan (81), 19. Tyler Graves (25G), 20. Steve Glover (121), 21. Will Glover (21), 22. Darryl Ruggles (48JR), 23. Steven Hutchinson Jr. (2), 24. Alysha Ruggles (48A).
Lap Leaders- Fink 1-7, Hebing 8-25.
Buy-In Provisionals: S. Just, Lorenc.
Did Not Qualify: Dusett, Kuhn, Muench.
B-Main (10 Laps, Top 4 Transfer to A)- 1. Paul Habeck (25H), 2. Steve Glover (121), 3. Tyler Graves (25G), 4. Steven Hutchinson Jr. (2), 5. Scott Just (54JR), 6. Dane Lorenc (00), 7. Lance Dusett (43D), 8. Dan Kuhn (99k), 9. Jake Muench (14).
Evingham Site Excavation Four Laps of Fame Dash For Cash (4 Laps)- 1. Bryan Howland (51), 2. Dave Just (54J), 3. Jamie Bodo (76), 4. Kyle Drum (47), 5. Derek Jonathan (81), 6. Alysha Ruggles (48A).
Heats (8 Laps, Top 6 Qualify From Each)-
Race 1: KNAB, ZIMBARDI, BODO, FINK, A. RUGGLES, W. GLOVER, S. Glover, Dusett, Muench.
Race 2: BARGER, HEBING, HOWLAND, JONATHAN, DRUM, IDE, S. Just, Graves, Kuhn.
Race 3: KREUTTER, SUPRICK, COLLINS, D. JUST, EVANS, D. RUGGLES, Habeck, Hutchinson, Lorenc.
Patriot Sprint Tour America Series Point Standings (Top 10)- Zimbardi 1439, Collins 1260, Knab 1126, D. Just 1215, S. Just 1151, Jonathan 1151, Jonathan 1147, Lorenc 1118, Kreutter 1096, Polyak 1091, Graves 1058.
Four Laps of Fame Dash Series Point Standings (Top Five)- Polyak and D. Just 17, Knab and Evans 14, Collins 12.
Hard Charger of the Season Point Standings (Top Five)- Polyak 31, Lorenc 20, Adamczyk 17, Zimbardi and Howland 16.