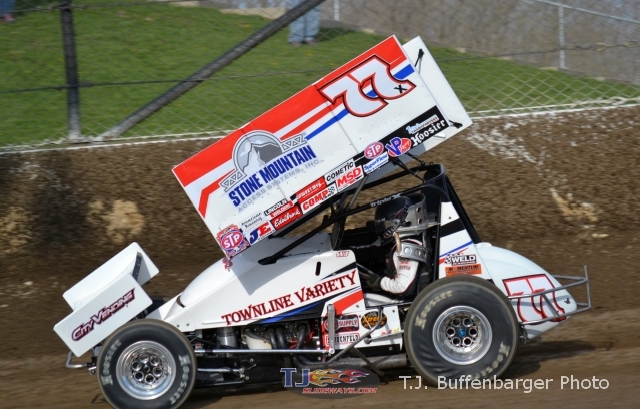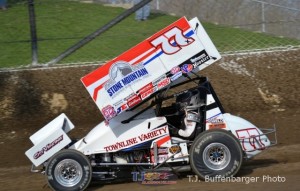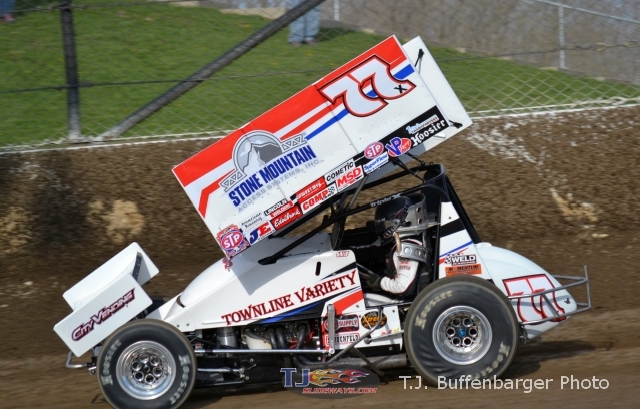 By Bill W
July 30, 2014 – A quest for a third 360 Nationals crown is underway this week.  The Wayne Johnson Racing #77x team is riding the wave of a win last Friday night at the Oshweken Speedway in Ontario.  The Knoxville, Iowa driver competed four times north of the border last week and will qualify this Friday night for the 360 Nationals.
Wayne raced two 360 shows in Canada starting with last Friday's show in Ohsweken.  He would finish second in the heat, before lining up inside row two for the feature.  "Shane (Stewart) started fourth beside me," he says.  "At the start, I was too tight.  I just rolled around in fourth for a while.  Then the fuel load came off, the air pressure in the tires came up and we started rolling."
That's when he made his move to the front.  "We passed Shane first and then we passed first and second at the same time," says Wayne.  "We pulled away from there.  The car was really, really good.  I think they said we beat Shane by a straightaway that night."
Sunday saw the team traveling to Cornwall, Ontario and the Cornwall Motor Speedway to compete with the World of Outlaws.  "Unfortunately, we qualified one spot (13th) out of the (heat) inversion," says Wayne.  "We were able to get out of the heat race and we started 13th in the feature.  We were running around there pretty decent, until I slid over the edge and backed it into the fence.  We came from the back up to 16th at the finish."
The Northern Summer Nationals were next back in the 360 at Ohsweken on Monday night.  "Our brake line got knocked off in the heat race, but we were able to run second," says Wayne.  "We fixed that, and drew the pole for the feature."
Wayne led early.  "It was a lot slicker than it had been Friday," he says.  "We weren't as good as we had been that night.  We were a little free, so we decided to put a 96 on, and we were way too tight in the feature.  We led the first six laps or so, and then started to fade."
An opportunity to move up towards the end of the race closed.  "Towards the end, Jessica (Zemken) and Shane got to racing, and I thought I might get back by those guys," says Wayne.  "There was a lap or two to go, but a lapped car screwed me up there, and we ended up fourth."
The Outlaws came to Ohsweken last night.  "We were dead last to qualify and we ended up 15th quick," says Wayne.  "That put us on the pole of the heat.  I've been docked three times this year for jumping the start, so I wasn't going until I got to the white line period.  Paul McMahan jumped the start and they let it go.  He won the heat and we finished second.  Shane actually passed me in the heat, but I was able to get back by."
Starting 15th, Wayne would checker 13th and point the rig back south.  "Track position is everything right now with this racing deal," he says.  "We were able to move a couple spots up, so that was good.  We were back home early this afternoon, so we'll take the rest of the day off and get ready for the 360 Nationals Friday."
Follow Updates on Facebook!
Wayne will update as his race night commences at his Facebook page.  Find it by searching for Wayne Johnson Racing or clicking the following link…
http://www.facebook.com/#!/WayneJohnsonRacing
Outlaw Wings – "The Wing with an Attitude"
Check out the new "recessed rivet" design put out by Outlaw Wings.  Talk to Wayne about purchasing Outlaw Wings for your car! Outlaw Wings – "The Wing with an Attitude"!
Wayne's Fast Facts
Wayne won the 360 Nationals in 2000 and 2008.  He is tied for first on the all-time list in top five finishes (six) and top ten finishes (nine).  He has qualified for the A main eleven out of thirteen times.  He is fifth all-time in A main laps led with 44.
Partner of the Week – Stone Mountain Access Systems
Stone Mountain Access is dedicated to developing better suspended and fixed access solutions for our customers.  We pursue new and innovative products and methods.  Stone Mountain Access provides our customers with the best products, service, training, and support in the industry.  We always maintain a safe and creative work environment which respects diversity, innovation, and hard work.
Stone Mountain Access has the knowledge to provide the best, safest, and most innovative solutions to your access challenges.
Our sales team has the hands-on experience that enables them to work through the most complex access challenges and to recognize a straight forward solution when it's appropriate.  With the knowledge that comes from our experience, Stone Mountain Access can provide you with the safest solutions to all of your access needs.
Our mechanics and rigging crews are trained to be the safest in the industry.  Our service team is trained to comply with or exceed all industry and OSHA standards.  The mechanics at Stone Mountain Access are certified by Sky Climber, Tractel, and Power Climber.  When a hoist is maintained to the standards of Stone Mountain Access, it looks and performs like new.
Customer Service is critical and everyone at Stone Mountain Access believes that our customers deserve the best we can give them every time, no exceptions.  Visit Stone Mountain Access Systems online today at www.StoneMountainAccess.com!
"Wednesday's with Wayne"
"Wednesday's With Wayne" is an up close look at the past, present and future of colorful and talented sprint car driver Wayne Johnson. You'll never know what to expect next with Wayne, so don't miss us on Wednesdays!
To receive "Wednesday's with Wayne", send an e-mail to sprntcar@hotmail.com with"Wayne" in the subject line.
Wayne Johnson Racing would like to thank partners, Todd Carlile, Vern Rengen, Miles with Townline Variety, Russell with Outlaw Wings, Ray with City Vending, Scott with Stone Mountain Access Systems and product sponsors Bill with The Oil Medics, Byron with Sebastian Sandblasting & Powdercoating, Jeff with 517 Design, Shawna and Kaleb with Triple X Race Components, Bob with Rod End Supply, Dave with Astro Titanium, Mark and Doug with Schoenfeld Headers, Desiree at Simpson, Jeannie at Butlerbuilt, Tom at Xtreme Accu-Tach, Carl with Kustom Sprint Car, Brad with Momentum, Charlie with Fisher Racing Engines, Team Achieve and Tim with Canyon Apparel.