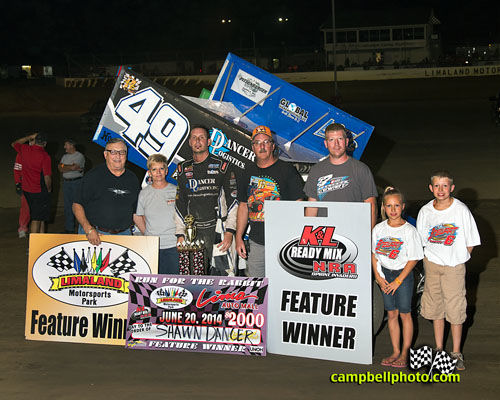 (8/1/14) – There is an old saying in sports that "winning isn't everything, it's the only thing." For veteran sprint car driver Shawn Dancer the experience of winning a feature at Limaland Motorsports Park was the only thing he was still looking to accomplish. That quest became a moot point for the Delphos based racer as he went flag-to-flag on this night and won the coveted Run for the Rabbit 25-lap NRA Sprint Invaders showdown.
The event quickly turned into a three-car tussle between Dancer, fellow front row starter Hud Horton and Jared Horstman. Dancer and Horstman were content to storm around the high side cushion of the high banked ¼-mile, while Horton took the middle or inside line as his preferred avenue for racing. It remained a three-car engagement with these same racers despite a pair of caution flags and a red flag to slow the race.
A harrowing end-over-end accident involving veteran Todd Heuerman occurred after he made contact with the turn four wall. The popular Leipsic, Ohio racer was unable to continue due to damage with his number 18 machine. The incident did set up a four-lap dash to the finish. Shawn Dancer simply turned it into a series of victory laps on his way to a first-ever feature race checkered flag.
"The car was really good and my guys did a great job with the setup," exclaimed a happy yet calm Dancer. "It's awesome for my first win to be the Run for the Rabbit. The family of Travis "Rabbit" Miller is great for putting this on. For me after flipping at Eldora (recently) it was important to do something positive and my whole team really stepped up as this is something special!"
The Reineke Modifieds 20-lap feature proved to be a repeat of the previous two weeks as Matt Westfall and Todd Sherman continued their dual domination in the division. Westfall came from behind to edge Sherman at the finish line two weeks ago while Sherman held off Westfall in a similar scenario just last week at the famed western Ohio speed venue.
Matt Westfall took an outside front row starting position and propelled his number 54 entry to the early lead using the high line around the track. Sherman, celebrating a milestone 50th birthday, stayed with his traditional middle to bottom route line and was within range of Westfall throughout. Both racers seemed content to hold their positions although Sherman made a few attempts to get fully underneath Westfall. He was never successful as Westfall rolled mostly unthreatened to his third win of 2014.
"We had a really good car tonight and it's always a good feeling to win," said a matter-of-fact Westfall. "The longer the green, it seemed the top of the track was best and I didn't feel like Todd (Sherman) was really gaining much on me."
Lima's Jeff Koz continued his hot streak in the Budweiser Thunderstocks division. He proved to be dominant enough to secure the lead from UNOH Racer Mike Learman on lap number two despite starting from the outside of row number four. Koz took his stocker to the front with a smooth sure driving style that seamlessly led the field of cars through the final 14 circuits of the 15-lap feature. Tim Cole and point's leader Tony Anderson tried to emulate Koz racing line, but they were unable to effectively challenge.
It marked a fourth triumph on the 2014 season for Jeff Koz and the 17th of his Limaland Motorsports Park career. "We may not have had the best car, but we made it work and it's great to be back anytime in victory lane," said Koz. "We had some issues after the heat race, but my guys busted their tails and made this thing work."
The visiting Tuff Trucks division made their annual trek to Limaland on this evening and pole sitter Chris Hicks became the third of four feature winners to start from the front row. Hicks' only genuine threat for the lead through the 15-lap race came from fellow trucker Mike Hicks. Race winner Chris Hicks revealed that he has ruled in this division regardless of the race track hosting the competition.
"It wasn't bad at all here tonight," understated Hicks on his dominating performance. "This marks my fourth win of the season (including other tracks). It's a blast to race here at Limaland, even if it's just once a year."
Limaland Motorsports Park is back in action on Friday, August 8, with the NRA Challenge, a 25-lap feature for the K & L Ready Mix NRA Sprint Invaders. The Reineke Modifieds and Budweiser Thunderstocks will also battle on the famed ¼ mile oval. Gates open at 5:00 p.m. with hot laps beginning at 6:30 p.m. Racing begins promptly at 7:30 p.m.
All the latest news and information can be found at www.limaland.com. You can also find 2014 Limaland Motorsports Park on Facebook and Twitter.
Limaland Motorsports Park – 8/1/2014
Lima Auto Mall Night
McDonald's Dash – (5 laps) – Modifieds
1. 34X-Brandon Vaughan; 2. 01-Anthony Flannery;
3. 23J-Jeff Koz; 4. 07-Damon Bock
NRA Sprints
Heat 1 – (8 Laps – Top 7 Transfer)
1. 35-Ron Blair; 2.18-Todd Heuerman; 3. 6-Jr Stewart;
4. 17A-Tim Allison; 5. 8J-Jess Stiger; 6. 22R-Kevin Roberts;
7. 87-Paul Dues
Heat 2 – (8 Laps – Top 7 Transfer)
1. 28H-Hud Horton; 2. 23-Devon Dobie; 3. 10X-Dustin Stroup;
4. B20-Butch Schroeder; 5. 12H-Tim Hunter; 6. 6M-Max Stambaugh;
7. 12R-Nick Roberts
Heat 3 – (8 Laps – Top 7 Transfer)
1. 49-Shawn Dancer; 2. 17-Jared Horstman; 3. 57-Mike Dunlap;
4. 6T-Tyler Moore; 5. 69-Scott Curren
A-Main – (25 Laps) [#]-Starting Position
1. 49-Shawn Dancer[1]; 2. 28H-Hud Horton[2]; 3. 17-Jared Horstman[6];
4. 17A-Tim Allison[10]; 5. 6M-Max Stambaugh[17]; 6. 23-Devon Dobie[5];
7. 6-Jr Stewart[7]; 8. 10X-Dustin Stroup[8]; 9. B20-Butch Schroeder[11];
10. 57-Mike Dunlap[9]; 11. 22R-Kevin Roberts[16]; 12. 35-Ron Blair[3];
13. 12R-Nick Roberts[19]; 14. 18-Todd Heuerman[4]; 15. 12H-Tim Hunter[14];
16. 69-Scott Curren[15]; 17. 6T-Tyler Moore[12]; 18. 87-Paul Dues[18]