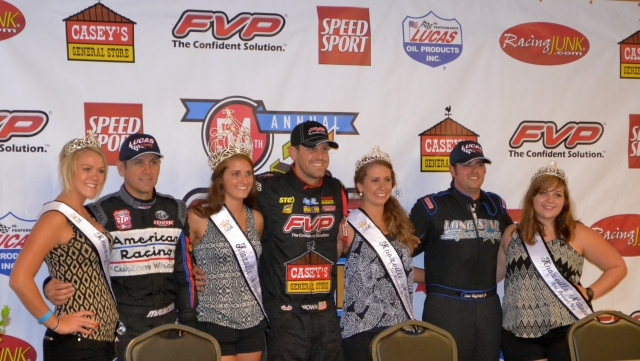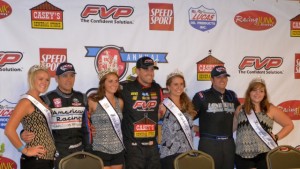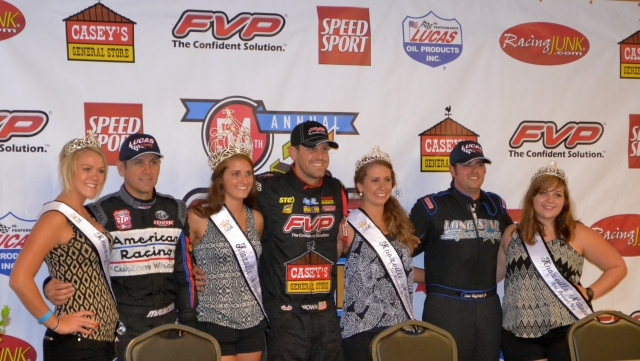 By T.J. Buffenbarger
Knoxville, IA — (Thursday August 7th, 2014) – Brian Brown took advantage of a late caution win Thursday during the Lucas Oil Preliminary Night at the 54th Annual FVP Knoxville Nationals at Knoxville Raceway. Brown took the lead during a fierce battle with Sam Hafertepe, Jr. during a late race restart, taking the lead with four laps to go and pulling away for the win.
""(Hafertepe) took off pretty slow and my motor didn't get going as good as I hoped, and I was going to throw a little bit of a Hail Mary in one corner and see if I could slide him on one cross," said Brown. " I went across and it stuck, and I got a good run and I saw (Hafertepe) out of the corner of my eye and he blocked the bottom like any smart driver should do and I had flashbacks of two weeks ago with me and Ian (Madsen) and getting crashed and I backed out and thought 'well, I guess I'll run second', then I got a good run off four and stuck the bottom again and that time I got a little further along side of (Hafertepe) and thankfully he didn't chop me that time and we were able to go on and get I into clean air to get going. "
Afterwards Brown was complimentary towards his fellow drivers that ended up on the podium.
"Hats off to (Hafetepe). He doesn't run here too often and he's been really strong here the past two weeks, 360 Nationals, and here, and he's doing a good job. Kerry (Madsen) has been the fastest car, I've raced those guy a lot, and to me he's been the fastest car and the fastest team in the country. To beat these two guys on this stage is a pretty awesome accomplishment."
Bryan Clauson and Jeff Swindell ended up on the front row for the 25-lap feature event. Jeff Swindell jumped into the lead at the start and with Clauson and Hafertepe behind them. McCarl and Brian Brown moved up from the third row to fourth and fifth on the opening lap. The second lap saw Hafertepe move under Clauson in turns one and two to take away second. One lap later Terry McCarl looked under Clauson in the same spot as Hafertepe, but Clauson held onto the spot. This allowed Brown to close in and move under McCarl for fourth on lap five.
As Jeff Swindell approached slower traffic he was turning lap times two tenths of a second faster than the rest of the field, but as the traffic started to hold him up it allowed Hafertepe began to close. On lap 12 Swindell found himself racing three wide for the lead with Hafertepe and Clauson with Hafertepe taking the lead on lap 13. Shortly after Brown disposed of Swindell for second.
Hafertepe continued to pull away diving through slower cars until the red flag appeared on lap 19 after Kevin Swindell had his steering break going into turn three and slammed into the wall, turning upside down. Kevin Swindell emerged from his car uninjured.
The restart eliminated Hafertepe's big lead and put Brown on his back bumper. Brown immediately drove to the bottom in turns one and two, but Hafertepe fought back to maintain the lead. Brown continued to work the bottom and was able to slide under Hafertepe with just two laps to go.
McMahan was the fastest qualifier with a lap of 14.633 seconds at an average speed of 123.010 miles per hour. Bill Balog, Jon Agan, Jack Dover, Ian Madsen, and Kevin Swindell won heat race events. During his heat race victory Ian Madsen set a new 10-lap track record at Knoxville with a time of 2:31.779. Dustin Selvage won the C-main while Cody Darrah won the B-Main event.
During hot laps Tyler Courtney had a wing failure and flipped violently into turn one. Courtney emerged from the car uninjured.
54th Annual FVP Knoxville Nationals presented by Casey's General Stores
Lucas Oil Qualifying Night
Knoxville Raceway – Knoxville, IA
Thursday August 7th, 2014
Qualifications:
1. 51 – Paul McMahan, 14.633; 2. 29 – Kerry Madsen, 14.738; 3. 24 – Terry McCarl, 14.748; 4. 21 – Brian Brown, 14.753; 5. 1B – Sheldon Haudenschild, 14.812; 6. 4 – Cody Darrah, 14.821; 7. 51S – Stevie Smith, 14.829; 8. 71M – Joey Saldana, 14.849; 9. 33 – Danny Lasoski, 14.866; 10. 1Z – Lucas Wolfe, 14.871; 11. 6R – Ryan Bunton, 14.877; 12. 24 – Rico Abreu, 14.881; 13. 1st – Gary Taylor, 14.895; 14. 14K – Dale Blaney, 14.908; 15. 19M – Brent Marks, 14.935; 16. 11 – Steve Kinser, 14.947; 17. 55x – Trey Starks, 14.968; 18. 10H – Danny Holtgraver, 14.969; 19. 13V – Seth Brahmer, 14.972; 20. 15H – Sam Hafertepe, Jr. , 14.984; 21. 94 – Jeff Swindell, 14.986; 22. 82 – Bryan Clauson, 15.020; 23. 10 – Matt Moro, 15.041; 24. 81 – Austin Johnson, 15.044; 25. 40 – Clint Garner, 15.046; 26. 1S – Logan Schuchart, 15.058; 27. 91 – Dusty Zomer, 15.061; 28. 83x – Jason Meyers, 15.071; 29. 41 – Jason Johnson, 15.117; 30. 2L – Ed Lynch, Jr. , 15.154; 31. 17B – Bill Balog, 15.157; 32. 4A – Jon Agan, 15.165; 33. 53D – Jack Dover, 15.165; 34. 55J – Ian Madsen, 15.170; 35. 71 – Kevin Swindell, 15.227; 36. 1K – Chris Shirek, 15.231; 37. 24H – Brandon Wimmer, 15.244; 38. 17W – Cole Wood, 15.270; 39. 63 – Chad Kemenah, 15.290; 40. 3G – James McFadden, 15.304; 41. 7K – Dustin Selvage, 15.368; 42. 23k – Rob Kulbi, 15.425; 43. 21x – Joey Moughan, 15.447; 44. 7G – Kaley Gharst, 15.472; 45. 44 – Chris Martin, 15.484; 46. 69 – Mike Moore, 15.495; 47. 4K – Kody Kinser, 15.516; 48. 1x – Cap Henry, 15.532; 49. 23 – Jimmy Light, 15.553; 50. 1P – Curtis Evans, 15.839; 51. 4C – Tyler Courtney, NT; 52. 35 – Skylar Prochsaka, NT;
Heat Race #1 (10 Laps): 1. Bill Balog, 2. Jeff Swindell, 3. Paul McMahan, 4. Ryan Bunton, 5. Logan Schuchart, 6. Steve Kinser, 7. Chris Shirek, 8. Cody Darrah, 9. Dustin Selvage, 10. Mike Moore. (First four finishers transferred to the A-Main)
Heat Race #2 (10 Laps): 1. Jon Agan, 2. Kerry Madsen, 3. Bryan Clauson, 4. Brandon Wimmer, 5. Dusty Zomer, 6. Rico Abreu, 7. Stevie Smith, 8. Trey Starks, 9. Rob Kubli, 10. Kody Kinser. (First four finishers transferred to the A-Main)
Heat Race #3 (10 Laps): 1. Jack Dover, 2. Cole Wood, 3. Matt Moro, 4. Terry McCarl, 5. Jason Meyers, 6. Gary Taylor, 7. Joey Saldana, 8. Danny Holtgraver, 9. Joey Moughan, 10. Cap Henry. (First four finishers transferred to the A-Main)
Heat Race #4 (10 Laps): 1. Ian Madsen, 2. Chad Kemenah, 3. Jason Johnson, 4. Brian Brown, 5. Danny Lasoski, 6. Austin Johnson, 7. Dale Blaney, 8. Seth Brahmer, 9. Kaley Gharst, 10. Jimmy Light. (First four finishers transferred to the A-Main)
Heat Race #5 (10 Laps): 1. Kevin Swindell, 2. Sam Hafertepe, Jr, 3. Clint Garner, 4. James McFadden, 5. Brent Marks, 6. Lucas Wolfe, 7. Sheldon Haudenschild, 8. Chris Martin, 9. Ed Lynch, Jr., 10. Curtis Evans. (First four finishers transferred to the A-Main)
C-Main (8 Laps): 1. Dustin Selvage, 2. Rob Kubli, 3. Kaley Gharst, 4. Mike Moore, 5. Cap Henry, 6. Kody Kinser, 7. Jimmy Light, 8. Curtis Evans. DNS: Ed Lynch, Jr, Joey Moughan, Tyler Courtney, Skylar Prochaska. (First four finishers transferred to the A-Main)
B-Main (12 Laps): 1 Cody Darrah, 2. Joey Saldana, 3. Sheldon Haudenschild, 4. Stevie Smith, 5. Lucas Wolfe, 6. Gary Tayor, 7. Dale Blaney, 8. Rico Abreu, 9. Brent Marks, 10. Danny Holtgraver, 11. Dusty Zomer, 12. Steve Kinser, 13. Jason Meyers, 14. Seth Brahmer, 15. Austin Johnson, 16. Kaley Gharst, 17. Trey Starks, 18. Mike Moore, 19. Chris Shirek, 20. Dustin Selvage, 21. Chris Martin, 22. Danny Lasoski, 23. Logan Schuchart, 24. Rob Kubli. (First four finishers transferred to the A-Main)
A-Main (25 Laps):  1. Brian Brown (5); 2. Sam Hafertepe Jr. (3); 3. Kerry Madsen (7); 4. Terry McCarl (6); 5. Bryan Clauson (1); 6. Paul McMahan (8); 7. Jason Johnson (11); 8. Joey Saldana (22); 9. Clint Garner (10); 10. Jon Agan (13); 11. Ian Madsen (15); 12. Cole Wood (18); 13. Bill Balog (12); 14. Matt Moro (9); 15. Ryan Bunton (4); 16. Jeff Swindell (2); 17. Cody Darrah (21); 18. James McFadden (20); 19. Stevie Smith (24); 20. Brandon Wimmer (17); 21. Chad Kemenah (19); 22. Kevin Swindell (16); 23. Jack Dover (14); 24. Sheldon Haudenschild (23);
Lap Leaders: Jeff Swindell 1-12, Hafertepe 13-20 Brown 21-24