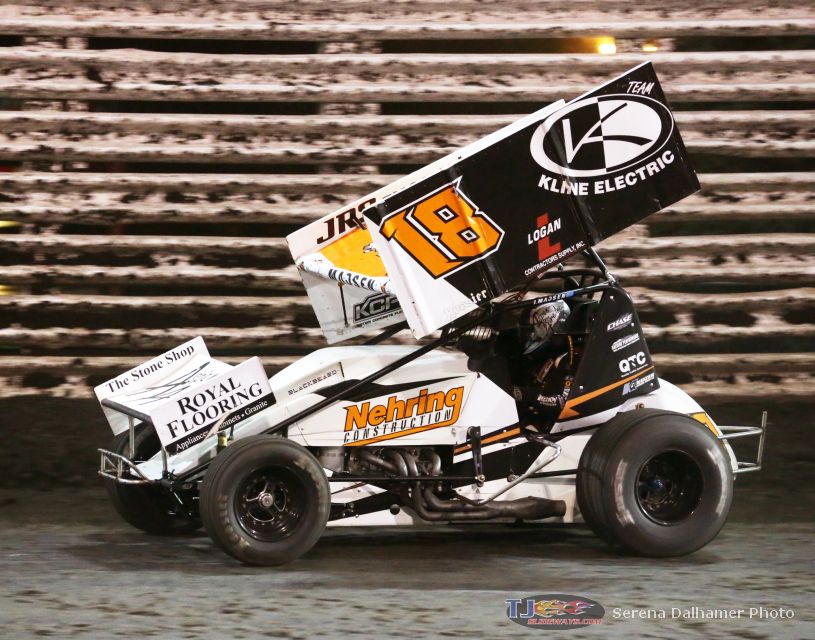 PETERSEN MEDIA
– Doing a little racing in the Dakota's over the weekend, Ian Madsen charged from 18th to finish 8th with the World of Outlaws on Friday night, from 18th to finish fourth with the NOSA on Saturday night, and saw a fourth place run at the Huset's Speedway slip away with a flat tire on Sunday night.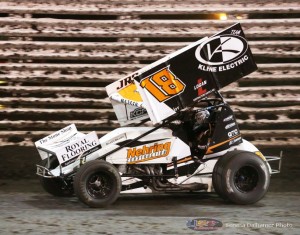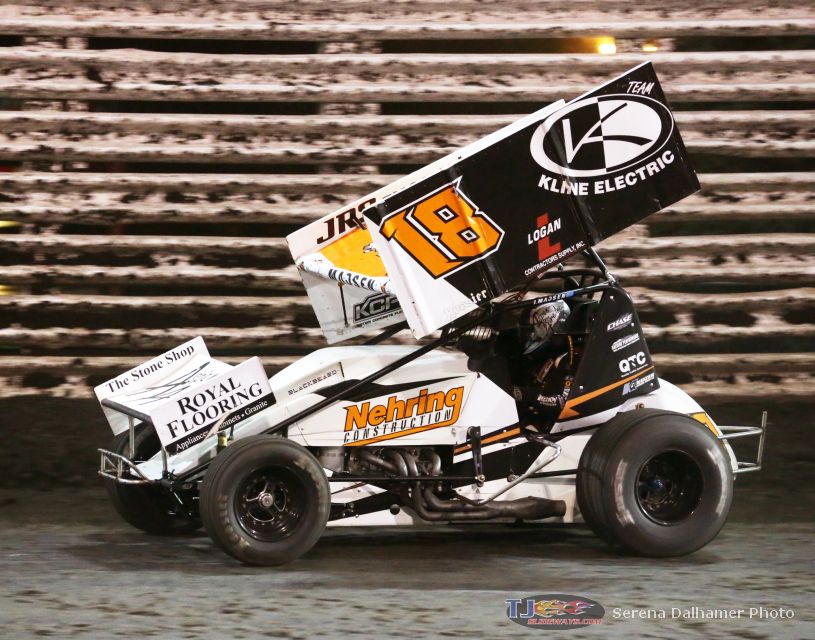 "We had really good speed all week, and with the Knoxville season finale coming up on Saturday night, we are definitely hoping we can continue to show speed," Madsen said.
Friday night with the World of Outlaws at the River Cities Speedway, Madsen timed his Nehring Construction/Kline Electric/Logan Contractors Supply entry in 18th fastest, and wen to finish fourth in his heat race.
Lining up in the ninth row of the feature event, Madsen was able to steadily work forward as he was up to the 12th spot by the third lap. Getting into the Top 10 by the 11th lap, Madsen was able to take advantage of a late restart, as he worked into the eighth spot, where he would go on to finish.
Saturday night saw his team return to action at the River Cities Speedway, but on this night Madsen would be competing with the NOSA. With 30 cars on hand, Madsen lined up on the front row of his heat race, and finishing in the fourth spot, Madsen again found himself lined up in the 18th position for the feature event.
Just as he did a night prior, Madsen methodically worked his way forward, but on this night he was even more impressive.
Going anywhere he could find open track, the St. Marys, NSW driver was able to pick up an impressive fourth place finish from the ninth row.
Sunday night saw the team travel to Brandon, SD as they were back in action at the Huset's Speedway. Setting the standard in time trials with the quickest lap of the night, Madsen would line up sixth in his heat race, and use a pair of caution flags to net a third place finish.
Starting fourth in the feature event, Madsen would hold strong in the fourth spot as he raced with the lead pack. In the waning laps, a couple of cautions came, and still running in the fourth spot, Madsen got a flat right-rear tire in the closing laps that relegated him back to a 14th place finish.
"Our focus now is on Knoxville Saturday night," Madsen said. "We are going in with a little bit of a lead in the standings, and we are going to go out and try and win a race and not worry about these different scenarios."
Ian and his KCP acing team would like to thank Nehring Construction, Team Kline Electric, Logan Contractors Supply, Royal Flooring, Greenland Homes of Iowa, Quality Traffic Control, Factory Kahne, Rider Racing Engines, JRS Excavating, Brown and Miller Racing Solutions, Kent Performance, The Stone Shop, Aspen Air Inc. Heating and Cooling, Gator Excavating, TammyHeckart.com, Kent Performance, Revolution Race Gear,  Lucas Oil, Wings Unlimited, and Kustom Concrete Pumping for their support.
2014 BY THE NUMBERS:Starts-68, Wins-8, Top-5's- 28, Top 10's-39
ON TAP:The KCP Racing team will be back at the Knoxville Raceway for the season finale on Saturday night.
STAY CONNECTED:To keep up with Ian make sure you follow him on twitter by clicking over to www.twitter.com/IanMadsen. You can also visit the teams website at www.kcpracing.com.
PETERSEN MEDIA:Petersen Media is a promotional agency that can handle your public relations, marketing, and any other promotional needs. Petersen Media utilizes multiple tactics to help you reach your intended audience, to boost awareness.
For more information contact sales@petersenmediainc.com, by phone at 916-342-3424, visit www.petersenmediainc.com,  www.facebook.com/PetersenMedia, or follow www.twitter.com/petersen_media.