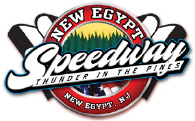 From Bob Miller
New Egypt, NJ — (August 20, 2014) — .Twenty-six year old Ryan Smith of Kunkletown, PA scored his first career 410 sprint car win Tuesday night in the JERSEY RUSH 4 at the New Egypt Speedway. The event, sponsored by NAPA Auto Parts and Pioneer Pole Buildings, saw Billy Pauch hold off two late race challenges from Jimmy Blewett and Doug Manmiller to win the modified feature. A big crowd turned out for the fourth running of the Jersey RUSH with the final checkered flag falling at 10:25 PM.
Twenty-six sprint cars took part in time trials with Lance Dewease setting fast time with a time of 13.461. Heat race events were sponsored by Lentini Auto Salvage with $200 going to the winners that included Lucas Wolfe, Freddie Rahmer and Davey Sammons.
In the 30 lap Jersey Rush sprint feature, Ryan Smith took the lead at the drop of the green followed by Mark Smith and Freddie Rahmer. Smith quickly established a comfortable lead with JJ Grasso and Lucas Wolfe on the move to the front. On lap ten, the first caution was displayed for Joey Hershey who stopped in turn four. On the restart, Smith now had to contend with Mark Smith and two time Jersey Rush winner JJ Grasso. At the halfway mark, Ryan Smith was on top followed by Mark Smith, JJ Grasso, Freddie Rahmer and Lucas Wolfe.
By lap nineteen, the battle was now between Mark Smith and Grasso for second. On lap twenty-one, Grasso moved into second and began the task of chasing down Ryan Smith.
Following a lap twenty-three restart, Lucas Wolfe made a strong run and advanced to second, passing JJ Grasso going into turn one. With five laps remaining, Wolfe was reeling in Ryan Smith as slower traffic was now making the race very interesting. On lap twenty-seven, Wolfe pulled along-side of Smith but the pass was not going to be completed this time.
Smith pulled a two car length advantage but with two laps remaining, Wolfe was back in the hunt. With the white flag waving, Wolfe took another run for the lead but Ryan Smith was not to be denied his first 410 win and a $5,000 payday. Lucas Wolfe finished second, JJ Grasso third, Kyle Reinhardt was fourth with Freddie Rahmer making up the top five.
The three Lentini Auto Salvage Modified heats were won by Dominick Buffalino, Billy Pauch and Ryan Godown.
In the 30 lap modified feature, Neal Williams set the pace for the first two circuits with Billy Pauch taking the lead on lap three. Williams fought back to try and regain the lead but Pauch held on to the top spot. On lap eight Doug Manmiller moved into second and by lap twelve, Manmiller was challenging Pauch for the lead.
At the halfway point, Pauch and Manmiller were at the front of the pack with Jimmy Blewett third, Williams fourth and Keith Hoffman. On lap eighteen, Blewett moved into second and now it was up to him to take the win away from Pauch. With five laps remaining, the top five was Pauch, Blewett, Manmiller, , Keith Hoffman and Duane Howard.
In the final two closing laps, Blewett caught Pauch and offered several challenges but at the drop of the checkered flag, the $3,000 payoff went to Pauch. Blewett was second with Doug Manmiller third, Keith Hoffman was fourth and Duane Howard fifth.
Feature:
1. 94 – Ryan Smith
2. 5W – Lucas Wolfe
3. 37 – JJ Grasso
4. 76 – Kyle Reinhardt
5. 51 – Freddie Rahmer
6. 27 – Greg Hoddnet
7. 747 – Davey Sammons
8. M1 – Mark Smith
9. 28F – Davie Franek
10. F5 – Mark Bitner
11. 22 – Troy Betts
12. 92 – Billy Pauch Jr
13. 5 – Tyler Ross
14. 36D – Logan Wagner
15. 8C – Brian Carber
16. 8 – Billy Dietrich
17. 88 – Brandon Rahmer
18. 0 – Rick Lafferty
19. 64K – Kyle Purks
20. 54 – Jeff Fithian
21. 14 – Lance Dewease
22. 7 – Ed Aiken
23. 44 – Joey Hershey
24. 3X – Karl Freyer
25. 45 – Kevin Nagy
CnB Mushrooms Fast Time: Lance Dewease 13.461
Battle of Trenton Highest Finishing 360 Sprint : Kyle Purks $300
John Blewett Scrap & Waste Recycling Hard Charger: Troy Betts $100
Vahlco Racing Wheels Bonus: Brian Carber
Thayer Performance Right Rear Hoosier: Troy Betts
Each Sprint Car Heat Race Winner earned $200 courtesy of Lentini Auto Salvage of Flemington, NJ