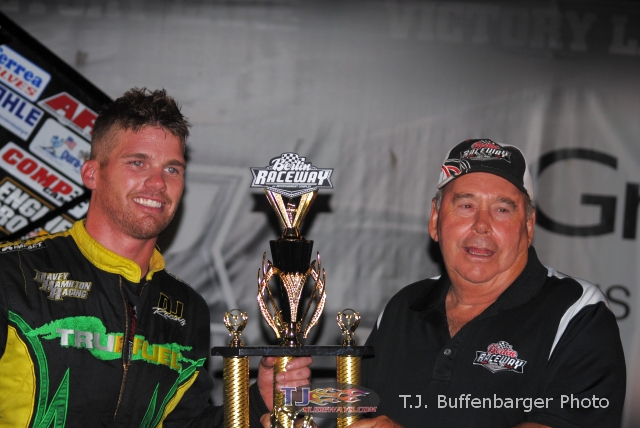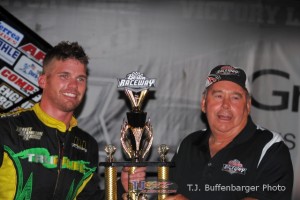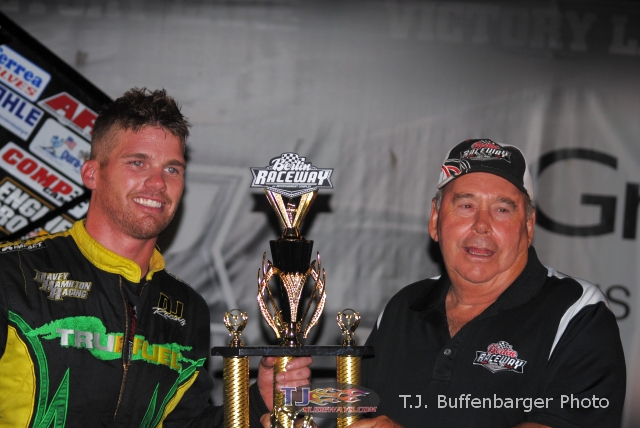 By T.J. Buffenbarger
Marne, MI — (August 23, 2014) – Berlin Raceway is quickly becoming one of Troy DeCaire's favorite race tracks. DeCaire dominated Saturday night's Must See Racing event Berlin Raceway. DeCaire won his heat race, won the fast car slash event to earn the pole position for the main event, and led all 30-laps in route to victory. The win was DeCarie's fifth this season and second with Must See Racing Series.
"Every time I come here I can't ask for anything better. I hardly run out of the top two and I've probably led more laps here than I have run anywhere else," said DeCaire. "I'm very fortunate because this place gives a lot of people headaches and hard if your car is not right. Fortunately I drive a car like this one that is just right. My car owner Dick Fieler, his wife, DJ Racing give me a heck of an opportunity. Brad Brewer, Ross Rankine, big Mike do a lot of work here to make me look good."
DeCaire and McCune made up the front row for the 30-lap feature with DeCaire jumping into the early lead and stretching out his advantage until a caution for a spin by John Turnbull of turn two slowed the field. Nine laps later Turnbull brought out another caution for a spin off the backstretch and retired pit side. One lap later the caution flew again when Dave Baumgartner spun in turn two.
After the restart DeCaire pulled away again with Gerster and Wilson all over McCune for second. On lap 12 Gerster made his move with a dive to the inside of McCune to take the second spot. One lap later Jacob Wilson got under McCune and took over the third spot. Just as that occurred Sam Davis got crossed up on the front stretch and went for a wild slide towards the infield in turn one to bring out the caution flag. Due to the number of caution laps the red flag appeared to allow teams to refuel. During the fuel stop McCune changed a right rear tire and elected to start at the tail of the field.
DeCaire opened up a second and a half lead immediately after the restart with Gerster trying to keep pace. Then with seven laps to go third place Jacob Wilson suffered mechanical issues and slowed in turn four to bring out the caution flag, giving Gerster one more shot at DeCaire during a restart. Gerster was able to stay close to DeCaire, but after a couple of laps DeCaire pulled away and cruised to victory. Gerster held on to the runner up spot and secured his second consecutive championship with Must See Racing. Aaron Pierce, McCune, and Davey Hamilton, Jr. rounded out the top five. McCune's recovery from the tire issue to finish four secured the championship of the Michigan Must See Seven mini-series consisting of races in Great Lakes State.
Davey Hamilton, Jr. was the fastest qualifier with a lap of 13.159 seconds around the 7/16-mile oval at an average speed of 119.827 miles per hour. Jacob Wilson and Troy DeCaire won heat race events. DeCaire also won the Fast Car Slash.
Must See Racing Xtreme Sprint Car Series
Fast Car Slash
Berlin Raceway – Marne, MI
Saturday August 23, 2014
Qualifications: 1. 60 – Davey Hamilton, Jr, 13.159; 2. 50 – Brian Gerster, 13.226; 3. 07 – Jacob Wilson, 13.272; 4. 26 – Aaron Pierce, 13.277; 5. 88 – Jimmy McCune, 13.329; 6. 22a – Troy DeCaire, 13.502; 7. 81 – Dave Baumgartner, 13.577; 8. 40 – David Byrne, 13.723; 9. 45 – Ryan Gillenwater, 13.821; 10. 70 – Ike Beasley, 14.044; 11. 12. John Turnbull, Jr, 14.221; 12. 43 – Sam Davis, 14.425; 13. 26 – Jeff Bloom, 14.523; 14. 70e – Sondi Eden, 14.928; 15. 40 – Tim Cox, NT.
Heat Race #1 (8 Laps): 1. Jacob Wilson, 2. John Turnbull, Jr., 3. Ryan Gillenwater, 4. Jimmy McCune, 5. Davey Hamilton, Jr., 6. Dave Baumgartner, 7. Jeff Bloom. DNS: Tim Cox
Heat Race #2 (8 Laps): 1. Troy DeCaire, 2. David Byrne, 3. Brian Gerster, 4. Ike Beasley, 5. Aaron Pierce, 6. Sam Davis, 7. Sondi Eden.
Fast Car Slash (8 Laps): 1.Troy DeCaire, 2. Jimmy McCune, 3. Brian Gerster, 4. Jacob Wilson, 5. Davey Hamilton, Jr., 6. Aaron Pierce. (Finish determined the first six starting spots in the A-Main)
A-Main (30 Laps): 1. Troy DeCaire, 2. Brian Gerster, 3. Aaron Pierce, 4. Jimmy McCune, 5. Davey Hamilton, 6. Ryan Gillenwater, 7. Jacob Wilson, 8. David Byrne, 9. Ike Beasley, 10. Dave Baumgartner, 11. Sam Davis, 12. Sondi Eden, 13. John Turnbull, Jr, 14. Jeff Bloom. DNS: Tim Cox
Lap Leaders: DeCaire 1-30