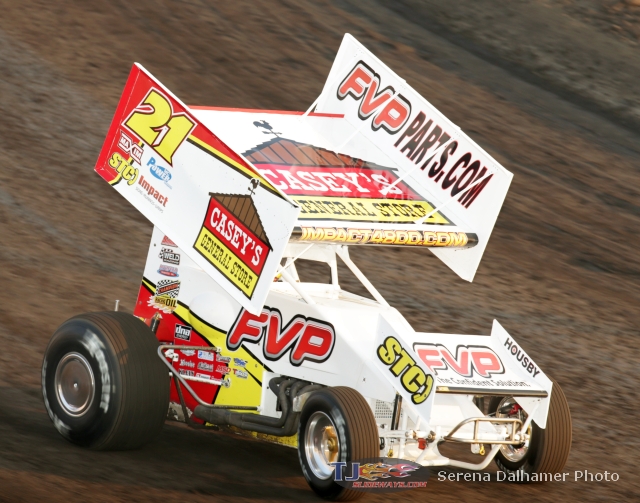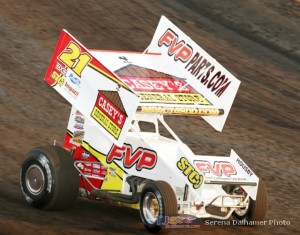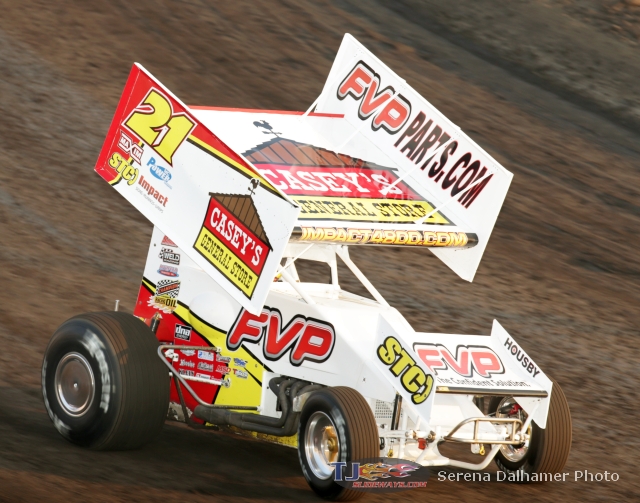 By Bryan Hulbert
MOBERLY, Mo. (August 31, 2014) – The high side was the way to go for Brian Brown as the Casey's General Store No. 21 raced from thirteenth to win at the Randolph County Raceway with the Speedway Motors ASCS Warrior Region on Sunday night.
Also earning the KB Tire Hard Charger of the night, Brown worked past Jonathan Cornell to lead from Lap 16 on. Brown as chased across the line by ninth starting Jason Johnson with Jonathan Cornell settling for the show position. Randy Martin and Josh Fisher rounded out the top five.
Wayne Johnson led the opening lap but ended up sixth Austin Alumbaugh was seventh with Jon Agan eighth. Kyle Bellm and Curtis Boyer completed the top ten.
The Speedway Motors ASCS Warrior Region races next on September 13 at the U.S. 36 Raceway in Cameron, Mo. For continued updates on the Warrior Region, log onto http://www.ascsracing.com.
Speedway Motors ASCS Warrior Region
Randolph County Raceway – Moberly, Mo.
Sunday, August 31, 2014
Car Count: 25
Heat 1 (8 Laps): 1. 7TAZ-Tasker Phillips; 2. 41-Jason Johnson; 3. 33-Austin Alumbaugh; 4. 82-Vincent Ward; 5. 48-Dean Hathman; 6. (DNF) 3Z-Zach Davis; 7. (DNF) 92J-J.R. Topper; 8. (DNF) 2A-Randy Hibbs
Heat 2 (8 Laps): 1. 14-Randy Martin; 2. 4-Jon Agan; 3. 7K-Dustin Selvage; 4. 21-Brian Brown; 5. 72X-Josh Fisher; 6. 9M-Rusty Potter; 7. 34-Corey Nelson
Heat 3 (8 Laps): 1. 14S-Jarrod Schneiderman; 2. 17W-Cole Wood; 3. 24C-Lanny Carpenter; 4. 81A-Chris Morgan; 5. 72-Curtis Boyer; 6. 75-Tyler Blank; 7. 1X-Brad Ryun
A Feature (25 Laps): 1. 21-Brian Brown[13]; 2. 41-Jason Johnson[9]; 3. 28-Jonathan Cornell[4]; 4. 14-Randy Martin[6]; 5. 72X-Josh Fisher[15]; 6. 77X-Wayne Johnson[2]; 7. 33-Austin Alumbaugh[1]; 8. 4-Jon Agan[10]; 9. 86-Kyle Bellm[3]; 10. 72-Curtis Boyer[18]; 11. 34-Corey Nelson[21]; 12. 14S-Jarrod Schneiderman[5]; 13. 7K-Dustin Selvage[11]; 14. 17W-Cole Wood[7]; 15. 9M-Rusty Potter[22]; 16. 81A-Chris Morgan[14]; 17. 7TAZ-Tasker Phillips[8]; 18. 48-Dean Hathman[17]; 19. (DNF) 82-Vincent Ward[16]; 20. (DNF) 75-Tyler Blank[19]; 21. (DNF) 1X-Brad Ryun[24]; 22. (DNF) 24C-Lanny Carpenter[12]; 23. (DNF) 92J-J.R. Topper[23]; 24. (DNF) 3Z-Zach Davis[20]; 25. (DNF) 2A-Randy Hibbs[25]