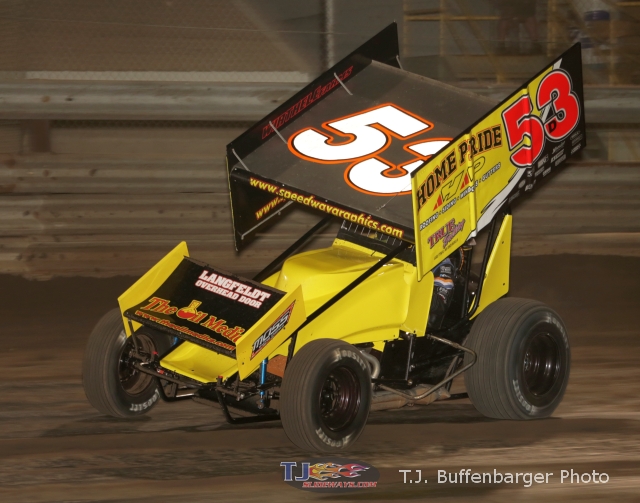 Inside Line Promotions
– EAGLE, Neb. (Sept. 2, 2014) – Jack Dover powered to a pair of victories during the IMCA Sprint Super Nationals last weekend at Eagle Raceway.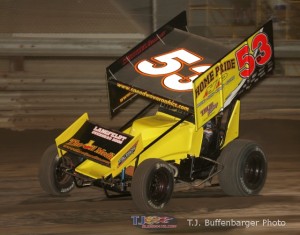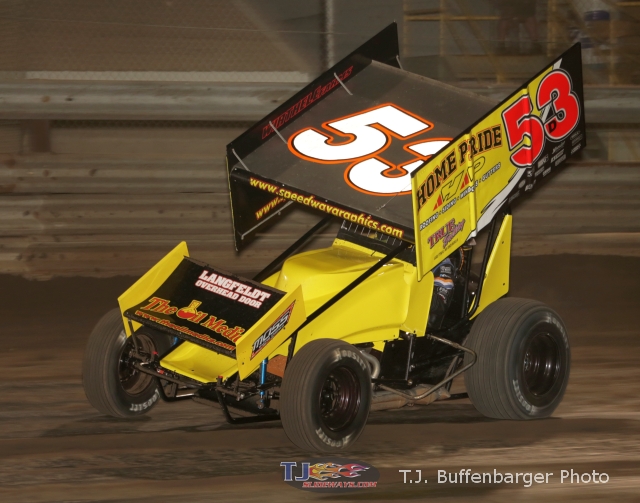 Dover, who competed for Rick Bowers during the 305ci event, opened the competition last Friday by advancing from sixth to third place in his heat race on the fast track. He then won the B Main to transfer into the main event during his preliminary night.
"The track was really heavy and really fast," he said. "Everybody was able to stick to the track so everybody was fast. We freed the car up before the B Main and before the A Main we freed it up even more. That's probably the most free I've ever had a car in my career."
Dover maneuvered from 17th to seventh in the main event to lock himself into the $2,000-to-win feature on Sunday.
"Just getting locked in was the biggest thing," he said. "I also noticed we had a junked front end in the car. We made a change on Saturday and the car was night and day difference."
Since Dover is the reigning ASCS Midwest Region champion he was awarded a spot in the Bill Smith Memorial Race of Champions at Eagle Raceway on Saturday. Dover used a third-place result in his heat race to line up on the outside of the second row for the main event.
"We got up to second right away," he said. "I was taking it easy and once I saw five laps to go I pulled a slide job on the leader. The top side was where you had to be that night so the only way you were going to pass someone was to be way above the cushion or slide them."
After a couple of slide jobs back and forth with the leader, Dover capitalized on a slide job in turns one and two with three laps remaining to gain the lead for good. It marked his 12th triumph of the season.
Sunday's action at Eagle Raceway was rained out along with a scheduled 360ci race at I-80 Speedway in Greenwood, Neb., so Dover returned to Eagle Raceway on Monday afternoon for the IMCA Sprint Super Nationals.
He lined up 19th for the 35-lap feature, which was started three wide.
"It was different," he said. "You really had to watch ahead of you. With that many more cars in front of you, I didn't think there's enough room for all three rows. But we got through it."
After surviving the start, Dover picked off cars one by one. He was up to third place with approximately 15 laps remaining.
"I think I was the first one to find the rubber down in turns three and four," he said. "Once we found that we made up a lot of speed."
Dover then used a slide job in turns one and two to take the lead with approximately eight laps remaining. He cruised to his 13th win of the year.
"The biggest thing is getting some feature wins and getting more laps at Eagle before this coming weekend with the Nebraska Cup," he said.
Dover is scheduled to race on Saturday at Junction Motor Speedway in McCool Junction, Neb., and on Sunday at Eagle Raceway for the Nebraska Cup with the ASCS Midwest Region. He has won the prestigious race twice and led most of the event last season.
QUICK RESULTS –
Aug. 29 – Eagle Raceway in Eagle, Neb. – Heat race: 3 (6); B Main: 1 (1); Feature: 7 (17).
Aug. 30 – Eagle Raceway in Eagle, Neb. – Heat race: 3 (9); Feature: 1 (4).
Sept. 1 – Eagle Raceway in Eagle, Neb. – Feature: 1 (19).
SEASON STATS –
35 races, 13 wins, 23 top fives, 27 top 10s, 27 top 15s, 31 top 20s
UP NEXT –
Saturday at Junction Motor Speedway in McCool Junction, Neb., and Sunday at Eagle Raceway in Eagle, Neb., for the Nebraska Cup with the ASCS Midwest Region
MEDIA LINKS –
Website: http://www.JackDoverRacing.com
Twitter: https://twitter.com/JackDoverRacing
Facebook: https://www.facebook.com/jackdoverracing?fref=ts
VIDEO –
Here is a link to video by XSAN of Dover's Bill Smith Memorial Race of Champions victory at Eagle Raceway in Eagle, Neb., on Aug. 30: https://www.facebook.com/video.php?v=690556044355835&fref=nf
SPONSOR SPOTLIGHT – Certified Transmission
Certified Transmission is one of the largest independent manufactured transmission repair and remanufacturing facilities in the country. Established in 1979, Certified Transmission has 13 retail stores in four states. For more information, visit http://www.CertifiedTransmission.com.
"Certified Transmission has been a great sponsor the last few years in helping build Jack Dover Racing," Dover said. "On top of their support for the race team, Certified Transmission put a transmission in my personal truck a couple of years ago and it has worked flawlessly ever since."
Dover would also like to thank Home Pride Companies, Inc., Eagle Motorsports, Moss Racing Engines, Thorpe's Body Shop, Trail Performance Coatings Inc., The Oil Medics, ButlerBuilt Professional Seat Systems, Keizer Wheels, Schoenfeld Headers, Shaver Racing Engines, Langfeldt Overhead Doors, K&N Filters, FK Rod Ends, DMI, Speedway Motors, Vortex Wings and True Trucking for their continued support.
PARTNERSHIP OPPORTUNITIES –
Jack Dover Racing is close to being able to compete across the country by returning to the Lucas Oil ASCS National Tour, where Dover has finished in the top 10 both seasons he has raced full time with the premier 360 sprint car series. He is also ready to compete with the World of Outlaws STP Sprint Car Series en route to his dream of racing in NASCAR. The only variable missing is a reliable truck and trailer. For more information on partnership opportunities, e-mail teamdover@gmail.com.
INSIDE LINE PROMOTIONS –
Inside Line Promotions specializes in affordable public relations and media management for motor sports drivers, teams, sponsors, tracks, series, events, organizations and manufacturers. ILP Founder Shawn Miller leverages professional journalism with new media technologies and social networking to improve your exposure and the return on investment for your sponsors.
To meet the media relations needs of your program and to join Team ILP, contact Shawn at 541-510-3663 or InsideLinePromotions@gmail.com. For more information on Inside Line Promotions, visit http://www.InsideLinePromotions.com.