From ASCOC
CAMARGO, Ill. (Friday, Aug. 29, 2014) – To reward sprint car teams who support fans and tracks where the University of Northwestern Ohio All Star Circuit of Champions compete at, the series has revamped it's point fund for 2015.
The UNOH All Stars will no longer utilize the "region" point fund and will go back to crowning one national champion. Also, the series will incorporate "tow money" to the teams who follow the tour all season.
The 2015 point fund – which will be paid to teams by Jan. 20, 2016 – will reward the UNOH All Star champion $30,000. Series President Guy Webb said more money has been added through the top 10.
"This point fund will help the race teams trying to stay on the tour for the entire season. We want to reward the teams that put great effort to entertain the fans and support the tracks that support them," said Webb.
The 2015 UNOH All Star Circuit of Champions Point Fund will be: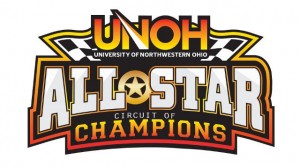 1.  $ 30,000
2.  $ 20,000
3.  $ 17,000
4.  $ 12,000
5.  $ 9,000
6.  $ 8,000
7.  $ 7,000
8.  $ 6,000
9.  $ 5,000
10. $5,000
10. $5,000

In addition, the series will pay the previous year's national champion $500 "tow money" per track and $300 to up to 9 other teams registered to run the entire season.

"For example, during Ohio Sprint Speedweek, not only will teams be running for $5,000 to win each of nine nights, but those nine cars who registered to run the entire season with us, could earn an extra $2,700 in tow money just for that week," said Webb.

The UNOH All Stars have also revamped the funding for all non-transfer cars – those that do not qualify for the A-main feature – at each series event. All non-transfer cars at each UNOH All Star event will now receive $100.

"We want to try and help the smaller funded teams and be as welcoming as we can to the local teams that compete with us at all our great tracks," said Webb. "We recognize the local competitors are as important to our series and the fans and tracks as the All Star competitors."

The UNOH All Star officials have been working hard to put together another strong schedule for 2015.

"Things are moving forward and in the right direction. We have the 2015 schedule nearly wrapped up and are excited about the teams we have coming aboard and the great racing they will provide for the fans. We have great business partners like the University of Northwestern Ohio and great relationships with the tracks. I believe 2015 will be a fantastic year for our sport," said Webb.

For more information go to www.allstarsprint.com