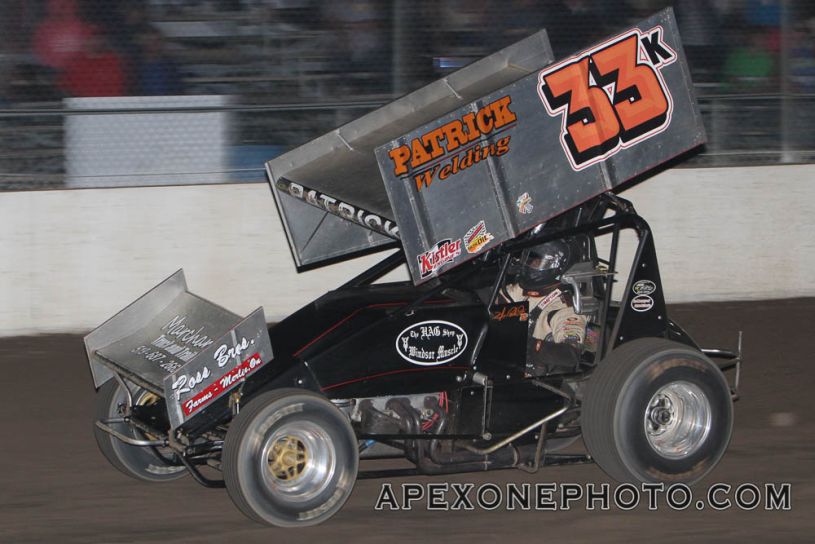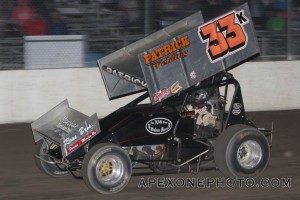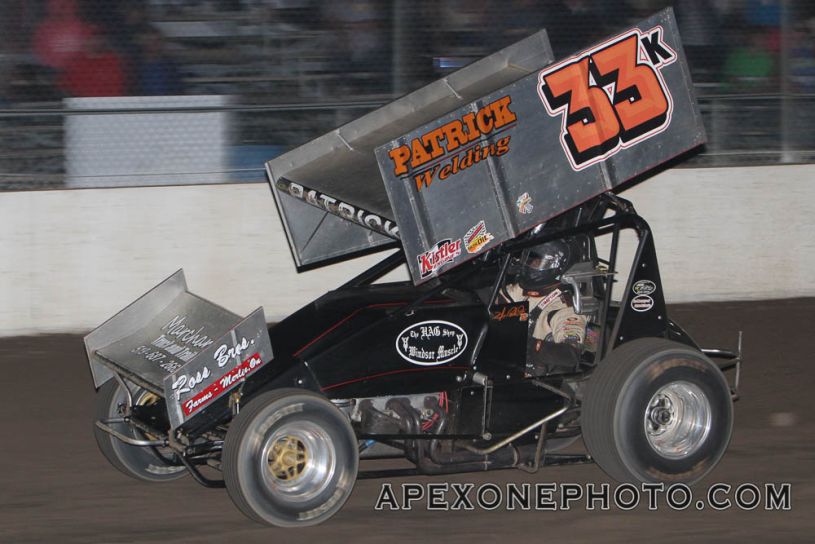 By T.J. Buffenbarger
Ohsweken, ON – (September 12, 2014) – Kyle Patrick used the top side of the race track to outrun Glenn Styers to win the Dave MacLeod Memorial Shootout on Friday night at the Night Before the Nationals. Patrick and Styers started on the front row, racing side by side through the opening laps before Patrick pulled away for the victory. This was the first time the event in memory MacLeod was run using the former Ohsweken Shootout format which featured the top two competitors from each affiliate sanctioning body based on their feature finish during their event at Ohsweken or in the season point standings.
"We wanted to come in here and make a statement," said Patrick. "We have been working all year for this weekend, and made a few tweaks on the car with some help and got this thing right on the button. So we're pretty happy."
Styers took the lead at the start with Patrick on his back bumper. Patrick dove to the inside with a slide job between turns three and four to take the lead. Styers tried to counter on the bottom through turns one and two, but could not make the pass. Styers continued to work the bottom looking under Patrick, but the top side momentum allowed Patrick to maintain the point. As the race wore on Patrick pulled away for the victory over Styers, Ryan Ruhl, Alain Bergeron, and Steve Poirier.
Dave MacLeod Memorial Shootout
Night Before the Nationals
Ohsweken Speedway – Ohsweken, ON
Friday September 12, 2014
Dave MacLeod Memorial Shootout (10 Laps): 1. 33K – Kyle Patrick, 2. 0 – Glenn Styers, 3. 16 – Ryan Ruhl, 4. 8 – Alain Bergon, 5. 28FM – Steve Poirier, 6. 17 – Jared Horstman, 7. 87 – Jason Barney, 8. 6M – Max Stambaugh, 9. 2M – Dustin Daggett, 10. 422 – Etienne Giard, 11. 10 – Mitch Brown.
Lap Leaders: Patrick 1-10