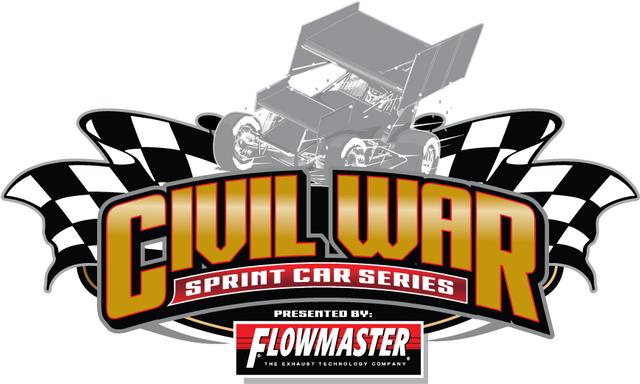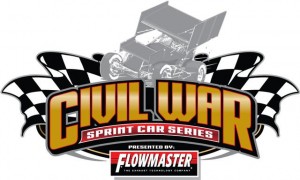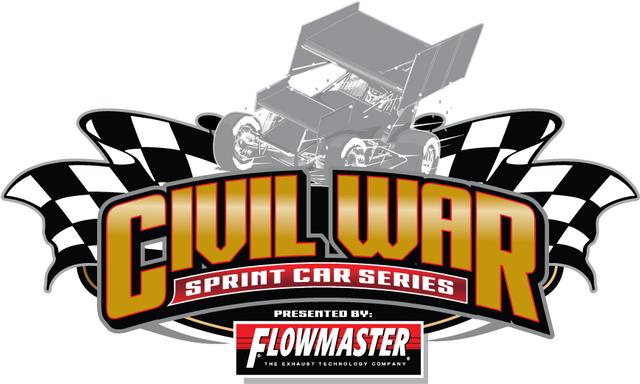 From P.J. Peterson
Placerville, CA — (September 16, 2014) — With just two races left on the 2014 schedule, the stars and cars of the California Sprint Car Civil War Series Presented By Flowmaster will invade the Placerville Speedway for their third and final visit of the season on Saturday night.
During the most recent Civil War event at the famed ¼ mile speedway, newly crowned Placerville Speedway Champion, Greg DeCaires triumphed during the Mark Forni Classic, as he pocked the $5000 that came with the win. After last week's season finale at the speedway, DeCaires and his team clinched the track championship, and will now look to defend their home turf as the region's toughest competitors take over on Saturday night.
In the most recent Civil War Series Presented By Flowmaster event, which was held at the Silver Dollar Speedway, a red hot Matt Peterson made a late race pass on Mason Moore to pick up his first career Civil War Series win, and it was also his first career sprint car win.
For nearly the entire season, Fremont, CA wheelman, Shane Golobic, has led the Civil War Point Standings, and he will look to add on to his very consistent campaign, and add to his lead, and he looks to capture his first career series championship. In the two previous appearances at the speedway, Golobic has finished in the bridesmaid position, and will surely be in contention for the Saturday night win.
2013 series champion, Sean Becker, sits in the second spot, and is looking for a monster night on the notorious red clay, as he sits 93 markers behind Golobic. In what has been an up and down season for Becker and his Main Motorsports team, 'The Shark' is more than capable of finding victory lane in Placerville, CA as he has a KWS win at the speedway this season, and his hungry for his first Civil War win of 2014.
For the second Civil War Series Presented By Flowmaster race-in-a-row, Justin Sanders enters the event fresh off of a win. Picking up his fifth win at the Placerville Speedway last Saturday night, Sanders comes into Saturday night's event sitting third in the series standings, just 15 markers behind second place, Sean Becker, and 108 behind Shane Golobic.
Andy Forsberg has had what many would call an 'off' year, and as he sits fourth in the standings, will set his sights on becoming the series' first repeat winner of 2014. After dominating the May 31st race at the speedway, Forsberg looked well on his way to capturing his second series win on August 9th, also at Placerville, until contact in lapped traffic ended his night. After leading early during the Chico stop, Mr. Excitement will be a contender to take home the hardware on Saturday night.
The series' most recent winner, Matt Peterson rounds out the top five heading into the 10th round of 2014. Peterson has had great runs with the Civil War Series as of late, as he picked up a third place finish in Petaluma, CA back in July, was running third with three laps to go at the Johnny Key Classic until a flat tire derailed him, and picked up a very impressive win in Chico, CA two weeks ago. Though he admits that Placerville seems to have his number, Peterson is very eager to make a return trip to victory lane.
The 2014 California Sprint Car Civil War Series presented By Flowmaster has been a very competitive series in 2014. Through nine events, the series has seen nine different winner, and Saturday night's event is shaping up to be another star studded field. Mixing the always exciting Placerville Speedway with the stars and cars of the Civil War Series is always a must see.
With tickets starting at $17 for adults and $12 for juniors, the front gates will open at 5pm with qualifying scheduled to start around 6:30pm. With a very large crowd expected, we encourage spectators to show up early.
Aside from the drivers mentioned above, we are expecting drivers like Herman Klein, Koen Shaw, Mason Moore, Justyn Cox, Carl Droivold, Jimmy Trulli, Andy Gregg, Clayton Snow, Kyle Hirst, Colby Copeland, and many more to be in action.
The Civil War Sprint Car Series would like to thank Flowmaster, BR Motorsports, A.R.T. Speed Equipment, Brodix, ButlerBuilt, CRV Carbon Solutions, Design 500, Dirt Solution, Taco Bravo, Hansen Machine, Frankland Racing Supply, Fuel Safe, Hoosier, Joe Hunt Magnetos, Kaeding Performance, King Racing Products, KSE Power Steering Products, Pit Stop USA, MPD, All Pro, RCM Design, Rod End Supply, Racing Optics, SRP, VSR, and Weld Racing for their support.
ON TAP: The action packed Civil War Series Presented By Flowmaster will be back in action for stop No. 10 of the season on Saturday, September 20th,
WINNERS: Winners in the 2014 California Sprint Car Civil War Series Presented By Flowmaster… Andy Gregg- 1 (Marysville Raceway Park on March 15th), DJ Netto-1 (Marysville Raceway Park on May 24th), Shane Golobic-1 (Silver Dollar Speedway on May 25th), Andy Forsberg- 1 (Placerville Speedway on May 31st), Mason Moore (Petaluma Speedway on July 5th), Brad Furr (Ocean Speedway on July 11th), Greg DeCaires (Placerville Speedway on August 9th), Rico Abreu (Ocean Speedway on August 23rd), Matt Peterson (Silver Dollar Speedway on September 3rd)