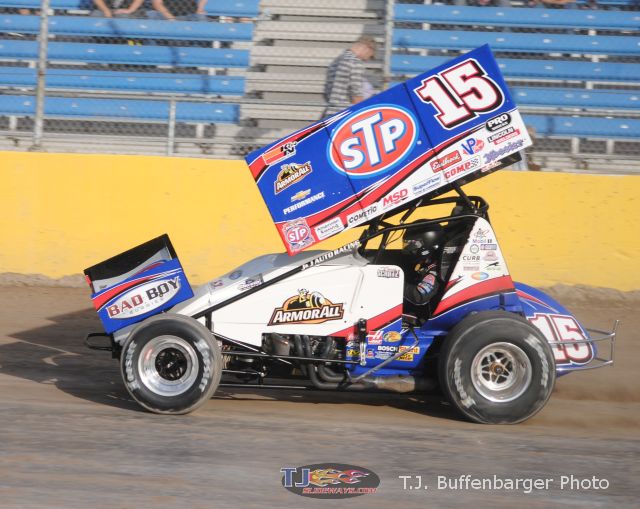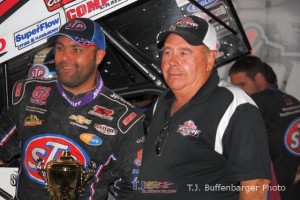 By T.J. Buffenbarger
Marne, MI — (September 26, 2014) — From qualifying on Donny Schatz looked like he had raced at Berlin Raceway his entire career.
Then unusually shaped 7/16 mile oval and the field of cars for the World of Outlaw STP Sprint Car Series event were not match for the current Outlaw point leader as he picked up his 24th victory with the series this season.
Schatz took the lead from Christopher Bell on lap two and never was seriously challenged. 2013 World of Outlaws champion Daryn Pittman was able to dispose Gary Tayor for third. Following a restarted caused by Logan Schuchart tipping over in turn four, Pittman got past Bell for second in turn three.
From there Pittman was able to keep pace with Schatz, but slower traffic was a deciding factor and with Schatz able to get through the traffic better and went on to victory. Pittman held on for second while his Kasey Kahne Racing teammate Brad Sweet rounded out the podium. Bell and Steve Kinser rounded out the top five.
A-Main – (30 Laps) – 1. 15-Donny Schatz [2] [$10,000]; 2. 9-Daryn Pittman [5] [$5,500]; 3. 49-Brad Sweet [4] [$3,200]; 4. 53-Christopher Bell [1] [$2,800]; 5. 11-Steve Kinser [7] [$2,500]; 6. 1ST-Gary Taylor [3] [$2,300]; 7. 51-Paul McMahan [13] [$2,200]; 8. 83-David Gravel [10] [$2,100]; 9. 2M-Dustin Daggett [8] [$2,050]; 10. 29-Kerry Madsen [11] [$2,000]; 11. 7S-Jason Sides [18] [$1,500]; 12. 4-Cody Darrah [9] [$1,200]; 13. 59-Tim Kaeding [12] [$1,100]; 14. 16-Ryan Ruhl [6] [$1,050]; 15. 49X-Shawn Dancer [21] [$1,000]; 16. 6M-Max Stambaugh [14] [$900]; 17. O7-Jacob Wilson [19] [$800]; 18. 1A-Jacob Allen [17] [$800]; 19. 71M-Joey Saldana [16] [$800]; 20. 11K-Kraig Kinser [20] [$800]; 21. 1s-Logan Schuchart [15] [$800]; 22. 11R-Chase Ridenour [22] [$800]; 23. 10S-Jason Steinebach [23] [$800]; 24. 35-Mark Strpko [24] [$800]. Lap Leaders: Christopher Bell 1, Donny Schatz 2-30. KSE Hard Charger Award: 7S-Jason Sides [+7]
Qualifying – 1. 15-Donny Schatz, 15.616; 2. 9-Daryn Pittman, 15.671; 3. 2M-Dustin Daggett, 15.903; 4. 49-Brad Sweet, 15.935; 5. 1ST-Gary Taylor, 15.947; 6. 53-Christopher Bell, 15.952; 7. 4-Cody Darrah, 16.071; 8. 83-David Gravel, 16.130; 9. 29-Kerry Madsen, 16.133; 10. 11-Steve Kinser, 16.163; 11. 16-Ryan Ruhl, 16.627; 12. 59-Tim Kaeding, 16.671; 13. 51-Paul McMahan, 16.674; 14. 6M-Max Stambaugh, 16.861; 15. 1s-Logan Schuchart, 16.893; 16. 71M-Joey Saldana, 16.935; 17. 1A-Jacob Allen, 16.946; 18. 7S-Jason Sides, 17.045; 19. O7-Jacob Wilson, 17.342; 20. 11K-Kraig Kinser, 17.424; 21. 49X-Shawn Dancer, 17.663; 22. 11R-Chase Ridenour, 16.881; 23. 10S-Jason Steinebach, 17.598; 24. 35-Mark Strpko, 19.439
Heat 1 – (8 Laps – Top 6 finishers transfer to the A-feature) – 1. 11-Steve Kinser [1]; 2. 49-Brad Sweet [3]; 3. 15-Donny Schatz [4]; 4. 4-Cody Darrah [2]; 5. O7-Jacob Wilson [7]; 6. 51-Paul McMahan [5]; 7. 71M-Joey Saldana [6]; 8. 11R-Chase Ridenour [8]
Heat 2 – (8 Laps – Top 6 finishers transfer to the A-feature) – 1. 16-Ryan Ruhl [1]; 2. 9-Daryn Pittman [4]; 3. 83-David Gravel [2]; 4. 1ST-Gary Taylor [3]; 5. 1A-Jacob Allen [6]; 6. 6M-Max Stambaugh [5]; 7. 11K-Kraig Kinser [7]; 8. 10S-Jason Steinebach [8]
Heat 3 – (8 Laps – Top 6 finishers transfer to the A-feature) – 1. 53-Christopher Bell [3]; 2. 29-Kerry Madsen [2]; 3. 2M-Dustin Daggett [4]; 4. 1s-Logan Schuchart [5]; 5. 7S-Jason Sides [6]; 6. 59-Tim Kaeding [1]; 7. 49X-Shawn Dancer [7]; 8. 35-Mark Strpko [8]
Dash – (6 Laps, finishing order determined first 8 starting positions of A-feature) – 1. 53-Christopher Bell [1]; 2. 15-Donny Schatz [6]; 3. 1ST-Gary Taylor [2]; 4. 49-Brad Sweet [3]; 5. 9-Daryn Pittman [5]; 6. 16-Ryan Ruhl [8]; 7. 11-Steve Kinser [7]; 8. 2M-Dustin Daggett [4]