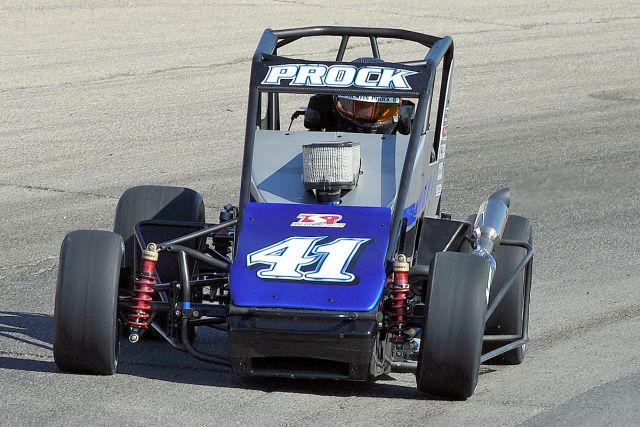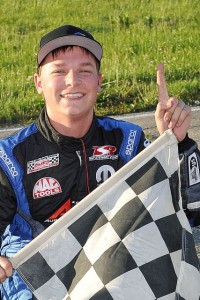 From Rich Murray
Morris, IL — (September 30, 2014) — Austin Prock's championship season in the D'Arcy GMC STARS National Midgets did not actually begin with this season's opening race. The proverbial ball got rolling in the latter half of his 2013 campaign when he closed the STARS season by winning three out of the final four races. Coming into the 2014 season, Prock knew he had the car and the team to win the title, but had to show more consistency and finish races more often.
On opening night, May 31st, at Grundy County Speedway, Austin set the tone for the season after winning the feature from the sixth starting spot by utilizing the high side of the track to perfection. He followed that win up one week later by chalking up yet another first place finish. At that point, Prock had already shot out to a commanding point lead and had won five of the previous six STARS races dating back to the 2013 season.
Prock, the 19-year-old who hails from Avon, Indiana, had his confidence riding high and never relented the point lead that he jetted out to at the beginning of the season. Along the way, Prock would score two more wins: Grundy County on July 26th and Kalamazoo on August 16th. At the conclusion of the season, Prock led all STARS drivers in several different statistical categories including: feature laps led (130), most races led (5), top-five finishes (10), top-ten finishes (12), heat race wins (4), and feature starts (12).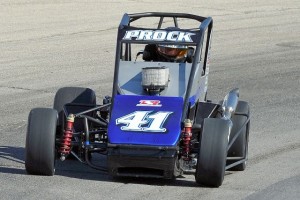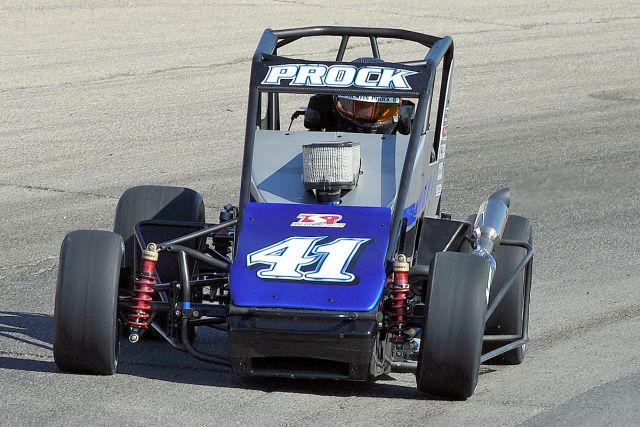 Additionally, Prock has made a dramatic climb up the all-time STARS record list, of which he now ranks second in feature wins (8), third in top-five finishes (18), fourth in top-ten finishes (24), sixth in feature starts (32), and second in heat race wins (8). Furthermore, his win at the end of last season and his victories in the first two races of this season set a new record win streak of three consecutive wins for the driver of Beast/Mopar #41.
This year marked the first time in Prock's career that he had run every scheduled race in the series he was competing in. Being crowned as champion means a great deal to Prock and is a testament to the team's hard work throughout the season. To help guide him to the title, it takes a lot of sacrifice from many different people. According to Prock, the success is due first and foremost to the commitment from his family.
"My family has sacrificed a lot to let my brother and me race," Prock acknowledges. "My brother (Thomas) does a phenomenal job setting up my race car. My dad builds the baddest four-cylinder engine in midget racing and my mom gives us the support we need to win."
Austin's lineage in racing dates back to the tenure his great grandfather, Jimmy Prock, had as a riding mechanic in the Indianapolis 500 from 1930 to 1933 alongside driver Chet Miller. Austin's grandfather, Tom Prock, was the crew chief for Tom "The Mongoose" McEwen when he won the Funny Car portion of the U.S. Nationals in 1978. Austin's dad, also named Jimmy Prock, is a two-time NHRA Funny Car champion crew chief, most recently calling the shots during John Force's 16th NHRA championship season in 2013. Now, Austin is beginning to make a name for himself and is receiving help from another big name that came from the open wheel, short-track ranks: Tony Stewart.
During the week, the Prock team houses their car in the Tony Stewart Racing shop in Brownsburg, Indiana. Stewart allows the team to use any tool they need to help get their car ready for the next battle.
"I have to thank everyone at Tony Stewart Racing for teaching us everything we know about a midget," Prock said. "If it wasn't for them, I don't know where we would be right now. We would definitely not be a champion. I've got some really good people behind me. I've got to thank my sponsors and, last but not least, the Guglielmucci boys (Austin and Alex) for all their help in the pits this year."
Prock would like to thank all of his sponsors: CP Carrillo, Calico, Venolia, BMRS, Sparco, Tony Stewart Racing, PPG Paint, Jegs, Mac Tools, Lucas Oil, and Pace Performance Coatings.