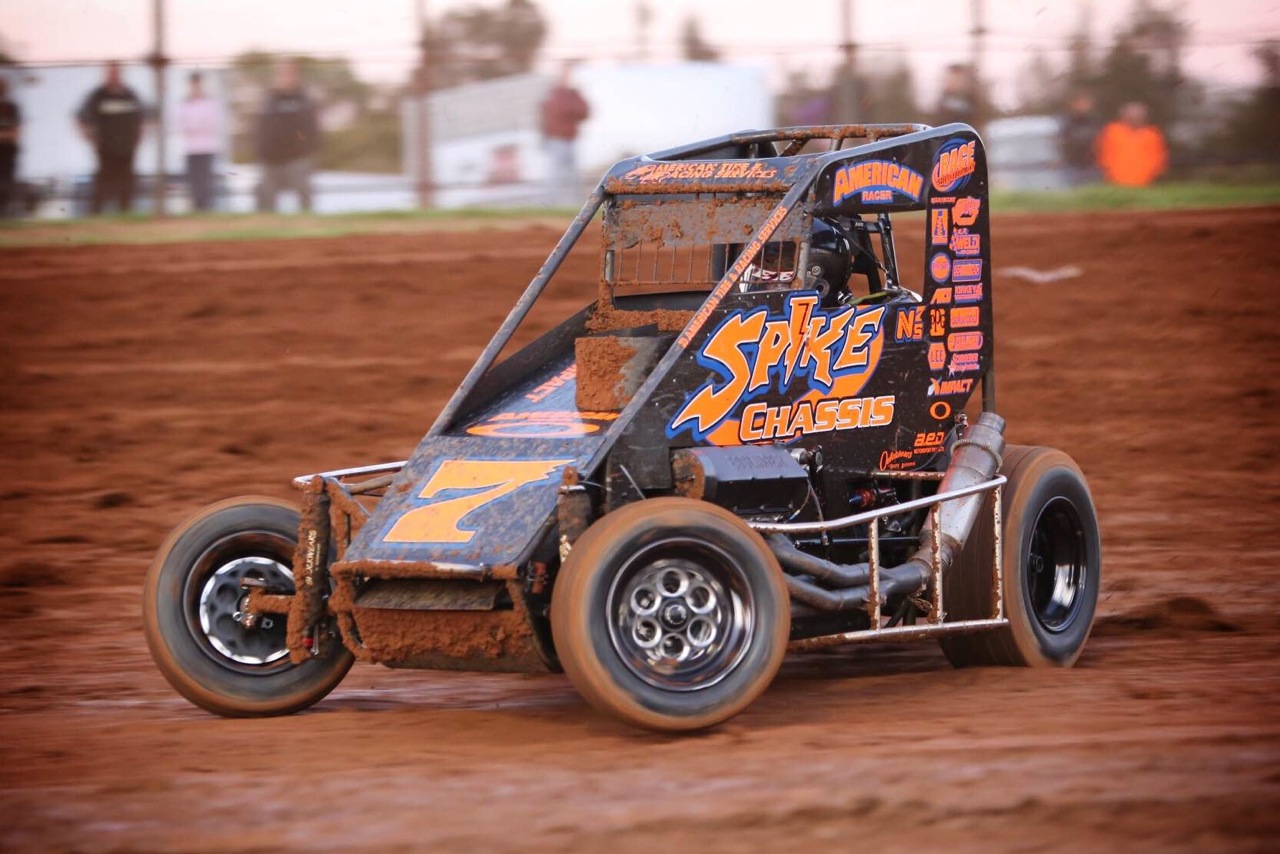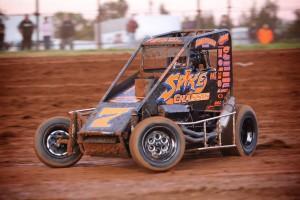 From Valvoline Raceway
Sydney, AU — (October 18, 2014) — Nathan Smee was a dominant victor for the second week in succession as he cleared out and won the 20-lap Speedcar main event at Valvoline Raceway tonight.
Smee took the American Tyre and Racer #7 SPIKE to almost every square centimeter of the hooky VR surface as he put on a racing clinic to lead home exciting Newcastle newcomer Matt Hunter in second place and Jamie McKinlay third.
"We tried a few really different things with our set-up tonight and most of them worked pretty well," he conceded from victory lane, "some of the changes we might not try again but the track was really hooky tonight and we were able to race the car pretty well anywhere. Full credit to the track team for a great track."
The main event was marred by a spectacular rollover for Matt Jackson as he rode McKinlay's wheel with two laps to go and flipped numerous times into turn three.
A remarkably composed Jackson emerged from the wreckage to thank the fans, thank his team and take responsibility for a 'move that wasn't going to work'.
Rounding out the remaining finishers in the Speedcar main event were Aiden Corish in fourth, Dean Meadows fifth, Brayden Willmington sixth, Brett Morris seventh, Anthony Collins eighth and Alan Day ninth.
DNF's were Matthew Jackson, Troy Jenkins, Pierce Lehane and Bob Jackson.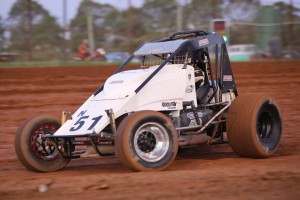 The Wingless Sprint main event went the entire 20-lap distance without a stoppage and saw Dean Thomas collect a hard-fought win in one of the most entertaining races of the night.
"It's great to get a win here after we wrecked the open Sprintcar on opening night," Thomas grinned from the podium, "we were able to get past Clint (McCorquodale) with a couple of laps to go and never looked back. You've got to take these wins any way you can get them."
Thomas took the win from Sean Mayo in second place, McCorquodale (who hooked the cushion in turn three and ran wide after leading for most of the race) third, Mark Blyton fourth, Damian Abbott fifth, Nathan Dicker sixth, Jeff Thomas seventh after winning the B-Main, Brian Briton eighth, Marshall Blyton ninth and Jason Bates tenth.
In all 22 finished the main event with the only DNF's being Mark Garey and Michael Sammut.
Eleventh was Mikaela Blyton followed by Daniel Sayre, Adam Hourigan, Peter Granger, Ashleigh Jack, Courtney O'Hehir, Michael Gray, Sean Dicker, Nikki Briton. Rachel Neve, Graham Flood and Troy Carey.
The Street Stock main event was a nailbiter with Newcastle mum of two Kiona Sunerton almost stealing the win from dominant leader Brett Cotton.
The pair raced neck and neck for the last two laps with Cotton only just getting the nod as the chequers flew on the 20 lap A-Main.
"I saw her (Sunerton) on the outside of me in turn two and again in turn four and I thought you're going to have to earn this if you want it girl," laughed Cotton with his winner's trophy.
Third place in a hotly contested podium was Ian Harris ahead of Denis Pana in fourth, Lindsay Cornwall fifth, Joel Carrington sixth, Michael Butt seventh, Charlie Dodson eighth, Rob Vide ninth, Max Cotton tenth and Kevin Birch eleventh.
DNF's were Andrew Espener, Stephen Sharpe, Braydon Ford and Troy Dawes.
The next night of the season is next Saturday night October 25 with the third round of the Sydney Sprintcar Premiership as Victorian Jamie Veal seeks to win a hat trick of main events.
Country Music star Adam Brand will race a legend car in a big field of cars from the category and AMCA Nationals will also be on the program.
For more information please visit www.valvolineraceway.com.au and check us out on facebook.