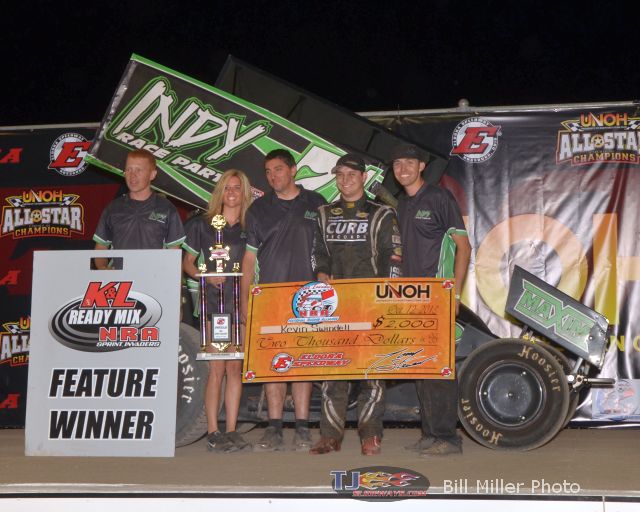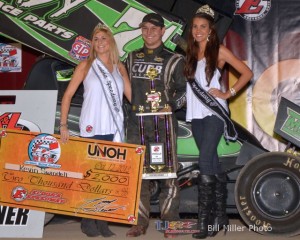 From Inside Line Promotions
Germantown, TN — (October 20, 2014) — With a rare weekend off from the NASCAR Nationwide Series, Kevin Swindell will pilot Donnie Cooper's famed No. 01 sprint car during the 27th annual COMP Cams Short Track Nationals Presented by Hoosier Tires this weekend.
It will mark the first time Swindell has driven for Cooper, who has claimed multiple Short Track Nationals victories at I-30 Speedway in Little Rock, Ark. The premier 360ci event featuring the Lucas Oil ASCS National Tour runs Wednesday through Saturday at the quarter-mile track.
"I know Donnie always has a good car that is in contention and I've always had really good success there," Swindell said. "That place seems to suit me well."
Swindell's best career finish during the $15,000-to-win event came in 2005 when he led several laps before finishing second to Tim Montgomery, who was driving for Cooper. Swindell powered from 10th to second place during his preliminary night last season, but mechanical issues forced him to the pits early in the finale.
"Last year we had a good shot, but had a little motor issue," he said.
Swindell hasn't raced a sprint car since the 54th annual FVP Knoxville Nationals Presented by Casey's General Stores at Knoxville Raceway in Knoxville, Iowa, in early August.
"We've got that Wednesday night race to get used to everything," he said. "Hopefully I'll get my bearings back quickly, have a solid night and go forward the rest of the weekend."
The Short Track Nationals kicks off on Wednesday with the 2nd annual Short Track Nationals Open. The best finisher among the top four who doesn't advance into Saturday's Short Track Nationals main event will receive a provisional.
SEASON STATS –
26 races, 1 win, 8 top fives, 11 top 10s, 16 top 15s, 18 top 20s
UP NEXT –
Wednesday through Saturday at I-30 Speedway in Little Rock, Ark., for the 27th annual COMP Cams Short Track Nationals Presented by Hoosier Tires with the Lucas Oil ASCS National Tour
MEDIA LINKS –
Website: http://www.SwindellMotorsports.citymaker.com
Twitter: https://twitter.com/KevinSwindell
Facebook: https://www.facebook.com/KevinSwindellRacing
VIDEO –
Click on the link for highlights of Swindell's first victory of the season at 81 Speedway on March 29: http://vimeo.com/90509051