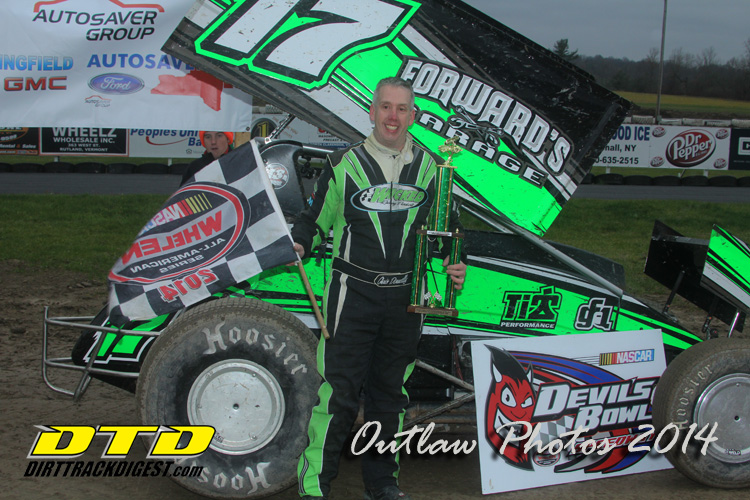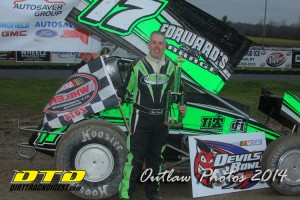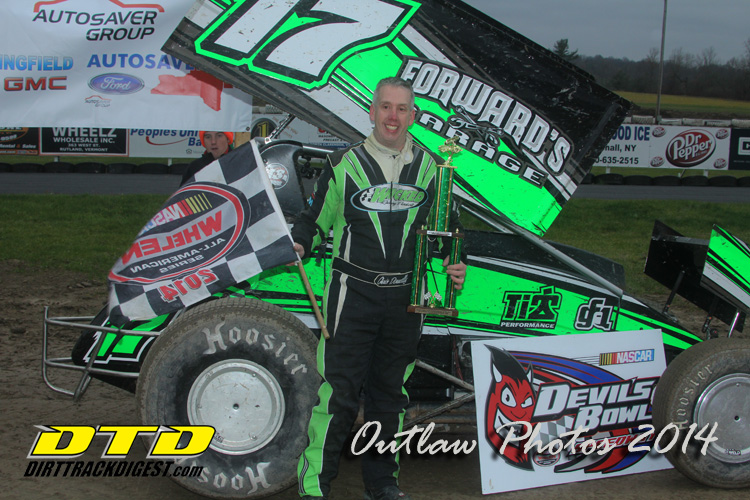 From SCONE
West Haven, VT – (November 2, 2014) — Chris Donnelly took the win Sunday in the BOND Auto Parts 360 sprint car series race at Devil's Bowl Speedway. Chris also won the Sprint Cars of New England 2014 championship. The final race of the season was conducted on the new dirt track constructed inside the asphalt oval at Devil's Bowl. The blustery fall weather made keeping the alcohol burning engines as well as the racers and fans at proper temperature a challenge.
A pair of 8 lap qualifying heats set the field for the 30 lap feature. Clay Dow showed the way in the first qualifier followed by Danny Varin. The race went under yellow at the half way point when first year driver Luke Greenwood went over the turn 4 barrier and flipped onto the asphalt track. Chris Donnelly won the second qualifying race with Jake Williams second.
During intermission the track was graded and rolled in providing a very fast track for the sprint cars. Long straights and tight turns defined the oval.
Lacy Hansen took the early lead while the SCoNE veterans quickly came to the front. Chris Donnelly was looking for a way around Lacey when Will Hull came out of the pack, passing both, and jumping out to a lead. While leading, and seemingly the class of the field, Will broke a rear end on lap 9, ending his day. With Will parked, it was all Chris Donnelly. While Chris motored away, Clay Dow and Dan Douville battled for second place. Clay finished second with Dan in third.
Chris' win made him a $1000 payday and also the 2014 SCoNE champion. Second in points was Dan Douville followed by Clay Dow. While Luke Greenwood didn't start the feature due to a hard roll in his qualifier, he did clinch the SCoNE Rookie of the Year title.
The next SCoNE event is the 2014 awards banquet on Nov 22 at the Red Blazer in Concord, NH. Give Mike a call at 603-539-2725 to make your reservation. Check www.nesprintcars.com and Facebook for the latest SCoNE photos and news.
Complete 11/1/14 Devil's Bowl SCoNE Results:
1. Chris Donnelly, 17
2. Clay Dow, 58
3. Dan Douville, 7X
4. James Hanson, 514
5. Lee, Ladouceur, 51
6. Jake Williams, 73
7. Lacey Hanson, 33
8. Danny Varin, 07
9. Will Hull, 61
10. Tyler Austin, 01
11. Cory Sparks, 7
12. Tim Martin, 83
13. Luke Greenwood, 89
SCoNE season ending points:
Pos Points # Name
1 679 17 Chris Donnelly
2 627 7x Dan Douville
3 588 58 Clay Dow
4 510 61 Will Hull
5 500 89 Luke Greenwood
6 492 8 Kevin Chaffee
7 487 73 Jake Williams
8 428 18L Troy Comeau
9 389 33 Lacey Hanson
10 360 83 Tim Martin
11 318 22 Spencer Allen
12 308 6x Mark Cole
13 298 21 Patrick Smith
14 269 28 Rick Martel
15 252 23 Christine Boesch
16 213 24 Dave Sanborn
17 201 38 Bob Giuliani
18 134 1 Tyler Austin
19 115 66 Randy Wimert
20 102 16 Tim Beard
21 100 13 Steve Hutchinson
22 87 11 Tunk Berry
23 35 77 Butch Valley
24 27 3 Doug Sanborn
25 21 82 Randy Howe
26 21 44 Doug Boisvert
27 17 10 Shawn Lawler