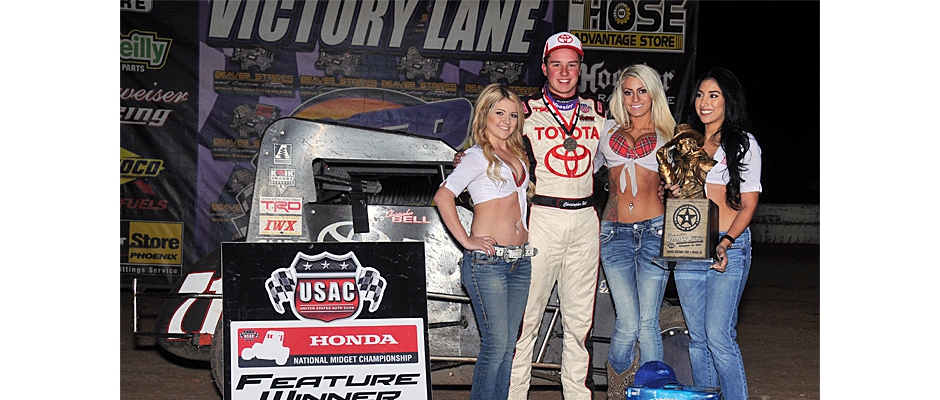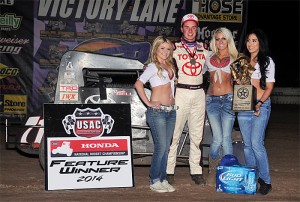 From Lonnie Wheatley
Peoria, AZ — (November 21, 2014) — After falling just short in Thursday night's 47th Annual Sands Chevrolet Western World Championships opener, Christopher Bell led wire-to-wire to post the win in Friday's 30-lap Honda USAC National Midget feature at Canyon Speedway Park.
Starting from the pole position, the 19-year-old from Norman, OK, outdueled Keith Kunz Motorsports teammate Tanner Thorson on the opening round and led all the way to post his 26th overall win of the year.
"That was a fun race," Bell exclaimed afterward. "The track was really tricky, I had to keep searching around to find the fastest line and the ledge got to be a challenge. I don't know if I got into turn three the same way twice the whole race."
Bell proved to be plenty fast everywhere on the 1/3-mile CSP clay oval, weathering three cautions to pick up his second Western World prelim win in as many years aboard the KKM Toyota-powered No. 71.
Reigning Western World champion Bryan Clauson battled into second in the early going aboard Joe Dooling's No. 63 machine but was unable to mount a successful challenge on Bell for the lead.
"We were zipping around the top there to try to keep up, but we really needed some traffic to have a shot at him," Clauson commented.
Zach Daum claimed the show position with Thursday winner Tracy Hines and Thorson rounding out the top five. Rico Abreu moved one step closer to his first USAC Midget championship with a sixth-place finish as Casey Shuman, Tyler Thomas, Ronnie Gardner and Shane Golobic completed the top ten.
The final car out for qualifying, Abreu set the night's quick time of 13.775 seconds in qualifying with Golobic, Darren Hagen and Mike Spencer winning the heat races.
The top eight drivers in combined points over the Thursday and Friday night prelims are locked into the Dash that will set the lineup for the front four rows of Saturday night's Western World Midget finale. Those eight drivers include Daum, Bell, Hines, Clauson, Thorson, Abreu, Hagen and Gardner.
Canyon Speedway Park
47th Annual Sands Chevrolet Western World Championships
November 21, 2014 Results:
USAC Honda National Midgets:
QUALIFICATIONS: 1. Rico Abreu, 97, Kunz/Curb-Agajanian-13.775; 2. Zach Daum, 5D, Daum-13.817; 3. Bryan Clauson, 63, RKR/Curb-Agajanian-13.859; 4. Tracy Hines, 24, Parker-13.866; 5. Tanner Thorson, 67, Kunz/Curb-Agajanian-13.889; 6. Christopher Bell, 71, Kunz/Curb-Agajanian-13.910; 7. Tyler Thomas, 91T, Thomas-14.025; 8. Darren Hagen, 56, Hmiel-14.057; 9. Ronnie Gardner, 68, Johnson-14.084; 10. Trey Marcham, 73, Ford-14.162; 11. Shannon McQueen, 7, McQueen-14.208; 12. Brady Bacon, 51s, Fly-14.267; 13. Shane Golobic, 17, Nichols-14.279; 14. Casey Shuman, 32, Dunlap-14.309; 15. Mike Spencer, 57, Ecker-14.381; 16. Isaac Chapple, 52, Chapple-14.448; 17. Jarid Blondel, 98, Blondel-14.815; 18. Terry Goodwin, 2G, Goodwin-15.317; 19. Nick Foster, Jr., 17N, Nichols-16.472.
FIRST HEAT: (10 laps) 1. Golobic, 2. Thomas, 3. Marcham, 4. Abreu, 5. Hines, 6. Chapple.
SECOND HEAT: (10 laps) 1. Hagen, 2. Daum, 3. Shuman, 4. Thorson, 5. McQueen, 6. Blondel.
THIRD HEAT: (10 laps) 1. Spencer, 2. Clauson, 3. Gardner, 4. Bacon, 5. Bell, 6. Goodwin.
FEATURE: (30 laps) 1. Christopher Bell, 2. Bryan Clauson, 3. Zach Daum, 4. Tracy Hines, 5. Tanner Thorson, 6. Rico Abreu, 7. Casey Shuman, 8. Tyler Thomas, 9. Ronnie Gardner, 10. Shane Golobic, 11. Darren Hagen, 12. Mike Spencer, 13. Isaac Chapple, 14. Terry Goodwin, 15. Shannon McQueen, 16. Trey Marcham, 17. Jarid Blondel, 18. Nick Foster, Jr., 19. Brady Bacon.
Lap Leaders: Christopher Bell 1-30.