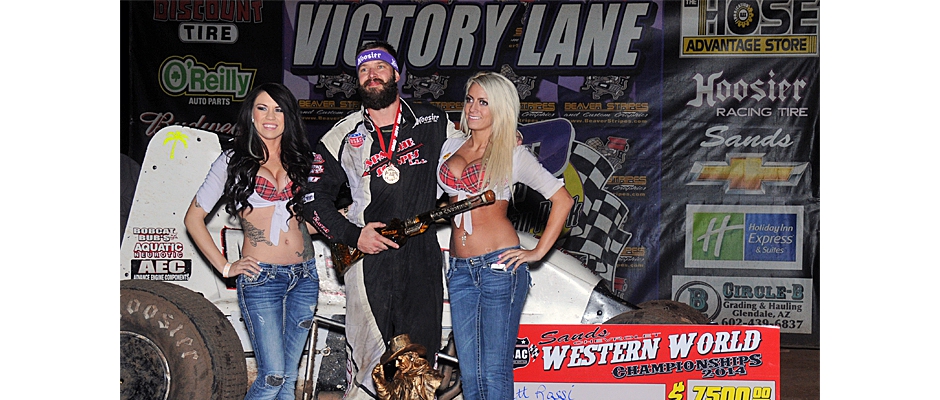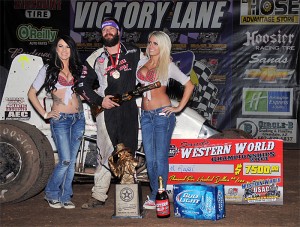 From Lonnie Wheatley
Peoria, AZ — (November 22, 2014) — Matt Rossi picked an ideal time to win his first feature atop Canyon Speedway Park clay by taking the $7,500 winner's share in the USAC Southwest vs. USAC West Coast Sprint Car portion of Saturday night's 47th Annual Sands Chevrolet Western World Championships.
"I just won the Western World, I can't believe it!" Rossi exclaimed upon climbing from his winning Apache Scapes/Schure Built Suspensions No. 02 Spike.
The victory drive was nearly as shocking to many others as it was to the Peoria, AZ, racer.
Rossi left little doubt about it though, emerging from a spirited three-way duel for the point on the 11th round and then blistering the field over the final half of the 30-lapper to take the prestigious victory over a stellar field of 37 competitors.
"We've really been going good since Ovals, but I didn't think this was gonna happen," Rossi commented.
Originally gridding the field eighth, Rossi was up to fifth before a lap was in the books after a pair of attempts to start the race were red-flagged.
On the initial start, front row starters Gary Taylor and Casey Shuman made contact in the opening corner with Shuman getting upside down. On the second try, seventh-starter Shon Deskins dumped his machine in turn three. Shuman was done while Taylor and Deskins both returned for further battle.
The initial red flags were a sign of things to come with three more flying in the first half of the race including one for Matt Mitchell in turn two after nine laps, Deskins' second misadventure two laps later on the front stretch and then Josh Pelkey on the front stretch as well after 14 laps. Mike Spencer precipitated a mere yellow flag when he bicycled and scraped the turn three wall after eight laps.
In between the stoppages, R.J. Johnson paced the early circuits with prelim sweeper Ryan Bernal nipping at his heels. Rossi made his way past Robert Ballou for third after Spencer's race-ending encounter with the wall after eight laps and the battle was on.
Eying a weekend sweep, Bernal slid past Johnson for the lead on the tenth round only to have Rossi blast past both of them on the 11th circuit.
Rossi was an unstoppable force the rest of the way, relentlessly abusing the heavy Canyon cushion in spectacular fashion all the way.
The only thing that slowed Rossi's furious pace was one final caution with five laps to go when Jake Swanson came to a stop in turn three. There was no denying Rossi the popular hometown win though, as he ripped off five more fast laps to secure the win.
After starting 11th, Kevin Thomas, Jr., avoided the early carnage and charged past Johnson for second on the 13th circuit. The Alabama shoe held the runner-up position to the line with Bryan Clauson rallying on the low side to claim the show position from 15th aboard a second Mike Martin entry after terminal engine woes in his familiar No. 20 mount in Friday action.
Johnson finished off the USAC Southwest Sprint Car championship with a fourth-place run while Brady Bacon raced from 17th to round out the top five.
After getting caught up in the opening lap tangle between Shuman and Taylor, C.J. Leary charged from the tail for sixth with Ballou, Bernal, Chris Windom and 21st-starter Stevie Sussex completing the top ten.
Gary Taylor won the Dash for the eight locked-in cars to earn the pole starting position for the feature with Jon Stanbrough, Swanson, Mitchell and Thomas, Jr., winning the Qualifying Races. Bacon and Brian Hosford won the "B" Mains.
Honda USAC National Midgets:
The Western World got away from Darren Hagen one year ago with Bryan Clauson stealing the win in the final corner.
Hagen wanted no part of a repeat, fending off the Keith Kunz Motorsports duo of Tanner Thorson and Christopher Bell to pocket the $7,500 winner's share in the Honda USAC National Midget portion of the 47th Annual Sands Chevrolet Western World Championships at Canyon Speedway Park.
"I took it all the way to the wall at the end, I knew he (Thorson) would pretty much have to drive over us to get the win," Hagen said after posting his first USAC National Midget victory of the year aboard Shane Hmiel's Great Clips No. 56 Triple X.
After winning the Dash to earn the pole position for the 30-lap finale, Hagen led the early rounds but had plenty of company with fellow front-row starter Thorson actually racing by on the high side on the seventh lap in his pursuit of a first series win.
Zach Daum entered the mix as well only to detonate an engine exiting turn four with nine laps in the books, just two rounds before a red flag flew for a Jarid Blondel tumble in turn one.
Hagen pounced on Thorson on the lap 12 restart to reclaim the lead and suddenly had defending USAC Midget champ Bell challenging for the win on the low side as Thorson continued to work up top until another red flag after 19 laps when series points leader Rico Abreu came to a stop with a possible foot injury after a driveline failure.
Bell worked low and Thorson worked high over the final rounds, with Thorson making a last-gasp charge on the high side of turns three and four in a valiant effort to steal the win. Hagen held strong though, beating Thorson to the stripe by just two car-lengths with Bell right there in third.
Thursday night winner Tracy Hines was fourth with Bryan Clauson rounding out the top five. Tyler Thomas crossed the stripe sixth with Ronnie Gardner, Brady Bacon, Casey Shuman and Shane Golobic completing the top ten.
Canyon Speedway Park
47th Annual Sands Chevrolet Western World Championships
November 22, 2014 Results:
USAC Southwest vs. USAC West Coast Sprint Cars:
FIRST QUALIFIER: (8 laps) 1. Jon Stanbrough (#20S Deskins), 2. Chris Windom (#22B Weber), 3. Tye Mihocko (#5 Mihocko), 4. Josh Pelkey (#12 Allen), 5. Stevie Sussex (#21AZ Burkhart), 6. Bradley Terrell (#5V VanLare), 7. Mike Martin (#16 Martin). NT
SECOND QUALIFIER: (8 laps) 1. Jake Swanson (#92 Sertich), 2. Mike Spencer (#7M Priestley), 3. Brian Hosford (#32B Weber), 4. Colby Copeland (#74 Williams), 5. Dalten Gabbard (#77 Gabbard), 6. Josh Hodges (#74X Hodges), 7. Casey Buckman (#04G Cook). NT
THIRD QUALIFIER: (8 laps) 1. Matt Mitchell (#37 Mitchell), 2. Bryan Clauson (#16B Martin), 3. Brady Bacon (#99 BBR), 4. Josh Shipley (#2 Bishop), 5. Michael Curtis (#11C Turner/Wheeler), 6. Bruce St. James (#7K St. James), 7. Matt Lundy (#98 Lundy). NT
FOURTH QUALIFIER: (8 laps) 1. Kevin Thomas Jr., (#17RW Dutcher), 2. Charles Davis Jr. (#50 Massey), 3. Dave Darland (#73 Ford), 4. Andy Reinbold (#19 Underwood), 5. Mark Morin (#28 Morin). NT
DASH: (6 laps) 1. Gary Taylor (#1ST BRAT), 2. Casey Shuman (#75 Hockett/James), 3. R.J. Johnson (#77M Michaels), 4. C.J. Leary (#30 Leary), 5. Ryan Bernal (#56 Phulps), 6. Robert Ballou (#12X Ballou), 7. Shon Deskins (#20 Deskins), 8. Matt Rossi (#02 Rossi). NT
FIRST SEMI: (12 laps) 1. Bacon, 2. Pelkey, 3. Sussex, 4. Curtis, 5. Martin, 6. Terrell, 7. Shipley, 8. Lundy, 9. Mihocko. NT
SECOND SEMI: (12 laps) 1. Hosford, 2. Gabbard, 3. Copeland, 4. Reinbold, 5. Darland, 6. Buckman, 7. Hodges, 8. Morin. NT
FEATURE: (30 laps) 1. Matt Rossi, 2. Kevin Thomas Jr., 3. Bryan Clauson, 4. R.J. Johnson, 5. Brady Bacon, 6. C.J. Leary, 7. Robert Ballou, 8. Ryan Bernal, 9. Chris Windom, 10. Stevie Sussex, 11. Brian Hosford, 12. Dalten Gabbard, 13. Charles Davis Jr., 14. Jake Swanson, 15. Gary Taylor, 16. Jon Stanbrough, 17. Josh Pelkey, 18. Shon Deskins, 19. Matt Mitchell, 20. Mike Spencer, 21. Colby Copeland, 22. Casey Shuman. NT
Lap Leaders: R.J. Johnson 1-9, Ryan Bernal 10, Matt Rossi 11-30.