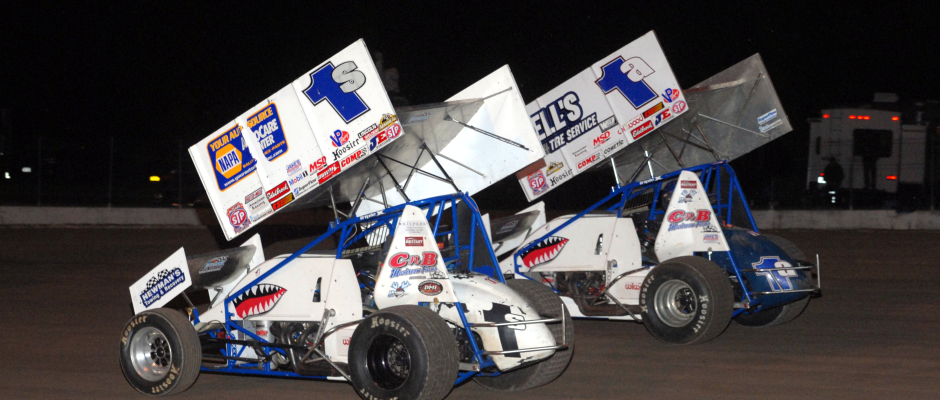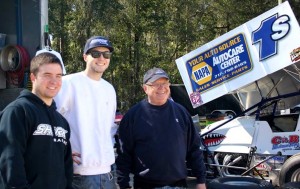 From Linda Mansfield
Hanover, PA — (November 24, 2014) — The two support vehicles sitting side by side in the pits at the World of Outlaws STP Sprint Car Series race at the Action Track in Terre Haute, Ind., in September told the story.
At the right was a gleaming, state-of-the-art Bad Boys Buggy, equipped with all sorts of things that Donny Schatz, the series' eventual champion, and his Tony Stewart Racing crew might need.
On the left was a rather shabby golf cart, held together primarily by high hopes.
"Will this start?" asked Trevor Cook, a young mechanic who was helping Shark Racing at Terre Haute.
Obviously it hadn't started sometime recently.
"Well, yes, it CAN start," replied Bobby Allen. The 70-year-old owner of Shark Racing is a member of the National Sprint Car Hall of Fame, one of the original outlaw drivers, and a born optimist.
The golf cart is a two-cycle one that supporter Mark Pell gave Allen in the eighties when Allen was still driving sprint cars. Even Allen admits it's on its last legs. But he tinkered with it for less than a minute, and it sputtered to life. Cook was quickly off with his plastic jugs to get fuel, and Allen stepped back, ready for his next challenge.
Allen is an expert at making do. To say that Shark Racing is an underfunded team is putting it politely. It has as many personal supporters as corporate ones. People like Pell, Marty Thompson, Michael Newman, Chubby Ciarrocchi, Michael Palumbo, Don Ott, Rick Maas and Tony Stewart all helped in one way or the other. Some of their businesses were advertised on the team's two sprint cars, giving exposure to Your Auto Source NAPA Autocare Center, Pell's Tire Service, Don Ott Racing Engines, Rich Fogle Custom Pole Buildings, Newman's Towing & Recovery, CnB Mushroom Farms, Brenneman Painting, Silpada Jewelry, Lebo Skin Care, DMI, Penske Shocks, ButlerBuilt Seats, Tony Stewart Racing, SR Lubricant Solutions and Mycroleum, among others.
Allen drove sprint cars when the phrase "run what you brung" was the standard operating procedure. He has accomplished more in racing with less capital than most people would even dream of attempting.
Allen raised some eyebrows last winter when he announced that he was taking his two rookie drivers — grandson Logan Schuchart and son Jacob Allen, who are only 19 months apart in age — on the full World of Outlaws trail in 2014. Schuchart was 21 during the 2014 season; he'll celebrate his 22nd birthday on Dec. 16. Jacob Allen turned 20 on July 11.
Allen admitted that he wasn't sure if he could make it to the end of the season. But he was sure he and his young chargers were going to try their best.
Their fans and supporters rallied around them at the team's annual "Fan/Sponsor Appreciation Night" in January at the Cross Keys Inn Banquet Hall in New Oxford, Pa. to raise some operating capital for the effort. Allen sold what he could spare to raise more cash, and the team started the season with two homemade Shark chassis, three Don Ott-prepared engines and high hopes.
As the season progressed, more often the engine count was just the two installed in each sprint car.
The team's biggest success in 2014 was that both Schuchart and Allen didn't drop out somewhere along the way and return to the folds of the Pennsylvania Posse. Both Schuchart's #1s and Allen's #1a made it to the World Finals at the Dirt Track at Charlotte in early November, competing in more than 90 events at 61 different tracks in 24 states and three Canadian provinces for one of the most grueling seasons in all of sports.
This year was especially prolific, as there were only two rainouts and a total of 88 A-mains completed. Although Schatz had 26 feature victories enroute to his sixth WoO championship, there were 24 different winners. The season also generated the closest finish in WoO history when Kerry Madsen beat Kyle Hirst by 0.005 of a second at Antioch Speedway in Antioch, Calif. on Sept. 7.
Making it to the end of such a grueling schedule was a major accomplishment for Shark Racing and its two young drivers from Hanover, Pa., who hadn't been further west than Knoxville, Iowa before this season. They put 48,571 miles on their truck crisscrossing the United States and Canada during the course of the year.
For the record, Schuchart finished 12th and Allen finished 13th in the final driver point standings. Schuchart won $82,675 for the season, while Allen won $37,630.
Schuchart had five top-five finishes, 15 top-10 finishes and one quick time. Allen, who has far less sprint car experience than Schuchart does, had one top-10 finish. Schuchart won three KSE Hard-Charger awards for advancing the most positions in a feature; Allen won two. Schuchart won five heats during the course of the year and Allen won one. Schuchart won more B-mains than anyone else in the series with nine; Allen won two B-mains.
But stats don't begin to tell the whole story.
The team got off to a rough start for the swing through Florida in February. Jacob Allen suffered from a case of gastroenteritis, and both of the team's sprint cars seemed to want to put out as much smoke as a rocket launching from nearby Cape Canaveral.
March opened with a two-day show at the Dirt Track at Las Vegas, followed by a race in Tucson and then nine events in California through the middle of April.
Shark Racing made them all, but not without losing a day on the initial trip west for repairs to the truck at the famous Iowa 80 truck stop, billed as the world's largest.
Another memory was made when a brake line let go on the truck just as they pulled into a parking lot at Vegas, right after they had crossed many steep mountain passes a couple of hours earlier.
Schuchart quipped that if things didn't work out for them as sprint car drivers, they could probably get jobs as truck mechanics in the future with all their experience keeping the team transporter on the road.
And they did make it to Vegas. However, on the second day of that two-day show, Schuchart had no place to go in Turn 4 on lap 19 of the feature and he flipped violently. It was one of three flips he had during the course of the season. Allen flipped only once. Neither of the Shark Racing drivers spun out much during the season either, which isn't usually the case with rookies.
The racing business is exciting partly because things can change — for better or worse — very quickly.
Eight days after Schuchart's flip at Las Vegas he led every lap of the dash at Thunderbowl Raceway in Tulare, Calif., achieving his first WoO dash victory and earning the pole for the 35-lap A-main. He led the first 22 laps of the feature that night but faded to eighth when his car got too tight. It was the most laps he's ever led in a WoO feature.
The following night he led every lap of his heat at Thunderbowl and finished sixth in the dash. He passed veteran Terry McCarl with just three laps to go in the A-main with a move to the outside going through Turns 3 and 4, and went on to finish second to Rico Abreu for his best WoO feature finish to date.
Before embarking on this adventure, Bobby Allen said getting through the first California swing would be critical. He worried about the team's funds running out if there were a lot of rainouts, as sprint car drivers can't earn prize money if they're in a hotel watching it rain. But luckily Mother Nature smiled on the circuit in 2014, Shark Racing was able to persevere until it was accepted into the WoO's appearance-money program, and one major bullet was dodged.
They made some time for fun too, and did some sightseeing while they were in California. They saw the famous "Hollywood" sign, and they rode electric bikes and saw some interesting characters on the boardwalk at Venice Beach.
"I'm not sure if they were the most interesting or we were the most interesting," Schuchart said at the time.
"At the beginning of the year, David French was helping us. He's 71, and he's helped Bobby for years," he continued. "Frenchie wanted to help us get off to a good start, so he helped us on the road until he had to go back home. So at that point, our team consisted of two guys in their seventies and two young guys, which is sort of unusual. None of us really thinks about age much though," he added with a smile.
They made stops in Yosemite National Park and San Francisco, making memories that will last a lifetime.
They also settled in to life on the road.
"When we're driving down the highway, we listen to the radio a lot," Schuchart said. "We just laugh and joke and carry on; it's just us going down the road."
"We mess around on our phones, and do a lot of sleeping and eating," Jacob Allen added.
"As far as music goes, I like nothing but country," Schuchart said. "Pappy doesn't care; he doesn't really hear it because he tunes it all out. Jacob likes all sorts of music, but mostly country.
"At one point I tried to learn how to play the guitar, but I gave it up for now because it's just too hard to play when you're bouncing down the road," he added.
Schuchart said Bobby did 98 percent of the driving, but the team didn't get any speeding tickets all year.
"We don't have to worry too much about tickets, because he drives 20 miles per hour under the speed limit," Schuchart said of his grandfather with a twinkle in his eye.
"We didn't get too lost either," Jacob Allen interjected. "At least nothing way off, anyway."
Bobby also did most of the cooking, partly as a way to save money and partly as a way to avoid fast food. He has a reputation for preparing meals on the road that are healthier than many people make in their own kitchens.
"We worked on the cars when we weren't at the racetrack," Schuchart summarized. "If hotels have parking lots that are big enough, we'll work there. Sometimes we'd just go on to the next racetrack and set up early there.
"All three of us are really close and we don't get on each others' nerves too much, but I will say that I pick up after myself more than they do," he added.
There were the usual accusations of crowding while sleeping in the truck berths, and there was one incident when the truck had to turn around when Schuchart was inadvertently left behind at a truck stop.
But they made it work, creating life-long memories in the process.
"Nothing is really yours when you're traveling," Schuchart pointed out. "I'm looking forward to the off-season to be home and be by myself for awhile. I think that's one of the reasons I'm looking forward to going hunting so much; I'll enjoy being in the woods just by myself.
"But I know pretty soon I'll want to be back on the road again," he added.
Sometimes they made the A-main; sometimes they didn't. When the rookies would apprehensively note an especially big field of cars at certain events, realizing it increased the odds of them not making the feature, Bobby Allen would have none of it.
"Yes, there are 47 cars, but there's nothing saying that ours aren't the best two on this particular night," he would point out.
Both of the Shark Racing drivers tried hard, and their efforts were rewarded with some KSE Hard-Charger awards. They're given to the driver who improves his starting position the most in each WoO A-main.
Jacob Allen started 22nd and finished tenth in the 40-lap A-main at Federated Auto Parts Raceway at I-55 in Pevely, Mo., in April to post his best WoO feature finish to date and win his first KSE Hard-Charger award. Schuchart won the same award in May at New Egypt Speedway in New Egypt, N.J.
Schuchart had an extremely strong showing at the Dirt Track at Charlotte in Concord, N.C., in May, finishing third behind Joey Saldana and Schatz. He won the B-main decisively July 12 at Eldora Speedway in Rossburg, Ohio, impressing many on-lookers. He also had a good run at Lernerville Speedway in Sarver, Pa., in July when he won the B and finished fifth in the second half of the doubleheader named in memory of that track's long-time promoter, Don Martin.
There was a personal situation to address when Jane Allen, Bobby Allen's mother and the matriarch of the family, passed away in June. Bobby's father, Joe Allen, a former race car driver and a pilot with the "Flying Tigers" in World War II for whom Shark Racing got its name, died in the early eighties.
When the series edged north into Canada in July, Schuchart won the KSE Hard-Charger award at Cornwall Motor Speedway when he started eighth and finished third in the A-main after winning his heat. Both Schuchart and Allen won KSE Hard-Charger awards in August in the two-day show at Castrol Raceway in Alberta, Canada too, despite the fact neither had ever seen the track previously.
The sprint cars and the humans held up through the grind of the summer, but the truck let them down a couple of times.
It made it through the Canadian tour in good order, but it protested enroute to Federated Auto Parts Raceway at I-55 in Pevely, Mo., by overheating badly, and the team missed the first night of a two-day show on Aug. 1.
"The man who fixed it for us said 'OK, drive it a little bit and let's see if it's OK,'" Bobby Allen said. "I said, 'I don't have time to do that; we'll test it on the way to Pevely,' and off we went."
The WoO brass gave them a hardship exemption for that one race, and it's the only one they missed all year.
Neither driver made the final race at this year's Knoxville Nationals in Knoxville, Iowa, but they progressed through the alphabet soup of races to the E-main and continued to perfect their craft.
Coming up with a good set-up for a track they'd never seen before was part of the education.
"We learned a lot about the different track surfaces we raced on," Schuchart explained. "We learned more about the shape and the texture of the dirt; whether it's red clay or yellow dirt or sand; things like that. We look at a track that is new to us and try to compare it to another one we've been on that might be similar, and go from there."
They also got some help from a new source in late August when Schuchart drove a Triple X chassis for the first time at Skagit Speedway in Alger, Wash. With continued help from that chassis manufacturer, Allen debuted his new Triple X car a month later at Bloomington, Ind., and the team hopes it's just the beginning of a successful partnership for all concerned.
Neither of the Shark Racing rookies had seen Grays Harbor Raceway in Elma, Wash., before they raced there in September, but Schuchart finished sixth in the feature there and Allen led every lap of the B-main. Two days later Allen won his first WoO heat at Southern Oregon Speedway, earning his first appearance ever in a WoO dash.
Less than 10 days later Schuchart set fast time at Clay County Fairgrounds in Spencer, Iowa. He also won the B-main at that show.
Around this time the team received a blow to its morale, however. All along the Shark Racing duo were the only drivers billed as contenders for the Kevin Gobrecht Rookie of the Year award, and it seemed a given that Schuchart would win that distinction and the prize that went with it, which was a new ButlerBuilt seat. However, WoO officials realized in early September that Brad Sweet had also never run a full WoO season in the past, although he'd been winning heats with the group since 2008, had two WoO feature victories prior to 2014, and NASCAR Nationwide and Camping World Truck Series and ARCA stock car experience. Driving for Kasey Kahne Racing, Sweet finished sixth in the 2014 WoO point standings with five feature victories and he went on to win the Gobrecht award at year's end. It was disconcerting, but it was something the Sharks could do nothing about.
That wasn't the case for other situations.
Not making the feature at their home track of Lincoln Speedway in Hanover, Pa. in July for the Summer Nationals was another hard pill to swallow, and Schuchart was determined it wouldn't happen again in October for Pennsylvania's biggest sprint car race, the National Open at Williams Grove Speedway in Mechanicsburg. He turned a lot of heads when he started ninth and finished fourth in a very hard-fought B-main at the Grove, passing Brian Montieth on the very last lap to earn the final transfer spot into the Open.
As the season progressed, the lack of capital and the lack of helpers at many of the tracks were as challenging as the on-track competition.
"It was just the three of us mostly in Canada and out West," Schuchart said. "For awhile Jordan Eckard was helping us, but he's a sophomore in high school, and he had to stop to go back to school. He's the son of Jack Eckard, who worked for Bobby in the nineties.
"Dave Guss Jr. helped some, and so did Trevor Cook, whom we met in Washington state," Schuchart continued. "We're hoping we can hire him to help us next year.
"Bobby has done real well, but he wishes we had more help," he continued. "He wanted us to have this experience, but it does tire him out. It would be great if we could have somebody else drive the truck and give him a break.
"He has a no-quit attitude though; he's more optimistic and he won't quit more than anyone else I've ever met. You'll never hear him say he'll quit doing something he wants to do.
"He always looks on the bright side of things," he added. "I think since Jacob and I have been with him so much we are able to tell when he's a little down, but nobody else will know when he's tired or worn out or upset. He has always tried to stay young, and he just goes out and does what he wants to do. He hangs out with us; he doesn't let the age thing bother him at all.
"I think we did very well this year considering everything, especially when it was just the three of us at some places," Schuchart continued. "We're fast as a team, and that makes you feel good because we're really just two kids going up against people who have been doing this for many years and have a lot more equipment than we do."
The other WoO teams respected their efforts.
"The other WoO drivers see how hard we work, and they see what we have and what we do," Schuchart said.
"At some races we had three guys total for two cars. The top teams have three or four guys working on each car, and sometimes they have a truck driver too. They'll have a tire guy, a car chief, a crew chief for the team, and a driver for the truck, plus the driver of the sprint car.
"They freshen their engines every eight to 10 races; we can do ours about every 20 races. The one that just came out of Jacob's car had 26 races on it.
"We buy used tires from other teams; they'll sell them to us cheap," he added. "A new tire costs about $200. We'll buy eight used tires for $200. We get them off the Kasey Kahne cars; Saldana's; Paul McMahan's team; most everybody helps. Sometimes they'll just give them to us too. Every outlaw team has helped us at one time or another. They'll let us borrow something or help us out another way. They know.
"Working on the race car all the time has made me understand a sprint car better, and to know what needs to be done," Schuchart added. "I think that has hurt me as a driver though. Before I just raced. Now I think too much. I think about what changes I made, and what I checked and what I didn't check before the race."
It's all invaluable experience.
"We weren't sure if we could make the whole season when we started, so to complete it is a big accomplishment," Jacob Allen said. "It's better than my high-school graduation, really. It's all been a challenge. It's hard just racing with the best sprint car drivers out there, especially when you're like me and you don't have much experience. It's been a learning experience, for sure. They race just as hard all the way through the field as they do at the front.
"I've learned a lot about motors and sprint car maintenance, and how to look at a track and try to figure out how it will be as the night progresses," Allen continued. "I've learned how to talk to people; how to ask questions and how to get and give feedback as far as the car set-up goes. I've learned some things about aero design, tires and gears. I feel like we've both excelled and learned more than we ever knew before about sprint cars and about life. The biggest thing I've learned is no matter how bad it gets, never give up!"
That's something he learned from his father.
"There were five to 10 instances when we could have quit, but we were very fortunate," Bobby Allen said. "I just blocked out the worries and pushed forward, and somehow I got it done. But I couldn't have done it without everybody's help. Everybody's heart was in it, and we appreciate all the help we got. Sometimes people on the road would even hand me some money to help out. I appreciate it all.
"We learned a lot," he continued. "Some of the tracks were new to me too, because I hadn't been on the road in about 15 years. Even the boys don't know how tight the money situation was, but we should be in better shape next year than we were this year.
"I'll be 71 in December, but I hope I can go on the road at least three to five more years, and hopefully by that time we'll have enough sponsorship, the boys will have found good rides with other teams, or they'll have enough good equipment to be able to run well at home in Pennsylvania," he added. "We're going to do some things differently next year so they take on even more responsibility and learn even more about what it takes."
And going back to the beginning of this piece, they're also going to get a new four-cycle golf cart for 2015 thanks to the generosity of Jake's Golf Carts of McVeytown, Pa.
The 2014 season marked the retirement from full-time racing of two of sprint car racing's greatest drivers ever — Steve Kinser and Sammy Swindell.
But the 2014 season was also the rookie season of two drivers who many think will be future stars — Logan Schuchart and Jacob Allen.
A 70-year-old sprint car team owner and his two young protégées aren't likely to run up any museum steps to the song "Gonna Fly Now" anytime soon, but this trio has something in common with another famous athlete from Pennsylvania.
Just like Rocky, Shark Racing went the distance.