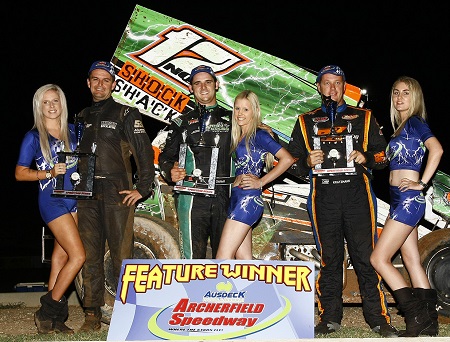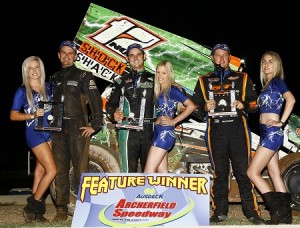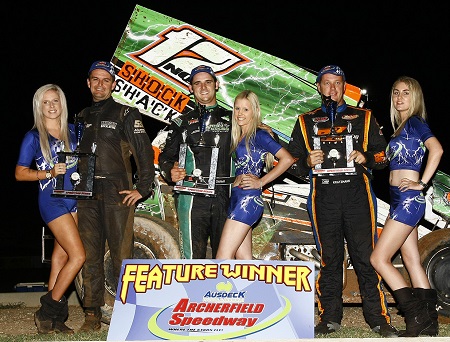 From Archerfield Speedway
Brisbane, AU — (November 29, 2014) — Having appeared on the podium on numerous occasions this season, it seemed an inevitability that Luke Oldfield would snare a feature race victory and he did exactly that at Ausdeck Patios Archerfield Speedway on Saturday night (November 29), taking out round five of the Supercheap Auto Sprintcar Track Championship. Oldfield certainly had to work hard for his success, wresting the lead from Kevin Titman on more than one occasion before finishing in spectacular fashion when he became entangled with previous round winner Peter Lack as they raced under the chequer. It was a fitting reward for Oldfield, whose hard charging style and never-say-die attitude is spectacular to watch as he explores every inch of the track in search of the fastest way to the front.
Titman scored his best result in Brisbane so far this season with a strong run into second spot, with pole qualifier Brent Kratzmann also putting the disappointments of previous weeks behind him to snare third place. Paul Rooks advanced from position seven to secure another strong result in fourth, with American tyro Cap Henry also impressing again with a solid run into fifth spot after starting alongside Rooks on the fourth row. Meanwhile, Andrew Scheuerle was the biggest mover through the field, advancing from 13th to finish sixth ahead of Jamie Bricknell and earn the Darra Mechanical Hard Charger Award.
Bricknell's night started very well indeed when he clocked KRE Race Engines Fast Time with a 12.288 circulation on a track that was in remarkably good fettle considering it had been underwater (again) just 48 hours earlier. Lack was second quickest ahead of Richard Morgan, Kratzmann, Titman and the unheralded Matthew Butler. Next best were Rooks, Dan Moes and Terry Bracken, with a career-best result from Stephen Greer denying Sprintcar rookie Dave Fanning a spot inside the top ten.
Out to make amends after an atypical qualifying performance, Robbie Farr romped home in the opening heat, downing Andrew Liebke and Ben Hilder.
Henry downed Steve Johnson and Fanning in heat three, with Scheuerle edging out a rim riding, wall banging, crowd pleasing Oldfield in heat three. Pholi finished third.
Heat four saw Oldfield go one better when he defeated Bricknell and Mick Sauer to climb his way into the dash after qualifying a lowly 15th. Scheuerle doubled up to win heat five in advance of Henry and Titman.
The final heat saw Paul Morris enjoy a winning return to dirt track competition, leading home Kratzmann and Rooks.
Kratzmann secured pole position for the feature race when he raced away to defeat Lack, Titman, Oldfield, Bricknell and Richard Morgan in the Lucas Oils Dash.
After failing to finish his second heat race, Farr found himself amongst the starters for the East Coast Logistics B Main and he was untroubled in winning ahead of Bryan Mann, who surged from position 10, while Pholi and Sauer secured the final transfer spots.
A frenetic start to the 30-lap Supercheap Auto feature race saw Titman emerge with the lead at the end of the opening lap as Kratzmann slotted into second spot ahead of Bricknell, Lack and Oldfield. By lap four, Oldfield was up to third and closing fast, with Bricknell and Lack struggling to keep pace and losing touch with the leaders. Titman amassed a considerable buffer before lapped traffic became a factor and assisted Oldfield in his pursuit. As the lead duo embarked on the almost unprecedented action of putting Farr a lap in arrears, Oldfield pounced and surged to the front. Titman regained the lead again for a few laps before Oldfield found his way to the front for a second and final time, clearing away to establish a four second margin, a buffer that proved critical given the tangle he found himself in when Lack proved less amenable to the idea of going a lap down, even it was only for the final few metres of the final lap.
Krtazmann actually muscled his way into second spot at one stage, only to allow Titman to repay the gesture a few laps later. Rooks was untroubled for the most part in finishing fourth, while Henry and Scheuerle got stronger as others faded. Bricknell was unable to sustain his pace of the opening laps and fell back to seventh by race's end, with Dan Murray, Mann and Pholi rounding out the first ten finishers.
Morris was next in line, followed by Farr, Morgan, Fanning, Bracken and Butler, with Moes and Lack – a far cry from his triumph two weeks earlier – completing the finishers in a race that ran without interruption.
Whilst the Sprintcars revelled in the conditions, the supporting categories found the going a little tougher.
Next Saturday night (December 6) at Ausdeck Patios Archerfield Speedway will be a spectacular tripe-bill program featuring Super Sedans, Dirt Modifieds and the Polar Ice Midget Series, along with Modlites, Stockcars, Junior Sedans and Ford vs Holden vs Sigma sedans.