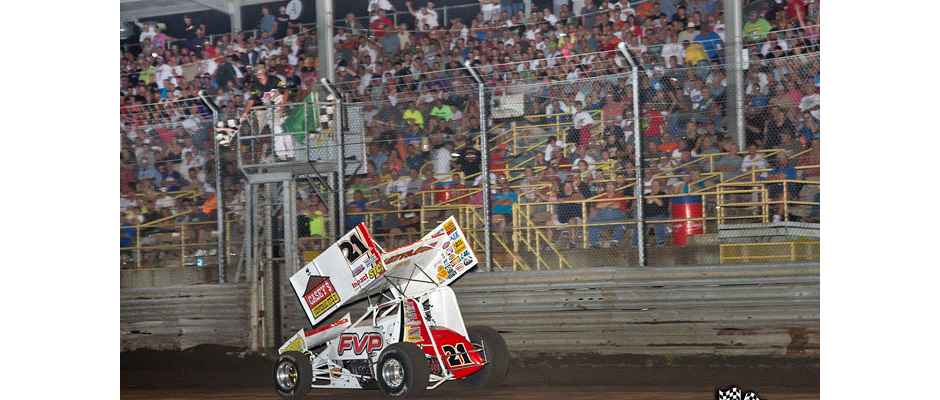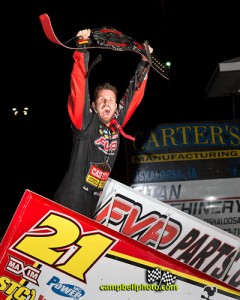 From Bill Wright
Windom, MN — (December 10, 2014) — An already prestigious event just got a lot bigger! In honor of its 20th Anniversary, the Casey's General Stores/Musco Lighting Front Row Challenge presented by Don Long's Searsboro Telephone Company at the Southern Iowa Speedway in Oskaloosa, Iowa will now pay $20,000 to win! In addition, a number of bonuses and contingencies could make the winner's share much more! The event will be held on Monday, August 10.
The Front Row Challenge, which will be sanctioned by the National Sprint League will again feature 410 sprint cars. "This is the 20th Anniversary of the Front Row Challenge and we wanted to do something special," says event promoter Terry McCarl. "This is such a special event, and we want to be one of the top ten paying 410 races in the country. Making this event $20,000 to win does that for us! Fans are going to see not only the best drivers of the National Sprint League, but some of the best drivers in the world in Oskaloosa going for a $20,000 paycheck and the championship belt!"
A number of incentives will insure that. The event will offer $1,000 bonuses for the best finishing driver from both California and Pennsylvania. Cars from both regions have traditionally been a big part of the Front Row Challenge. "Morrie Williams and the #0 team from California never missed a Front Row Challenge in which we ran 410's," says McCarl. "The drivers from central Pennsylvania have been great here. Daryn Pittman won in a car from Pennsylvania, and Lance Dewease won it twice. Jeff Shepard won the race twice as well."
The race is also known for its contingencies, awarded to all heat winners, B winner and various other promotions throughout the night. Also, 2015 will see the return of the Keith Hutton/TK Concrete "King of the Hill" Match Race. It will not only pay $1,000 to the winner, but determine the pole-sitter. The unique event matches the top eight qualifiers through the heats in one-on-one two-lap match races.
But the biggest change is the winner's share. The $20,000 check will go to the winner of the race, and will not be based on a challenge to come from the back as in year's past.
Tickets go on sale to advanced ticket holders for renewal on February 2. Remaining tickets will go on sale to the public on Monday, March 23. Fans will benefit from ordering their tickets in advance. Advance tickets are just $25, with tickets purchased the day of the race costing $30.
For more information on the Front Row Challenge, visit www.OskyChallenges.com!
NSL
Stay tuned for the latest news from the NSL at www.NationalSprintLeague.com, or on our Facebook or Twitter accounts!
For team membership information, you can e-mail Bill Wright at sprntcar@hotmail.com, or download the forms on our website!
Follow the NSL on…
Facebook: https://www.facebook.com/NSLSeries
Twitter: @NSLSeries
Website: www.NationalSprintLeague.com