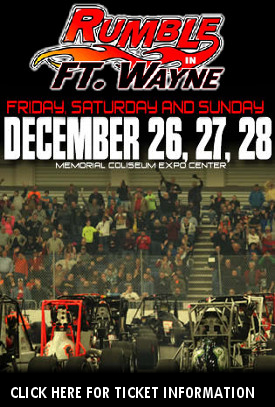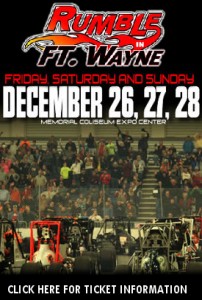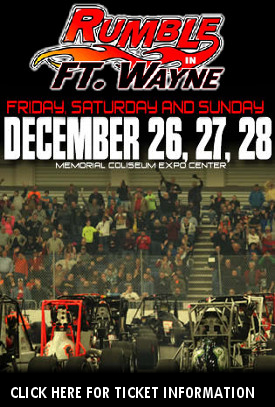 FORT WAYNE, Ind. – Veteran Russ Gamester and rising star Justin Peck, who drove into the record books a year ago, head the preliminary entry list announced Friday for the 17th annual "Rumble in Fort Wayne."
The defending winners are among nearly 40 national midget drivers entered for the expanded, three-day indoor racing classic at the Memorial Coliseum Expo Center. The event is Friday, Saturday and Sunday, Dec. 26-28, with a matinee the final day. Winged and non-winged outlaw midgets (600cc), karts and quarter midgets also are part of the program.
Gamester, who was less than two weeks shy of his 49th birthday, dominated on the opening night last year to become the Rumble's oldest midget feature winner. Then Peck, a 15-year-old high school freshman, stunned a near-capacity crowd a night later, taking advantage of Gamester's late-race blown engine to become the youngest winner.
But the stakes will be higher this year. For the first time, an overall champion driver and car owner will be crowned, with a $1,000 bonus on the line.
"That would be neat to do," said Gamester, from Peru, Ind., who 25 years ago won the final indoor title at the former Coliseum track. "I'm pretty close to the end of my career. Seems like we always run good indoors, knock on wood.
"But you know how indoors (racing) is. Any given night can be your night. Racing is racing. Anybody can get hot and win. There are an awful lot of good cars."
Peck, from Monrovia, Ind., echoed Gamester's words.
"I think anybody can win it," said Peck, pointing to his own debut at the 1/6-mile concrete track in 2012, when he finished second and third in the features. "I wouldn't single out anybody (as a clear favorite). It could be somebody in their first year.
"Bobby Santos is awfully good. Russ Gamester. Billy Wease. It might be somebody who people haven't really heard of, like (fellow teen) Austin Nemire. We have high hopes."
Wease, who owns four Fort Wayne victories, returns as part of owner Randy Burrow's four-car team. Jim Anderson, Derek Bischak, Rich Corson and Tony Stewart Racing's Mike Fedorcak also are back among former winners.
Their challengers include 2014 champions Brian Gerster (Must See Racing Xtreme Sprint Series), Chris Neuenschwander (USSA Sprint Car Challenge Series), Kyle O'Gara (USAC National Pavement midgets) and Nemire (USAC HPD Midwest Pavement Midwest Dirt midgets).
National midgets and non-winged dirt modified midgets will race all three days, joined by winged outlaw modified midgets on Saturday and Sunday. Karts (Friday and Saturday) and quarter midgets (Saturday and Sunday) round out the event. Gates open at 11 a.m. each day, with the main portion of the program at 7:30 p.m. on Friday and Saturday, and at 2 p.m. on Sunday.
Among the other 2013 feature winners who are returning in the same class are Erick Rudolph in winged outlaw midgets; Blane Culp in non-winged outlaw midgets; Brandon Dunn, A.J. Geren, Gene Gregoric III, Dustin Heath and Ryan Moran, all in karts; and Zeb Wise, Chase Burda and Koulten Herbert in quarter midgets.
In all, 232 entries were received by the pre-race deadline. Entries continue to be accepted, Rumble Series president Tony Barhorst said.
Longtime broadcaster Jack Arute will host special guests Saturday and Sunday in the Pressbox Suite Club. Purchase of a VIP package includes dinner with Hall of Fame driver Tom Bigelow on Saturday, lunch with IndyCar team owner Sarah Fisher on Sunday, pit access and pressbox-level seating. Top Rumble drivers will visit the suites on Friday. All will participate in question-and-answer sessions.
In addition, the Evans Toyota Fan Zone will feature race cars and other displays.
More information, including the event schedule, ticket prices, VIP suite seating and "racer's rate" hotels, is available at www.rumbleseries.com. Tickets will be available at the door each day, and fans may purchase pit passes at the event to see drivers up close as teams prepare their cars.