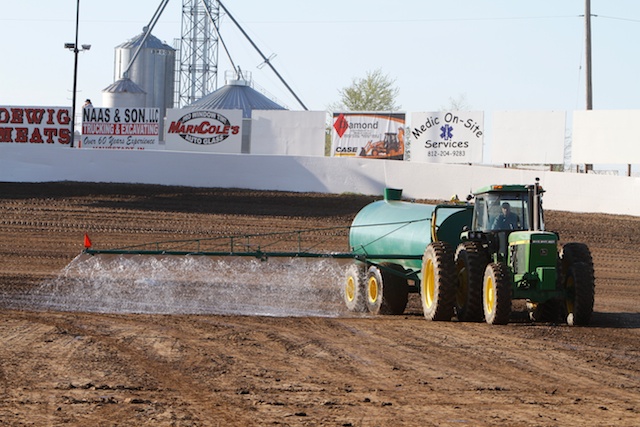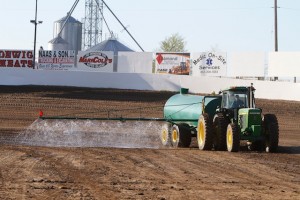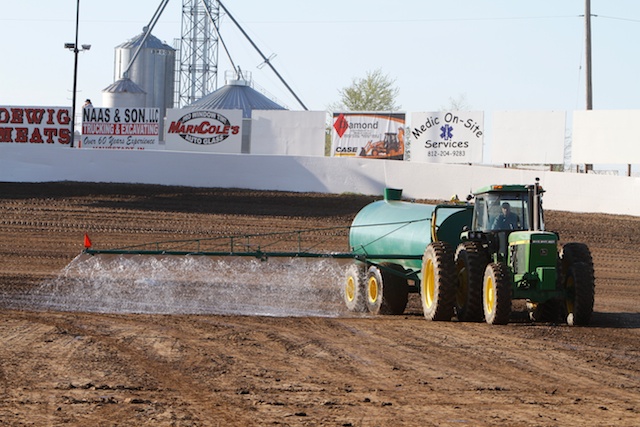 From Eldon Butcher
Haubstadt, IN – (December 29, 2014) – The 2015 schedule for racing at Tri-State Speedway includes 12 big dirt track events for race fans to attend and enjoy. Each of these races will offer the opportunity to see a competitive program including 2 or 3 classes of cars.
Sanctioning bodies and racing organizations bringing their unique brand of racing to the quarter mile facility include USAC, UMP Dirt Car, WoO, KISS, MMSA, MOWA, POWRi, and MSCS. During the season Tri-State Speedway will host both wing and non-wing sprints, super late models, midgets, mini-sprints, and include open wheel modifieds at eleven of these shows.
The season begins on Saturday April 18th with the Spring Showdown featuring both the USAC and MSCS Sprints in a co-sanctioned race along with the modifieds. The World of Outlaws race will be on May 3rd this season. That is a Sunday!
Sunday of Memorial Day Weekend will once again serve as the date for the King of Indiana Sprints Series race. June racing will include MSCS sprints and a special appearance for the MOWA Winged Sprints on June 27th. July will bring the Late Model Summernationals and USAC Indiana Sprint Week shows to Haubstadt.
Big shows during the second half of the season include the Hoosier Sprint Nationals, the Haubstadt Hustler, and the Harvest Cup. The POWRi Midgets will appear at the track twice. The first appearance will be on August 1st and that will be followed by another appearance on September 26th. The addition of the MMSA Mini Sprints to the Memorial Day and Labor Day weekend shows will make those two races triple headers.
The Summit Modifieds will be running for $1,500 to win at the Summer Showdown on June 6th. Four other modified feature races will pay
$1,000 to win the feature. They are scheduled for May 3rd, July 5th, July 18th, and October 10th. The season schedule holds the promise
of added excitement and lucrative purses throughout the year.
For Release: Provided as News and Information for Tri-State Speedway.
T R I – S T A T E S P E E D W A Y
Highway 41 at Haubstadt, IN
2015 SEASON SCHEDULE
APR 18 Sat Spring Showdown
……………………MSCS/USAC Sprints $5,000 To Win plus Modifieds
MAY 03 Sun WORLD OF OUTLAW SPRINTS
………………….. plus Modifieds $1,000 to win
MAY 24 Sun Memorial Weekend Classic
……………………MSCS/KISS Sprints $2,500 To Win plus Modifieds & MMSA Mini-Sprints
JUN 06 Sat Summer Showdown
……………………MSCS Sprints $2,000 To Win plus Summit Modifieds $1,500 To Win
JUN 27 Sat Southern Indiana Sprint Stampede
……………………MSCS Sprints $2,000 To Win plus MOWA Winged Sprints
JUL 05 Sun UMP Late Model Summernationals
…………………..Dirt Car Late Models $5,000 To Win plus Summit Modifieds $1,000
To Win
JUL 18 Sat Indiana Sprint Week
……………………USAC Sprints $5,000 To Win plus Modifieds $1,000 To Win
AUG 01 Sat Hoosier Sprint Nationals
……………………MSCS Sprints $5,000 To Win plus POWRi Midgets & Modifieds
SEP 06 Sun Labor Day Weekend Challenge
…………………..MSCS Sprints $3,000 To Win plus Modifieds & MMSA Mini-Sprints
SEP 19 Sat The Haubstadt Hustler
…………………. MSCS/USAC Sprints $10,000 To Win plus Modifieds
SEP 26 Sat Class Track Fall Roundup
……………………MSCS Sprints $2,000 To Win plus POWRi Midgets & Modifieds
OCT 10 Sat The Harvest Cup
……………………MSCS Sprints $3,000 To win plus Modifieds $1,000 To Win