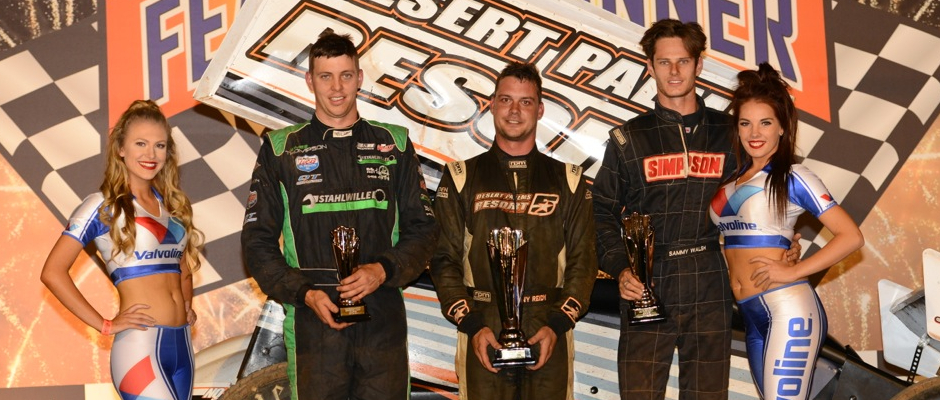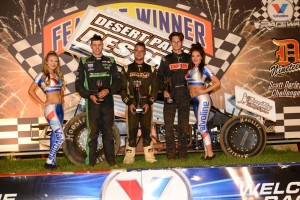 From Valvoline Raceway
Sydney, AU — (January 31, 2015) — Alice Springs born Queensland based Danny Reidy tonight claimed his career first Sydney Sprintcar main event success in front of a huge crowd at Valvoline Raceway.
Reidy sped his #5 Desert Palms Resort Maxim to victory in the 30 lap A-Main from his pole position starting point to lead home second placed Sam Walsh and James Thompson in third.
"It was a bit of a lonely race out there in front," grinned the charismatic racer, "but then Sammy gave me a bit of a scare in the last two laps and I had to be really careful not to give it all away. I didn't like having to run the bottom the whole race because I usually like to use all the track but I wasn't sure where else was the best place to be."
Reidy paid tribute to his crew and his proud Mom Angie.
"I gotta say thanks to the old girl," he smiled, "she's the reason that all this happens and she's supported from me right from the start. I owe a huge thanks to my crew chief Doug Rankin and also Adam Wray for giving me a great car tonight."
Sam Walsh lamented his second place finish.
"Looking back on it I probably should have gone to the top on Danny a bit earlier but the bottom line seemed to still be so good and I was tossing up whether it was too much of a gamble to try the highline. In the end when I realized that we were into the last two laps I had to give it a go. I probably should have done it earlier."
Considering he had motor issues earlier in the night James Thompson's third place finish was a satisfying result.
"We're pretty fortunate to be up here really," he explained, "it's good that we can grab some points towards our track championship lead and we can come back next week with that in mind."
Max Dumesny was racy towards the end to claim fourth place ahead of Trevor Green in fifth, Jackson Delamont sixth, Grant Anderson seventh, Max Johnston eighth, Warren Ferguson ninth and Kyle Caunt put in a very impressive drive to round out the top ten.
Ben Atkinson came from the B-Main (which he won) to finish eleventh ahead of Craig Brady (12th) Troy Little (13th) Marty Perovich (14th) Peter Gordon (15th) Grant Tunks (16th) Blake Skipper (17th) Kelly Linigen (18th) and Alex Orr rounding out the field in 19th.
DNF's were Jimmy Matchett (mechanical) Toby Bellbowen (crash damage) Glen Saville (mechanical) Steve Rowell (crash damage) and Matt Dumesny (rollover).
Earlier in the night Ben Atkinson claimed the Network Industry Quick Time award and heat race wins went to Jimmy Matchett, Sam Walsh, Danny Reidy and Peter Gordon.
Danny Reidy claimed the Pole Shootout.
Mick Saller won the C-Main from fellow transfer Matt Jackson whilst the B-Main victory went to Ben Atkinson over Warren Ferguson, Blake Skipper (in an inspired drive) and Steve Rowell also making the A-Main transfer.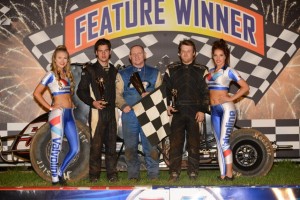 Popular Dubbo wingless sprint racer Mark Blyton scored the main event in his class with a polished drive in the 20-lap feature event to lead home Adam Hourigan in second place and Dean Thomas third.
Blyton, who lost his father only weeks ago, dedicated the win to his Dad's memory and admitted that it had been a tough month for the family.
Blyton's daughter Mikaela finished a strong fifth behind Jason Bates whilst Marshall Blyton looked to have an easy top ten finish going before he was involved in a four car crash in turn one.
Stephen Allen finished sixth ahead of Peter Granger seventh, Sean Dicker eighth, Brian Briton in ninth and Michael Sammut rounding out the top ten.
The next event on the schedule for Valvoline Raceway is next Saturday night, February 7, for the Sprintcar King of the Wings with Litre Sprints and AMCA Nationals also on the program.
Ends release…