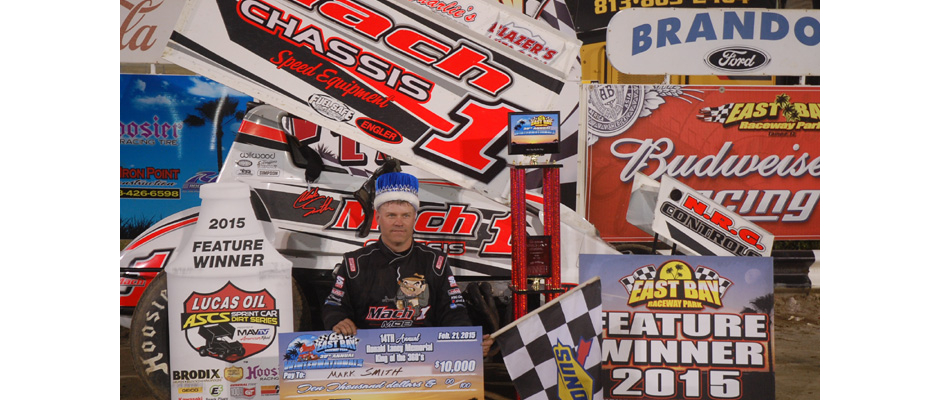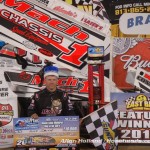 From Bryan Hulbert
Tampa, FL — (February 21, 2015) — Incredible doesn't being to describe the slide job festival that took place with the Lucas Oil American Sprint Car Series presented by MAVTV American Real in the 17th annual King of the 360's and 14th annual Ronald Laney Memorial as Pennsylvania's Mark Smith claimed the evening's $10,000 bounty in his second start.
"This is probably one of the biggest of my career. Next to winning an Outlaw show in the Prelim night at the National Open, this one ranks right up there," said Smith when asked what winning the Ronald Laney Memorial meant to him. "We ran third the first night, second the second night; we had to win. We couldn't go home fourth or fifth so this was it."
Asked about being challenged for the lead, Smith replied, "We kept having those short runs and I just need to get heat in my tire. I knew once I got my tires hot, it would lock down and I could go anywhere I wanted. I just needed to be patient and wait on my car and hopefully, it would go green long enough. When it did, it was all over from there."
With the lead exchanged over and over at both ends of the East Bay Raceway Park, Smith opened the 40 lap affair from the outside of the front row. Going slide for slide with Brad Loyet the first two laps, Smith slowly distanced himself from the Vacuworx No. 05.
Jumping to third from sixth on Lap 3, Aaron Reutzel began tracking down Loyet for the runner-up spot with both starting to run down Smith who wasted no time catching the tail of the field.
Slowed on Lap 10, the caution displayed again on Lap 12 and 13.
With slower cars out of the mix among the top-three, the restart on Lap 13 saw Smith and Loyet charge low, leaving the cushion wide open for Aaron Reutzel. Running the boards into the first turns, the B.C. Funds No. 87 came out leading into the third turn, only to have Smith pull the slide job exiting turn-four. Returning the favor in the next corner, Reutzel was hooked on the cushion.
Approaching the tail of the field on Lap 18, Reutzel's advantage began to wane. Stalking the No. 87, Smith closed the gap by Lap 20; taking the race lead three laps later.
While Smith set sail, the race for second took hold with Johnny Herrera coming from seventh. Exchanging sliders, Herrera's night nearly ended in the closing laps when the MVT No. 45x plowed through the cushion in turns three and four, riding the wall all the way to the front straight-a-way.
While Herrera was able to recover, the bobble was enough to allow Reutzel to get away for second.
"We were really good in the beginning," said Reutzel. "I was just biding my time and taking it easy, but that one restart when Covington slid me, I figured that was a good time to get going and when I needed to go, we were plenty fast. It was just, racing a car like his [Mark], they've been fast all week, and it was a matter of who got through traffic better and they did their job."
Running with a full head of steam from seventh, Herrera was asked if he felt like he had a shot at the win.
"I really felt like I did. We started seventh and I lost some spots on the start. My fault, I just didn't get a good start but we rallied back and made a good run and got rolling really good until I tried to knock the wall down," chuckled Herrera. "We had a great car, finished third and I'm looking forward to more of these."
Brad Loyet would end up fourth after leading the opening lap with Terry McCarl grabbing fifth in his 15th King of the 360's feature start.
Jason Sides climbed from ninth to sixth with Tony Bruce, Jr. seventh. Greg Hodnett slipped from fifth to eighth with Jeff Swindell and Chad Kemenah completing the top-ten.
Running through six Qualifiers, wins went to Johnny Herrera, Jason Sides, Matt Kurtz, Chad Kemenah, Greg Wilson, and Tony Bruce, Jr. A pair of C-Features went to Hud Horton and Brad Greer. B-Features were topped by A.J. Maddox and Wayne Johnson.
The Lucas Oil American Sprint Car Series presented by MAVTV American Real races next at Bubba Raceway Park on Ocala, Fla. On Friday, February 27 and Saturday, February 28. Live PPV of the double header can be found at http://www.racinboys.com.
For continued updates on the American Sprint Car Series, log onto http://www.ascsracing.com .
Race Results:
Lucas Oil ASCS presented by MAVTV American Real
East Bay Raceway Park – Tampa, Fla.
14th annual Ronald Laney Memorial
Saturday, February 21, 2015
Event Car Count: 67
Qualifiers: (10 Laps, taking winners to the A-Feature., 2nd -5th to B's, Remainder to C's.)
Qualifier 1 (10 Laps): 1. 45X-Johnny Herrera[1]; 2. 66-Danny Smith[2]; 3. 95-Matt Covington[3]; 4. 24X-Danny Martin Jr.[5]; 5. 9P-Parker Price-Miller[6]; 6. M16-Justin Hoffman[8]; 7. 28H-James (Hud) Horton[7]; 8. 17-Lane Whittington[4]; 9. 10J-C.J. Jones[10]; 10. 92W-Jordan Weaver[9]
Qualifier 2 (10 Laps): 1. 7S-Jason Sides[2]; 2. 77X-Wayne Johnson[1]; 3. 33M-Randy Hannagan[4]; 4. 20K-Thomas Kennedy[3]; 5. 40-Caleb Helms[7]; 6. 3B-Brad Greer[5]; 7. 3H-Brandon Hanks[9]; 8. 90-Matt Tanner[10]; 9. 67-Chris Durand[8]; DNS 49X-Cole Duncan
Qualifier 3 (10 Laps): 1. 92K-Matt Kurtz[2]; 2. 15H-Sam Hafertepe Jr[1]; 3. 6S-Robbie Smith[4]; 4. 64-Scotty Thiel[6]; 5. 59-Danny Holtgraver[3]; 6. 81W-Danny Wood[5]; 7. 0-Glenn Styres[7]; 8. 4X-Shawn Petersen[9]; 9. 15-Johnny Gilbertson[10]; 10. (DNF) 61-Parker Evans[8]
Qualifier 4 (10 Laps): 1. 10H-Chad Kemenah[2]; 2. 23-Seth Bergman[1]; 3. 17B-Josh Baughman[4]; 4. 14K-Kyle Bellm[3]; 5. 29-Travis Rilat[8]; 6. 9JR-Derek Hagar[5]; 7. 10M-Morgan Turpen[6]; 8. 10B-Mitch Brown[7]; 9. 83-Mark Ruel Jr[9]; 10. 10P-Jim Perricone[10]
Qualifier 5 (10 Laps): 1. W20-Greg Wilson[3]; 2. 3A-A.J. Maddox[1]; 3. 45-Tim Shaffer[2]; 4. 52-Blake Hahn[4]; 5. 49-Shawn Dancer[5]; 6. 5X-Tyson Hall[7]; 7. 8J-Jess Stiger[6]; 8. 14H-Chris Hoyt[10]; 9. 09-Timmy Thrash[9]; DNS 50-Joe Zuczek
10-Chris Hoyt-14H
Qualifier 6 (10 Laps): 1. 18-Tony Bruce Jr[1]; 2. 21K-Lou Kennedy Jr.[2]; 3. 10-Terry Gray[4]; 4. 6-Danny Lasoski[3]; 5. 4M-Michael Miller[5]; 6. 16-Ryan Ruhl[7]; 7. 7K-Kyle Pitts[6]; 8. 33-Kris Miller[8]; 9. 1-Freddie McCall[9]; DNS 38-Tony Agin
C-Features (12 Laps, top 6 advance to the A-Feature.)
C Feature 1 (12 Laps): 1. 28H-James (Hud) Horton[4]; 2. M16-Justin Hoffman[1]; 3. 92W-Jordan Weaver[13]; 4. 5X-Tyson Hall[3]; 5. 4X-Shawn Petersen[8]; 6. 0-Glenn Styres[5]; 7. 8J-Jess Stiger[6]; 8. 10J-C.J. Jones[10]; 9. 09-Timmy Thrash[12]; 10. 14H-Chris Hoyt[9]; 11. (DNF) 17-Lane Whittington[7]; 12. (DNF) 15-Johnny Gilbertson[11]
C Feature 2 (12 Laps): 1. 3B-Brad Greer[1]; 2. 9JR-Derek Hagar[2]; 3. 16-Ryan Ruhl[3]; 4. 7K-Kyle Pitts[6]; 5. 10B-Mitch Brown[8]; 6. 33-Kris Miller[9]; 7. 3H-Brandon Hanks[4]; 8. 90-Matt Tanner[7]; 9. 10M-Morgan Turpen[5]; 10. 1-Freddie McCall[12]; 11. 10P-Jim Perricone[13]; DNS 67-Chris Durand; DNS 83-Mark Ruel Jr
B-Features (15 Laps, top 5 advance to the A-Feature.)
B Feature 1 (15 Laps): 1. 3A-A.J. Maddox[3]; 2. 15H-Sam Hafertepe Jr[2]; 3. 66-Danny Smith[1]; 4. 24X-Danny Martin Jr.[7]; 5. 95-Matt Covington[4]; 6. 9P-Parker Price-Miller[10]; 7. 64-Scotty Thiel[8]; 8. 52-Blake Hahn[9]; 9. 59-Danny Holtgraver[11]; 10. 49-Shawn Dancer[12]; 11. 92W-Jordan Weaver[15]; 12. 0-Glenn Styres[18]; 13. 4X-Shawn Petersen[17]; 14. M16-Justin Hoffman[14]; 15. 28H-James (Hud) Horton[13]; 16. (DNF) 45-Tim Shaffer[6]; 17. (DNF) 5X-Tyson Hall[16]; 18. (DNF) 6S-Robbie Smith[5]
B Feature 2 (15 Laps): 1. 77X-Wayne Johnson[1]; 2. 23-Seth Bergman[2]; 3. 33M-Randy Hannagan[4]; 4. 20K-Thomas Kennedy[7]; 5. 17B-Josh Baughman[5]; 6. 21K-Lou Kennedy Jr.[3]; 7. 29-Travis Rilat[11]; 8. 6-Danny Lasoski[9]; 9. 14K-Kyle Bellm[8]; 10. 40-Caleb Helms[10]; 11. 4M-Michael Miller[12]; 12. 7K-Kyle Pitts[16]; 13. 9JR-Derek Hagar[14]; 14. 10B-Mitch Brown[17]; 15. (DNF) 3B-Brad Greer[13]; 16. (DNF) 10-Terry Gray[6]; 17. (DNF) 33-Kris Miller[18]; 18. (DNF) 16-Ryan Ruhl[15]
A-Feature (40 Laps)
A Feature (40 Laps): 1. M1-Mark Smith[2]; 2. 87-Aaron Reutzel[6]; 3. 45X-Johnny Herrera[7]; 4. 05-Brad Loyet[1]; 5. 24-Terry McCarl[4]; 6. 7S-Jason Sides[9]; 7. 18-Tony Bruce Jr[8]; 8. 27-Greg Hodnett[5]; 9. 94-Jeff Swindell[3]; 10. 10H-Chad Kemenah[11]; 11. 24X-Danny Martin Jr.[19]; 12. 33M-Randy Hannagan[18]; 13. 23-Seth Bergman[16]; 14. W20-Greg Wilson[12]; 15. 66-Danny Smith[17]; 16. 3A-A.J. Maddox[13]; 17. 17B-Josh Baughman[22]; 18. 95-Matt Covington[21]; 19. 52-Blake Hahn[23]; 20. (DNF) 92K-Matt Kurtz[10]; 21. (DNF) 15H-Sam Hafertepe Jr[15]; 22. (DNF) 20K-Thomas Kennedy[20]; 23. (DNF) 77X-Wayne Johnson[14]
Lap Leader(s): Brad Loyet 1; Aaron Reutzel 14-22; Mark Smith 2-13, 23-40;
Hard Charger: Danny Martin, Jr. +8
Provisional(s): Blake Hahn (P1)