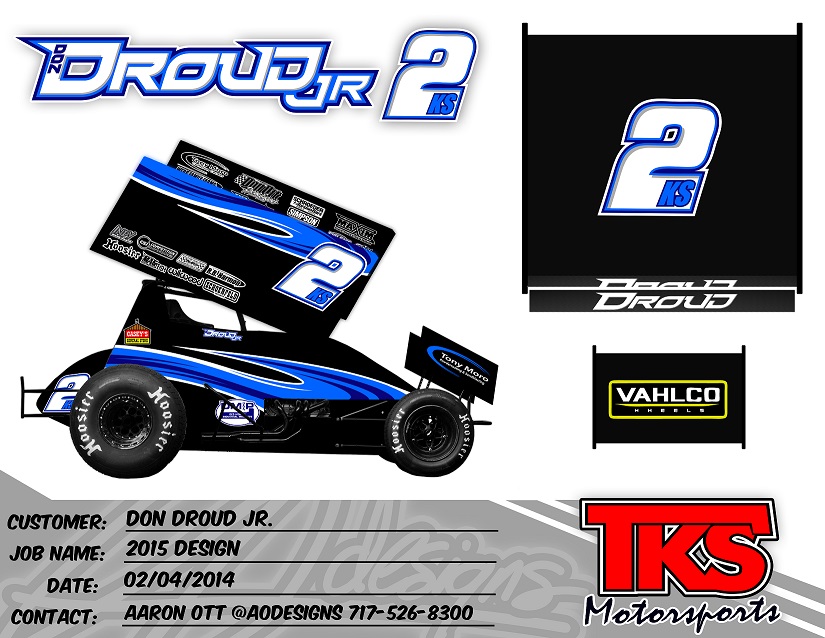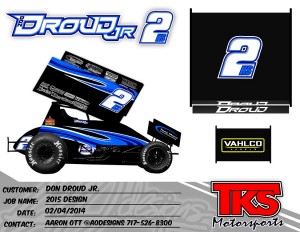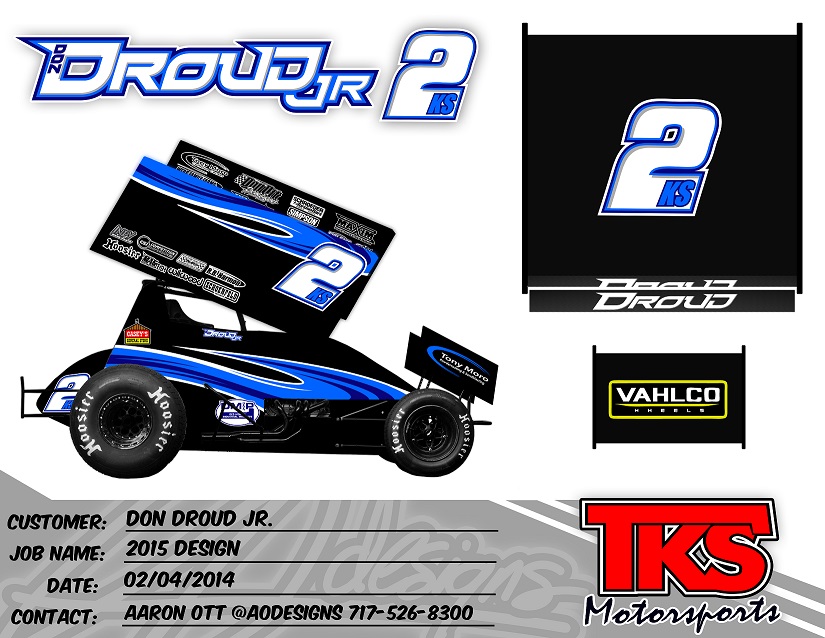 From Bill W
March 5, 2015 – Most of Troy Renfro's life has centered on sprint car racing as a mechanic. From his roots in Maryland and central Pennsylvania, he has traveled up and down the road with the World of Outlaws, just about every other sprint car sanction, and has been involved on the local scene as well. With the creation of TKS Motorsports, he is now a car owner!
Veteran Don Droud Jr. will be the driver of the TKS Motorsports #2KS. The team will compete weekly at the Knoxville Raceway.
TKS Motorsports is a family operation. "The 'T' is my wife Tammy, and the 'K' and 'S' are for my daughters Katelyn and Sydney," says Troy. "This sport is much more about family for me now than it used to be when I was on the road all the time. Last year, I was very happy helping out on Matt Moro's deal, and I'll be helping him during the week again. The last few years prior, I just wasn't as happy with things."
The seed for starting a team of his own hit Troy in 2014. "My in-laws, Rick and Belinda Lander of Des Moines Industrial Products have sponsored cars for years," he says. "They are great people. Last June, I decided I wanted to do this with the help of Rick, who thought the same thing. That's when the wheels started turning. I couldn't have done it without my in-law's support. I wanted to do a team my way, and this gives me the opportunity to do that."
Troy had a number of people lending a helping hand in forming his new team. "I want to thank Don Lamberti, who's been a big supporter of sprint car racing in general," he says. "He helped me with the purchase of a motor. R.B. Harmon is on board. Tony Moro has been a tremendous help in getting this team going as well. Bob Myers and the people at Casey's General Stores have been behind us all the way, as well as Vahlco Wheels and Bernie Stuebgen from Indy Race Parts."
Droud is looking forward to 2015 as well. "Getting to drive for TKS Motorsports is really exciting," he says. "I know with Troy that things with the car are going to be taken care of, and I've been lucky throughout my career to have had that with the majority of teams I've driven for. It's important. It will be great to represent this new team, and I look forward to getting back and racing at Knoxville every Saturday night. There's no better place to be on Saturday night than Knoxville!"
Though the team has been formed with a good foundation on which to start with, TKS Motorsports is also open to new perspective partners.
TKS Motorsports would like to thank Casey's General Stores, DMIP, R.B. Harmon, Larry Woodward Racing, Indy Race Parts, Maxim, Vahlco Wheels, Don Ott Racing Engines, AO Designs, Hoosier, KSE Racing Products, Schoenfeld Headers, Mag Tech Ignition, Fuel Safe, SWE (Steve Watts Engineering), Brown & Miller Racing Solutions, Wilwood, Winters Performance Products, Schroeder Torsion Bars, Competition Suspension Inc., Simpson Race Products, Vortex, Webb Family Farms and HRP.