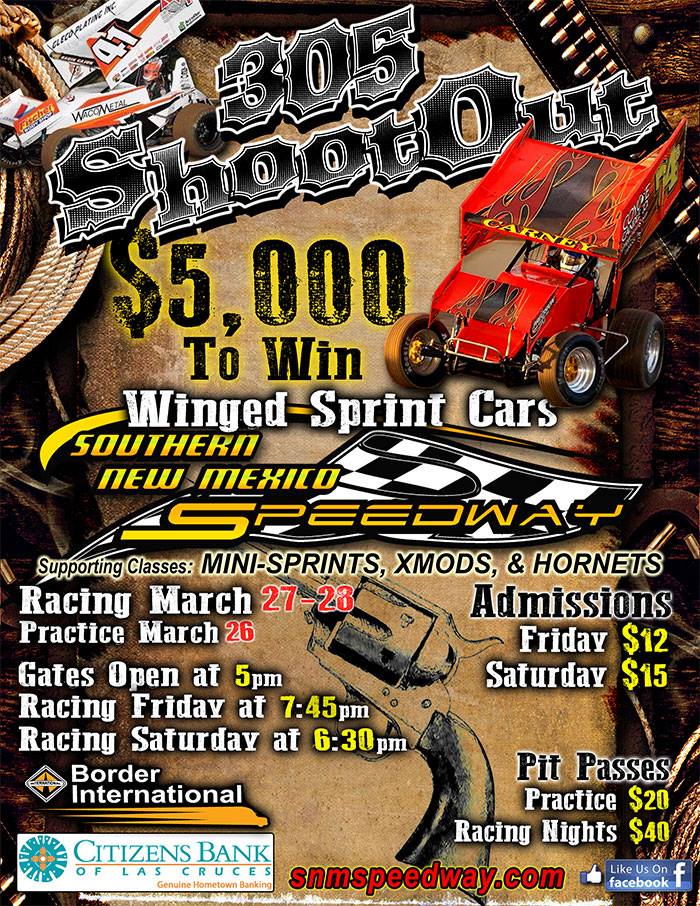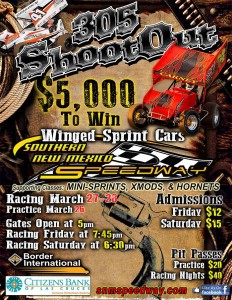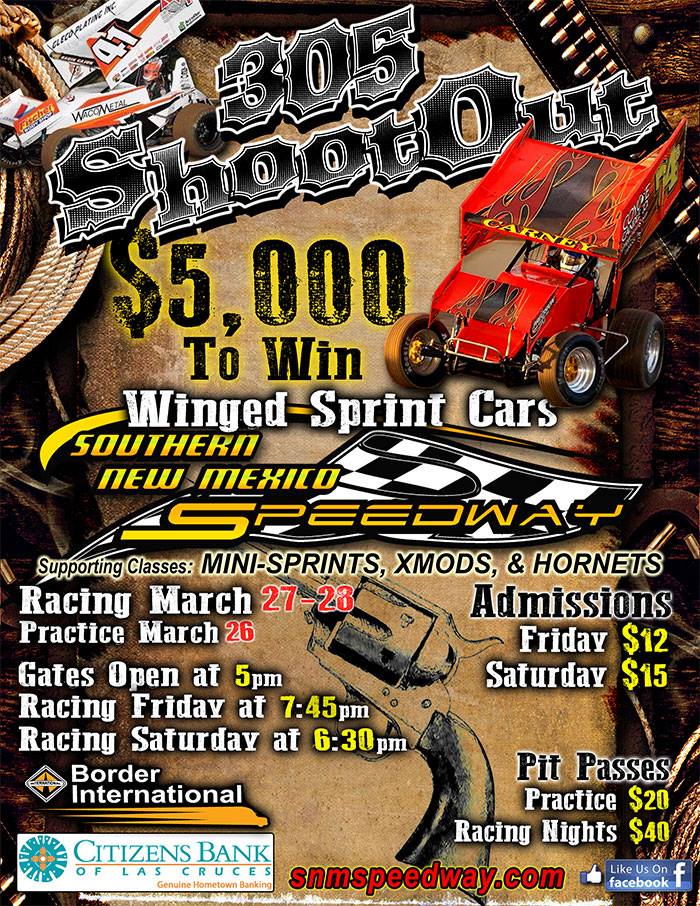 From Lonnie Wheatley,
Las Cruces, NM — (March 16, 2015) — Sprint Cars take to the Southern New Mexico Speedway clay oval for the first time in 2015 in the most intense fashion with a $5,000 winner's share up for grabs at next weekend's Sixth Annual Border International Trucks 305 Shootout.
Following a Thursday night practice session, two full nights of 305 Sprint Car action will follow on Friday and Saturday, March 27-28, atop the freshly manicured 5/16-mile Southern New Mexico Speedway clay oval that features additional clay and added banking over the off-season to further enhance all the racing action.
While the Saturday night, March 28, 305 Shootout finale offers up $5,000 to the winner, the lucrative event pays $500 to start.
Saturday's 305 Shootout finale will be preceded by a full card of racing action on Friday night with the top four finishers locked into Saturday's 305 Shootout championship feature.
John Carney II, the father-son duo of Lorne and Wes Wofford and Royal Jones are among a host of 305 Sprint Car aces expected to battle it out for top 305 Shootout honors.
Carney II has taken 305 Shootout honors twice before, including the inaugural version in 2010 and then again in 2012. Wes Wofford won the 2011 version with Lorne Wofford victorious in 2013 before Brady Bacon bested the field in 2014.
After Thursday's practice session from 6:00 p.m. until 10:00 p.m., Friday's racing action gets under way at 7:45 p.m. with Saturday's green flag flying at 6:30 p.m. Mini Sprints, X Mods and Hornets will be in action over both nights as well.
Detailed 305 Shootout entry and payout information is available at http://snmspeedway.com/clientfiles/images/files/305-Sprints-Registration.jpg.
Southern New Mexico Speedway is located west of Las Cruces off I-10 Exit 132, then south to Frontage Road and then 3.1 miles west on Robert Larson Boulevard. For more information, contact the track at 575-524-7913 or check online at http://snmspeedway.com/.