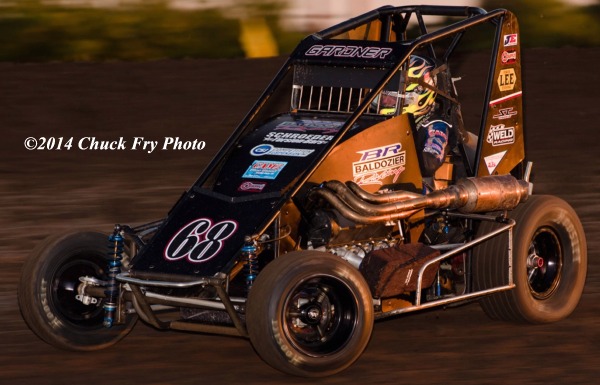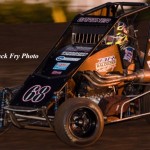 From Lance Jennings
Phoenix, AZ — (March 17, 2015) — This Saturday, March 21st, the Honda USAC Western Midgets will open their 33rd season at Bakersfield Speedway in Bakersfield, California. Promoted by Scott Schweitzer, the action packed card will also feature SportMods, American Stocks, California Lightning Sprints, RaceSaver Sprints, and Ignite Midgets. The Pit Gates will open at 2:00pm, the Front Gates will open at 4:00pm, with Racing scheduled for 6:00pm at "The West's Fastest 1/3-Mile High Banked Clay Oval." For event information, visit the track's website at www.bakersfieldspeedway.com or call 661.393.3373.
Saturday's event will mark the 101st appearance of the USAC Western Midgets at the Bakersfield clay oval. P.J. Jones claimed the inaugural victory on July 3, 1987 and Trey Marcham has won the last two shows. Former champions Sleepy Tripp and Robby Flock are tied for the series lead with eight main event wins at Bakersfield, followed by Billy Boat (7), Jay Drake (5), and "Flash" Jordan Hermansader (4). On June 21, 1997, Ricky Shelton set the 1-lap qualifying track record of 12.339 on his way to the series championship.
Ronnie Gardner of Norco, California earned his second overall and dirt USAC Western Midget Championships in 2014. Piloting the Six8 Motorsports' #68 Baldozier Racing / Esslinger Engineering Stewart, Gardner had two feature wins, four fast time awards, four heat race victories, thirteen top-10 finishes, and 83 feature laps led on the season. This Saturday night, Ronnie will be looking to begin his championship bid with his twelfth career USAC Western Midget victory.
Oklahoma City, Oklahoma's Trey Marcham finished second in the dirt and combined dirt/pavement standings. Racing Keith Ford's #73 Berry Pack / King Racing Products TCR, Marcham closed out 2014 with three feature wins, two fast time awards, two heat race victories, nine top-10 finishes, and 77 feature laps led to his credit. After a successful sophomore season, Trey will have his sights on his earning his fourth career series win this Saturday night.
Jarid Blondel of Orange, California earned Rookie of the Year honors after ranking third in the dirt overall series points. Driving his #98 G&J Aircraft / Repair Service Edmunds, Blondel had one hard charger award and eight top-10 finishes to his credit. Jarid will be looking to move up the ranks with his first series win at Bakersfield Speedway.
Redding, California's Alex Schutte placed fourth in the dirt and overall point standings. Piloting the Schutte/McElwee #28 Proficio / Aircraft Electrical Components Spike, Alex recorded two heat race victories and six top-10 finishes in 2014. This Saturday, the 2010 Champion will have his sights on his third career USAC Western Midget triumph.
Chad Nichols of Colma, California scored fifth in the overall points, placed nineteenth in the dirt series, and won his third straight pavement championship. Racing his #17 Spike Chassis / Finishline Construction Spike on dirt, Nichols earned one feature win, three fast time awards, one heat race victory, five top-10 finishes, and 61 feature laps led in 2014. With seven career USAC Western Midget wins on pavement, Nichols will be looking to win his first dirt victory at Bakersfield Speedway.
Among the other drivers expected to be in action are Shannon McQueen, Scott Pierovich, Nick Chivello, Sean Dodenhoff, "The Wild Child" Chris Ennis, Johnathon Henry, Tyler Dolacki, Ricky Shelton, Barry Pries Jr., Terry Nichols, Brian Gard, Randi Pankratz, Danny Ebberts, and more.
Bakersfield Speedway is located at 5001 North Chester Extension in Bakersfield, California. Advance tickets are on sale and for more event/ticket information, visit the track's website at www.bakersfieldspeedway.com or call 661.393.3373.
The Honda USAC Western Midget Series thanks Hoosier Tire, Competition Suspension Inc., DJ Safety, Extreme Mufflers, Keizer Wheels, Pyrotect Racing Cells, Rod End Supply, Saldana Racing Products, Ultra Shield Race Products, and Woodland Auto Display for their support. If you or your company would like to become part of the series, email PR Director Lance Jennings at lwjennings@earthlink.net.
For more information on the Honda USAC Western Midget Series, visit www.usacracing.com or follow the series on Facebook (www.facebook.com/usacwsmidgets), or Twitter (www.twitter.com/USAC_WSMIDGET).