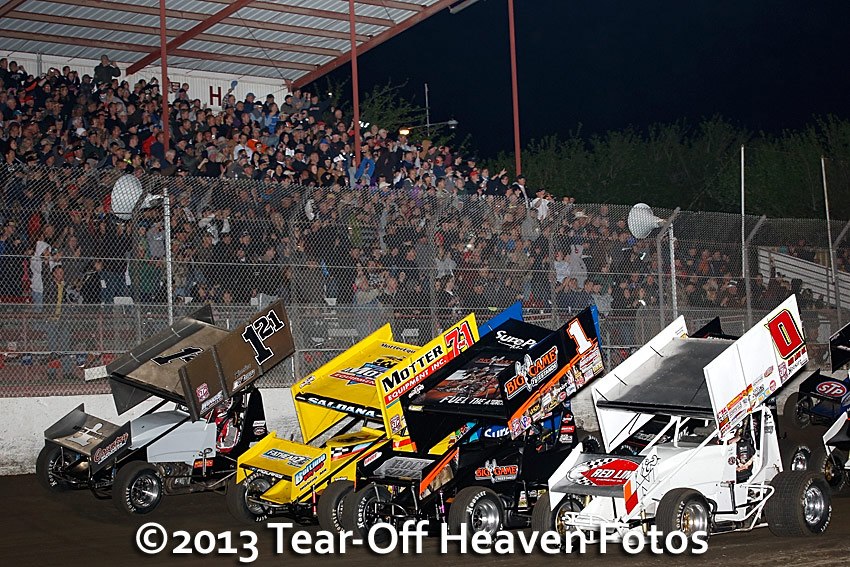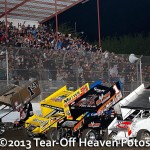 From Gary Thomas
Antioch, CA — (March 24, 2015) — With it already being an immensely entertaining start to the season the World of Outlaws Sprint Car Series rolls into Antioch Speedway this Sunday evening March 29 for the sixth ever appearance at the always action packed bullring.
Tickets for the Sunday March 29 event are on sale and can be acquired by visiting http://dirtcar.ticketforce.com/ordertickets.asp?p=570&backurl=default.asp or by contacting 1-877-395-8606. General admission tickets cost $39, while reserved grandstand seats cost $45. Children 12 & under are $15 in general admission.
Will Call and the ticket sales window will open at noon on Sunday at the track, the front gate will open at 4pm, with qualifying scheduled for 6pm & racing at 7pm.
Last year's event produced the closest finish in World of Outlaws Sprint Car Series history when Kerry Madsen edged out two-time King of the West Series champion Kyle Hirst by just .005 seconds. "I felt like I was doing it comfortably and managing traffic pretty well, but I just got bottled up there and he got a run," Madsen said. "I was pretty lucky to get away with that one. You definitely had to maneuver through traffic well, because cars were everywhere during the main event."
Bixby, Oklahoma's Shane Stewart currently leads the World of Outlaws standings by 18-markers over six-time & defending series champion Donny Schatz of Fargo, North Dakota. The pair was involved in one of the most exciting late race duels in recent memory last week in Stockton. Schatz came out on top by inches to become the first repeat winner at the time. Stewart is in his first full season with the Greatest Show on Dirt while driving the Larson/Marks Racing No. 2 and captured victory a few weeks back in Las Vegas.
Completing the top-10 in World of Outlaws points going into this weekend are California natives Paul McMahan & Brad Sweet, Indian's Joey Saldana, Oklahoma's Daryn Pittman, Australian Kerry Madsen, Connecticut's David Gravel, Tennesee's Jason Sides & Iowa's Terry McCarl.
Of all the tracks that the World of Outlaws compete at in the Golden State, Northern California drivers have seemed to make the most noise at Antioch Speedway. With that in mind California natives have captured three of the first four events held by the series during their Spring Break Tour in the state. Rutherford's Rico Abreu has won main events each of the last two weeks and will be looking for another score this Sunday night. The 23-year-old has had a tremendous start to the year, which was kicked off by winning the Chili Bowl Nationals in Oklahoma.
Multiple-time Antioch winner Tim Kaeding of San Jose scored a thrilling win at Tulare a couple weeks ago and will bring Dennis & Theresa Roth's No. 83jr into the Contra Costa County Fairgrounds venue on Sunday. The two-time King of the West Series champion earned a final lap victory with the World of Outlaws at Antioch in 2012 and is a four-time winner at the track with KWS. Kaeding was also the hard charger in last week's Stockton finale.
The Antioch Speedway is located on the Contra Costa County Fairgrounds at the corner of 10th and L Streets in Antioch, California. Take SR-4 East (Highway 4) to the Somersville Road North Exit. Follow Somersville Road to 10th Street. Turn Right on 10th Street. The address for the track is 1201 W. 10th Street Antioch, CA 94509. The track is located just a little over an hour from the capital city of Sacramento.
Tickets are also on sale for the huge Calistoga Speedway weekend that Motorsports Ventures & the World of Outlaws are going to present on Saturday & Sunday April 11 & 12. The King of the West 410 Sprint Car Series will also co-sanction each night with the Greatest Show on Dirt. In addition to that the Civil War Sprint Car Series presented by Flowmaster will be on hand Saturday, while the Joe Hunt Magnetos Wingless Sprints share the stage with WOO & KWS on Sunday. To reserve your seat log onto http://dirtcar.ticketforce.com/ordertickets.asp?p=570&backurl=default.asp
Information about the World of Outlaws Sprint Car Series can be found online at www.woosprint.com
Past World of Outlaws Sprint Car Series winners at Antioch Speedway
2014- Kerry Madsen
2013- Kyle Larson and Shane Golobic
2012- Tim Kaeding
2011- Steve Kinser
Past winners of KWS Winged 410 events at track since 2003
2013- Willie Croft and Jonathan Allard
2012- Tim Kaeding, Kyle Hirst & Craig Stidham
2011- Jonathan Allard and Tim Kaeding
2010- Jonathan Allard and Kyle Larson
2009- Tyler Walker and Brent Kaeding
2008- Tyler Walker and Tim Kaeding
2007- Brent Kaeding and Tim Kaeding
2006- Dennis Moore Jr.
2005- Lawrence Edlund and Robert Ballou
2004- Brent Kaeding and Brent Kaeding
2003- Jason Statler