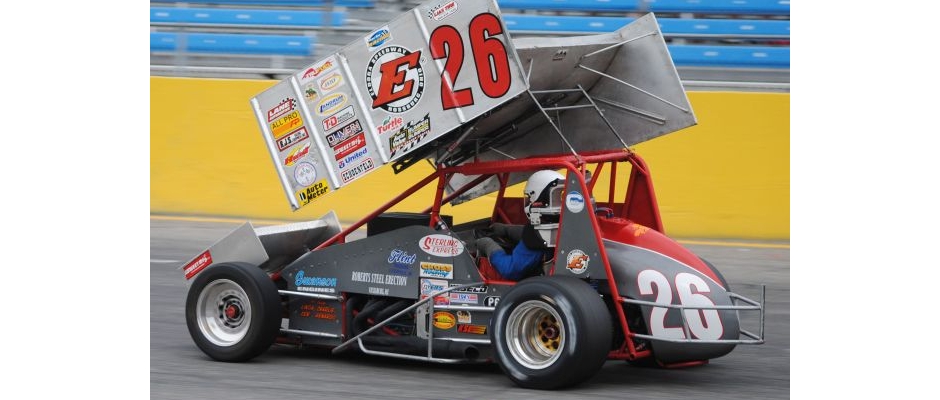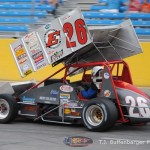 Hickory, NC — (April 4, 2015) — Bangor, MI driver Jeff Bloom captured the "Southern Showdown" at Hickory Motor Speedway Saturday night. The veteran driver and 2013 National Sprint Car Hall of Fame inductee picked up his first career Must See Racing series win. Bloom originally finished second but was awarded the win after original winner Aaron Pierce was moved to fifth place for a post-race rules violation.
Bloom started on the outside front row and was never seriously challenged throughout the event. The win ended a winless streak that dates back to nearly three years. Bloom's night got off to a rocky start when an oil line came loose in hot laps, resulting in the track being oiled down, despite no damage to the car. "It feels good I'll tell you that" explained Bloom after the win. "It's been a long time since I've run a race this long, and I didn't know if I'd get tired. It's a brand new car of my design and I really didn't get a lot of laps in the car this weekend. I knew it wasn't me. I was struggling with my old car and I told my wife (Linda) it was time for a new car. It was a good weekend and I only bought one tire this weekend. It does feel good to start the season off with a win" concluded Bloom.
Johnny Bridges of nearby Cherryville, NC led a strong contingent of 360 c.i. drivers who participated in the event against the 410 c.i. cars of Must See Racing. Several monetary bonuses and a 100 lb. weight break were implemented to entice participation in the event for the 360's. Bridges finished second in the 40-lap feature event while putting on a thrilling display of driving; entertaining fans with his dirt tracking style of driving. Johnny Petrozelle III finished third, ensuring that two out of the top three finishers were 360's.
The event was taped for telecast on MAVTV at a date and time to be announced at a later date. Both nights of the two-night "Southern Showdown" will be shown to a national television audience on the "Dirty 30" program.
The series will be idle until its next event May 2 at Berlin Raceway in Marne, MI. For more info on Must See Racing including MAVTV air date and times log onto www.mustseeracing.com.
Matt Lundstrom won the USAC HPD Eastern Midget Car Series feature.
SOUTHERN SHOWDOWN 40-LAP FEATURE RESULTS
1.) Jeff Bloom 26b – 2.) Johnny Bridges 07b – 3.) Johnny Petrozelle 59 – 4.) Cody Gallogly 27 – 5.) Aaron Pierce 26p – 6.) Jacob Wilson 07w – 7.) Greg Smyre 21k – 8.) Anthony McCune 44 – 9.) Derek Bischak 35 – 10.) Jimmy McCune 88
USAC HPD EASTERN MIDGET RACE RESULTS: April 4, 2015 – Hickory, North Carolina – Hickory Motor Speedway
QUALIFYING: 1. Scott Hunter, 14, Brown/Noffsinger-15.264; 2. Chris Lamb,9, Lamb-15.311; 3. Calvin Carroll, 24, Carroll-15.322; 4. Jessica Bean, 6, Radical-15.406; 5. Mike Ward, 80, Ward-15.473; 6. Sam Hatfield, 8, Hatfield-15.520; 7. Matt Lundstrom, 2, Lundstrom-15.550; 8. Steven Hutchinson, 7, Lamb-15.640; 9. Andrew Layser, 35. Layser-15.656; 10. Jake Nelke, 00, Nelke-15.679; 11. Kyle Craker, 12c, Craker-15.710; 12. Nikki Carroll, 5, Carroll-15.722; 13. Nolan Allison, 16, Allison-15.764; 14. Carson Hocevar, 41, Hocevar-NT.
FEATURE: (35 laps) 1. Matt Lundstrom, 2. Scott Hunter, 3. Chris Lamb, 4. Mike Ward, 5. Jessica Bean, 6. Calvin Carroll, 7. Nikki Carroll, 8. Steven Hutchison, 9. Sam Hatfield, 10. Andrew Layser, 11. Jake Nelke, 12. Kyle Craker, 13. Nolan Allison. NT
——————————
FEATURE LAP LEADERS: Laps 1-35 Lundstrom.
NEW USAC HPD EASTERN MIDGET POINTS: 1-Lamb-173, 2-Bean-158, 3-Hunter-151, 4-C.Carroll-135, 5-Nelke-130, 6-Lundstrom-123, 7-N.Carroll-121, 8-Craker-121, 9-Layser-112, 10-Hatfield-104.
NEXT USAC HPD EASTERN MIDGET RACE: May 1 – Altamahaw, NC – Ace Speedway