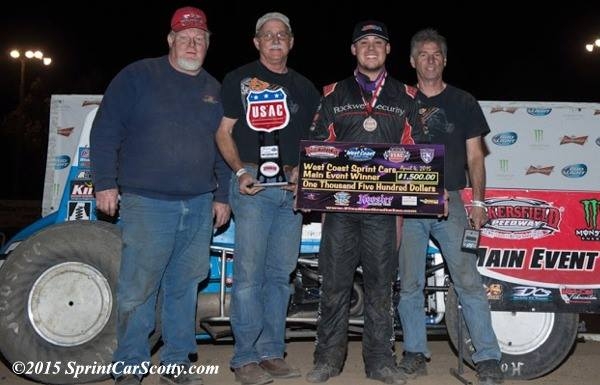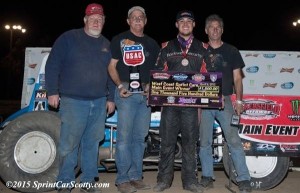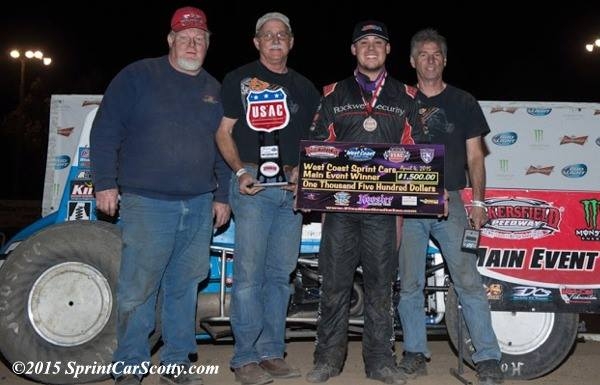 From Peterson Media
Making 10 starts so far in 2015, Ryan Bernal has won half of them, as the Hollister, CA driver picked up his fifth win of the season on Saturday night in Bakersfield, CA.
"It was a great weekend for this team," Bernal said. "We had a good night going in the winged car on Friday night, and we were able to grab another win on Saturday night in the non-winged car."
Hitting the Bakersfield Speedway on Saturday night, Ryan Bernal opened his night up by timing his Mike Phulps Motorsports owned No. 56 machine in fourth fastest, before racing his way to second in his heat race.
Lining up fourth in the feature event, Bernal made some quick moves to jump into the second spot as he chased after early leader, Danny Faria, Jr. On the sixth lap, Bernal was able to pounce on Faria, as he rocketed his Tri-L Mandarin/King Racing Products/Alan Kaiser Construction entry into the lead, and never looked back, as he picked up his third consecutive win with the USAC West Coast 360 Series.
With a firm grip on non-winged racing, Bernal will also spend some time with a wing in 2015, and made a stop in at the Ocean Speedway in Watsonville, CA on Friday night.
Taking on the Ocean Sprints presented by Taco Bravo, Bernal got his night off to a very nice start as he timed in fourth fastest before moving from the second row to win his heat race.
Earning a spot in the redraw, Bernal would find himself with the seven-pill, putting him in the fourth row for the feature event. On a very racy track, Bernal continued a very strong showing at the Ocean Speedway, as he continued to moved forward in the feature event, as he quickly cracked the Top-Five.
Getting into the fourth spot, Bernal began challenging for the third position, but his machine started suffering mechanical issues under the hood, and his night came to an early end.
"To run both cars over the weekend, and have really good speed in both cars is a huge testament to this team, and I have to thank all of them for their hard work," he added.
Bernal and the Mike Phulps Motorsports team would like to thank Keizer Wheels, DMI, S&S Automotive, King Racing Products, Metal Works, Hoosier Racing Tires, Core Power, ART Chassis, Tri-L Mandarin Ranch, Tel-Tac, Willwood, Joe Hunt Magnetos, Permatex, Alan Kaiser Construction, Outlaw Graphics, BR Motorsports, FK Rod Ends, STIDA, Rockwell Security, Butlerbuilt, GoScope, 4 Alarm Promotions, and Dean Dealy Motorsports for their support during the 2014 season.