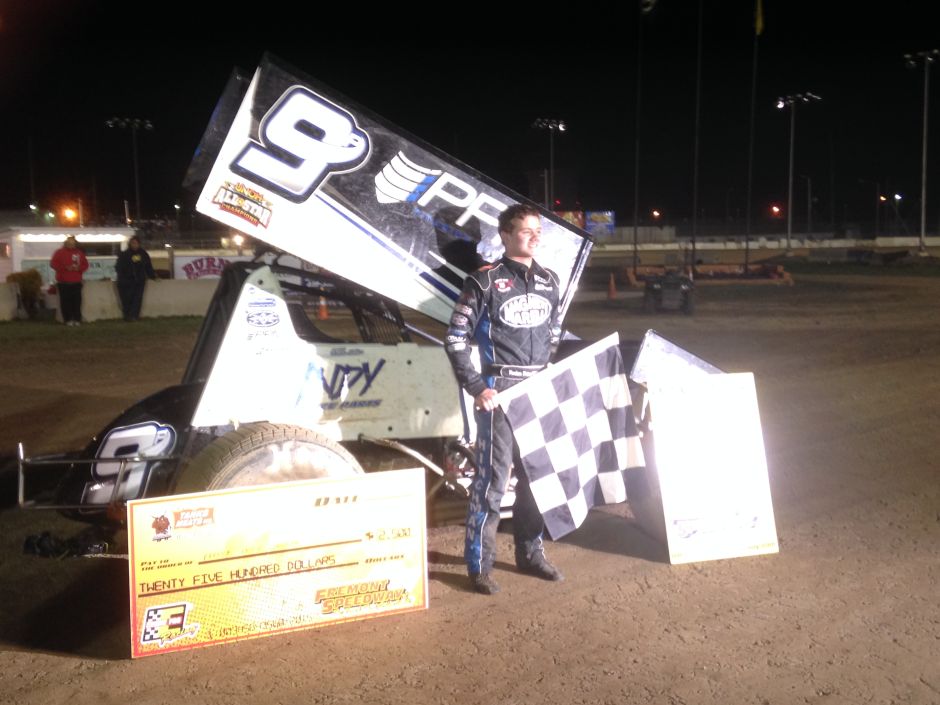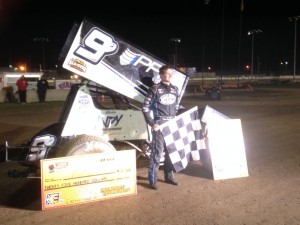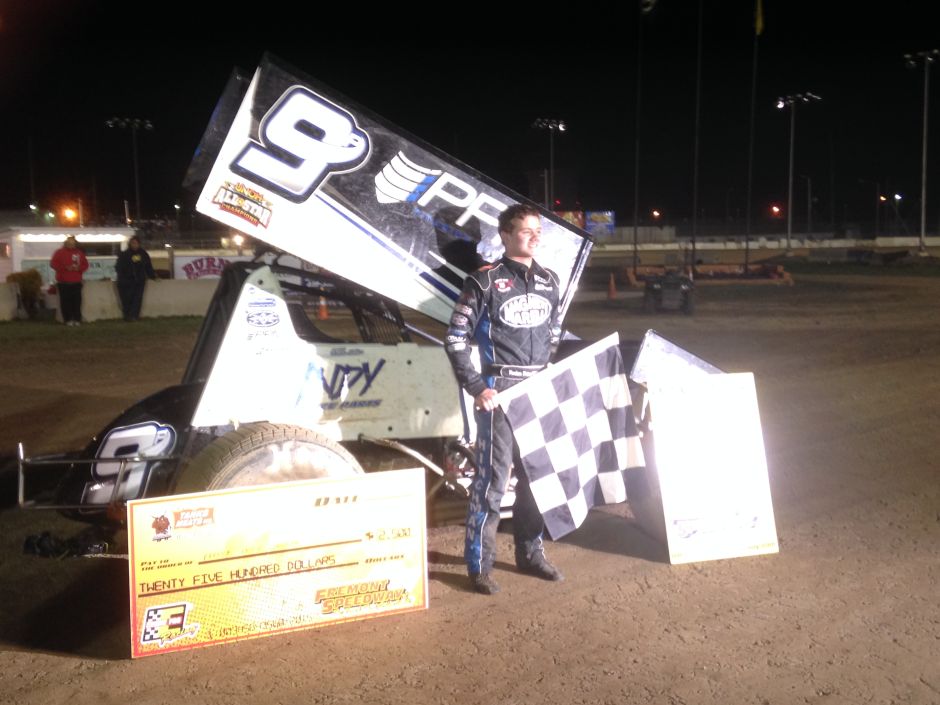 From Peterson Media
The first win is one you will remember forever, and Parker Price-Miller is sure to remember Saturday night at the Fremont Speedway in Fremont, OH, as the Kokomo, IN product picked up his first career 410ci winged sprint car win.
"I really had to stay calm at the end of the race, and hit my marks, but it was definitely exciting," Parker Price-Miller said. "They say Fremont is tricky, and it definitely was, but my team gave me a great car."
With 29 cars in attendance on Saturday night, Price-Miller timed his PPM Titanium Products/Indy Race Parts/Keizer Wheels backed No. 9p machine in sixth fastest, before finishing fifth in heat race action.
Lining up third in the six lap dash, Price-Miller would finish in the third spot, which would put him in the second row for the 30-lap feature event. As the action got underway, Price-Miller would jump into the second spot, as he chased after early leader, Byron Reed.
Taking his time figuring out the track, Price-Miller would reel Reed in, and pull up to his back bumper, before the red flag flew, and negated his progress.
The ensuing restart would see Price-Miller bicycle his machine, allowing Reed to pull away, but as they found lapped traffic again, Price-Miller would again track him down and pressure him for the lead.
With Reed making a mistake in lapped traffic with nine laps to go, Price-Miller was in position to captalize, and he did just that as he took command of the race lead. A caution with just five laps to go bunched the field back up, but the 16-year-old wheelman, was flawless to close the race, as he picked up the win, and became the 407th different driver to score a win at the speedway.
"The track threw me early in the feature, but luckily I had 30-laps to figure it out, and I was able to do just that," he added. "What also makes this really cool, is my crew chief, Rick Ferkel, won his first race at Fremont too. He does everything for us, and I can't thank him enough for all of his help.
On Friday night, Price-Miller and his team were at the Jacksonville Speedway, and after starting seventh in his heat race, Price-Miller would work his way to a fourth place finish, ultimately putting him in the fourth row for the feature event.
With the top groove staying very fast, the track was tough to pass on, but Price-Miller had a very strong machine, and was able to throw some slide-jobs on a few competitors to move forward.
Running a very smart race, Price-Miller would work his way up to a third place finish, when the race came to a close.
"We had a really good car on Friday night, but it was just tough to make up much ground," he added. "I think we had a good enough car to win, but we are all certainly happy with how Friday night went. Overall it was a really good weekend for us."
Price-Miller and his team would like to thank PPM Titanium Products, Indy Race Parts, Keizer Wheels, CSI Shocks, Select Equipment, Wesmar Racing Engines, Esslinger, and Triple X Race Components for their continued support.